ADVERTISEMENT:
Punny titles just make my heart sing.
So the banhammer showed up this past Monday and hit hard on the two tall trees in current Standard, making Energy and Ramunap Red both less consistent yet not completely dead.
I want to reiterate that point, before we go much further: The decks aren't dead, they just aren't as good as they were. Energy loses a lot of the free buildup it got with Attune with Aether and Rogue Refiner, which makes a lot of the associated cards worse. It's not impossible that someone builds a pretty good Energy deck, but it's harder to do. Red loses the reach of Ramunap Ruins and also the oppressive power of Rampaging Ferocidon, a card I was going to write about in a week or two.
On the heels of that announcement, we have a number of cards that are jumping in price, and frankly, it's exciting. The hammer came down on four cards, and a bunch of other cards popped up.
Keep in mind that these are prices for week 1 of Standard, we haven't gotten the large-scale product being opened until this weekend.
To the cards!

The rest of this content is only visible to ProTrader members.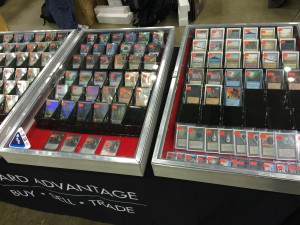 ProTrader: Magic doesn't have to be expensive.


Cliff is an avid Cuber and Commander player, and has a deep love for weird ways to play this game. His next project will be a light-up sign for attracting Cubers at GPs, so get his attention @wordofcommander on Twitter if you've got ideas or designs.
Track your collection's value over time, see which cards moved the most, track wishlists, tradelists and more. Sign up at MTGPrice.com - it's free!
ADVERTISEMENT:
Please follow and like us: