ADVERTISEMENT:
There's a lot of reasons why Amonkhet prices are falling as fast as they are, from Invocations to peak supply to a lack of new toys to play with, considering we're about to get all of Hour of Devastation (seriously, it's dropping today, let's all go look!) and we know a lot about Ixalan already.
With the Hour upon us, and prereleases next weekend, it's time to take a look at the trajectories of some of these cards and see where they have to go. There are still packs of Amonkhet being opened, and while that's going to exert some downward pressure, the historical data tells us that most prices won't fall too much further.
Want some examples? Sure. Let's start with a rollercoaster of a card: Panharmonicon.
The rest of this content is only visible to ProTrader members.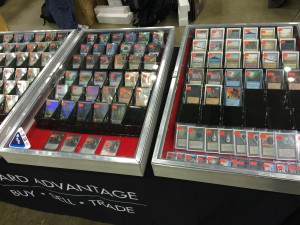 ADVERTISEMENT:
ProTrader: Magic doesn't have to be expensive.

Cliff is an avid Cuber these days, having played far too many Commander games that lasted two hours. He first opened a pack of Revised in late 1994, and has been writing about Magic for longer than he's been a father. He's always on the lookout for value or weird ways to play.
Track your collection's value over time, see which cards moved the most, track wishlists, tradelists and more. Sign up at MTGPrice.com - it's free!
ADVERTISEMENT:
Please follow and like us: