By: Cliff Daigle
I want to reiterate a point I've made before: Trade everything you open at the prerelease. The prices are at their peak and demand is at the maximum. By all means, let people get the cards they are rabid for. Those cards are 95% guaranteed to be cheaper in two weeks, and cheaper still in six weeks.
There will always be exceptions, but the logic has served me well.
Now, let's talk about what having casual appeal means from a financial sense. In the past couple of years, with the growth of EDH and Cubing, some cards have become very expensive, considering that the card doesn't see play in organized formats.
Case in point: Vigor. It's around $15 for a card that was a rare in a set that wasn't opened heavily, is quite bad against removal and sweepers, but is terribly awesome in formats where you don't care.
If a card has casual appeal in a new set, the price will stabilize higher than you think it should be, and then start to climb slowly over a period of a year or more. Primeval Bounty is a good example of this. It should be a bulk-price mythic, but it's pretty awesome in casual formats (which includes the impossible-to-track 'kitchen table' 60-card deck builders) and never got as cheap as I thought it would.
If you pick up a card for its casual appeal, you're looking at a long-term hold. You probably won't be able to trade these away at a higher price for at least a year, and perhaps longer. As time goes on and the set becomes more of a memory, then prices start to creep upwards.

On to some specific cards!
Ajani Steadfast – I referred to the 'superfriends' style of deck when I talked about the Mentor of Heroes, and there's an aspect of that to this card too, since it can buff your other planeswalkers. His plus ability is rather weak, and I think that says more about the designs of planeswalkers over time, because if they are too good, they are overwhelmingly good. This would be one of the first planeswalkers I cut from the deck (there are 48!) and I wouldn't feel bad at all. I would only pick up at $5 or less.
Garruk, Apex Predator – I don't know if seven mana is too big a cost for Standard. He's not going to get it done in Modern or Legacy, so even if he's too good, he's only around for a year. I'd trade him away right now, and not worry about his price for that year. The casual appeal is high, especially with lots of 'destroy' abilities, but the best long-term play might be to wait until rotation in 2015 and pick him up cheap then. I'd be in if he falls to $10.
Jace, the Living Guildpact – There is a lot pointing to a graveyard theme/focus in Khans of Tarkir, and this seems like a seed planted for such things. The +1 is not as good as a scry 2, but in a deck that can utilize the graveyard, he might be amazing. He's got very high loyalty to start, too, and a universal bounce ability will always be useful. I suspect that speculation about the next block will keep his price higher than his play warrants until the block arrives, and then we will see if he has an Architect of Thought-like spike in him.
Liliana Vess – We've got multiple foil promos, three printings in large sets, and this little lady keeps on keeping on. I would imagine she stays in the $5-$10 range despite the new copies on the market.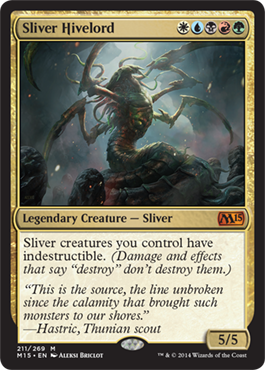 Nissa, Worldwaker – In a format where shocklands are rampant, I'm very glad that Farseek has rotated out and isn't legal to play with new Nissa. In casual mono-green ramp decks, she's rather insane. I do think that she's going to be used in EDH with great trepidation, since having your lands be creatures is a drawback. I do not expect big things out of her price.
Perilous Vault – It's a unique effect, and it's colorless, so it can go into any deck. Nevinyrral's Disk used to be an auto-include for similar reasons, and this gets around everything. There is no defending this, no protection, no indestructibility. Just a big red RESET button for your game. I think that this will not go far below $10, and it'll be something that people will want to trade off of you for quite some time.
Sliver Hivelord – There will be healthy debate over whether this or Sliver Overlord should be the default Commander of the deck. Overlord finds the Hivelord, but being indestructible is a big draw. Either way, this is a card that will likely end up around $7, and the foils will be around $30.
The Soul Cycle – The Soul of Theros will probably be a little more expensive, due to how it buffs all of your creatures, but all of these will find their way into decks. Soul of New Phyrexia is the most intriguing to me, as a colorless creature, but all them offer powerful and repeatable effects.
The Chain Veil – Another card meant for the superfriends decks, only not good enough in Standard. In Standard, if you're consistently activating 'walkers, you're ahead anyway. This is a 'win more' kind of card, and that's the sort of card we love in casual circles! Four mana to use one Planeswalker twice is great, but if you have two or more than it's just broken. It'll be a niche card, so likely closer to $4 than $10, but the foils on this might get a very high premium. This is also an excellent candidate for a special printing, a Judge foil or some such.
Ob Nixilis, Unshackled – I'm dying to put this in every EDH deck I can. It's so powerful and it punishes so hard. I want to cheat it into play with Kaalia. I want to Pod it into play in response to things. I want to ramp into it and then laugh as others squirm. I don't believe his price will ever be higher than a couple of dollars, or any of the five legends, but the foils might end up being a different story.
Scuttling Doom Engine – This might be a surprise card in the coming year. It's big, reasonably costed, and doesn't mind getting killed. It reminds me a lot of Thragtusk.
Urborg, Tomb of Yawgmoth – I hope you got rid of any nonfoils you have, because the supply on this is about to go up by at least three times what it was. Scarcity was the only reason the price was so high, and that problem is now solved.
Enjoy your prerelease!