By: Sigmund Ausfresser
Throughout the past few weeks, a number of readers have asked me the same question in different ways. The most common form of this question involves some form of investment in Khans of Tarkir booster boxes and whether or not they're worthwhile investments. I remained demure on this subject, but not for lack of ability or willingness to answer these questions. Rather, I knew they would merit a lengthy response in order to do them justice.
On the other hand, I would be remiss to neglect last weekend's events and their impact on the MTG finance market. Pro Tours have a reputation for significantly and permanently moving card prices, and last weekend was no exception.
Therefore, by waiving my writer's creative license card, I will embark on addressing both topics in this single article. Let's hope this works.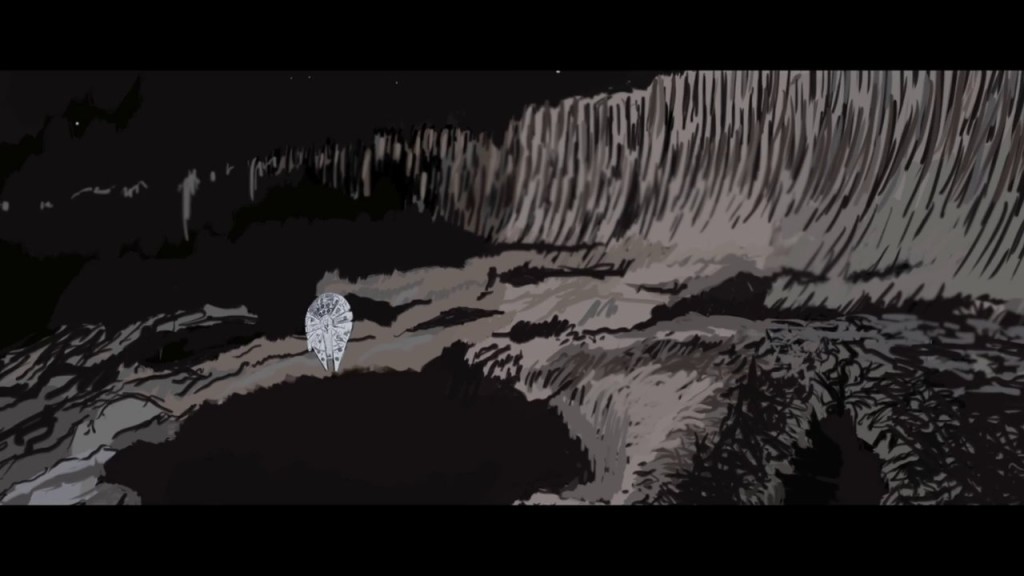 Pro Tour Dragons of Tarkir Perspective
I am choosing to lead with this topic for two reasons. First, the perspective is far more time-sensitive and therefore merits being digested while the Pro Tour is fresh in everyone's minds. And second, I will be motivated to remain succinct in my analysis.
In fact there are really only a few key points I want to highlight from this event.
The most interesting analysis of the Pro Tour, at least for me, is the list of mythic rares played in the Top 8. This is an objective way of evaluating both which cards were powerful enough to show up in numbers on Sunday as well as which cards have the most upside potential and likelihood to stick. Naturally, I'll focus on cards from Khans of Tarkir block since they have the longest remaining time in Standard. Below is a list of the mythic rares showing up in the Top 8 along with their MTGPrice.com prices as of Sunday morning (note that prices are likely to shift over the course of the day).
Based solely on the numbers, I see a few trends leaping out at me screaming "opportunity." For starters, if you're sitting on copies of Dragonlord Ojutai after the recent run-up, I'd recommend selling. The card will certainly remain relevant in Standard, but there are some other Dragonlords I'd rather have my money in at this time—namely, Dragonlord Atarka and Dragonlord Silumgar. These are my preferred targets—Atarka in trade, and Silumgar possibly in cash at the right price. Both are cheaper and showed up in larger numbers in the Top 8. [Editor's note: Sig was right on, and these have already spiked a bit between his writing and our publishing of this piece. Buying in now may be ambitious, but the logic for why he was buying at the old price remains intact.]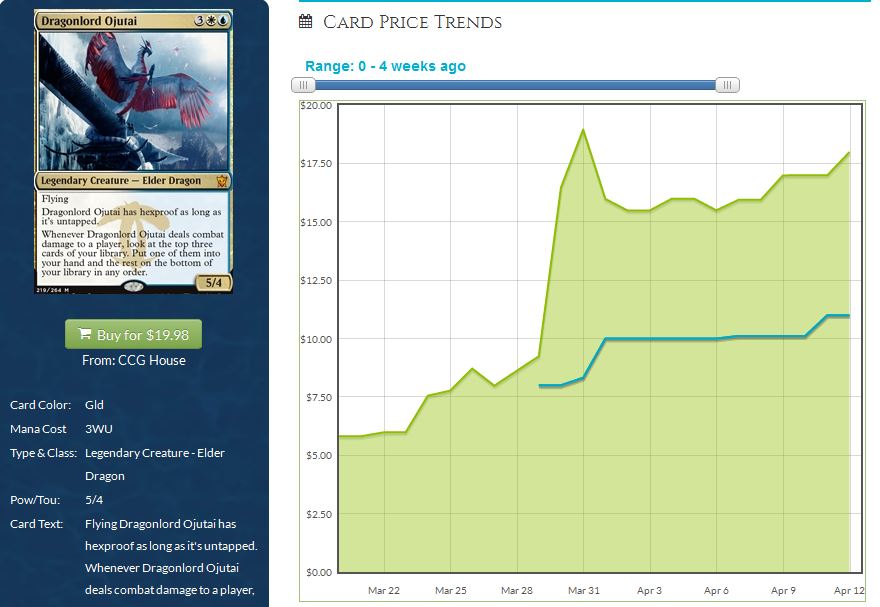 Whisperwood Elemental is already a $13 card, but showing up with two full sets in two separate lists certainly merits a closer look. I would advocate buying, except the recent price trajectory on this card is surprisingly negative. Perhaps it's experiencing downward pressure because so many key cards in these decks come from Theros block? Perhaps the card was overbought and is now only settling at a more realistic price? Either way, I'll maintain a hold on this one.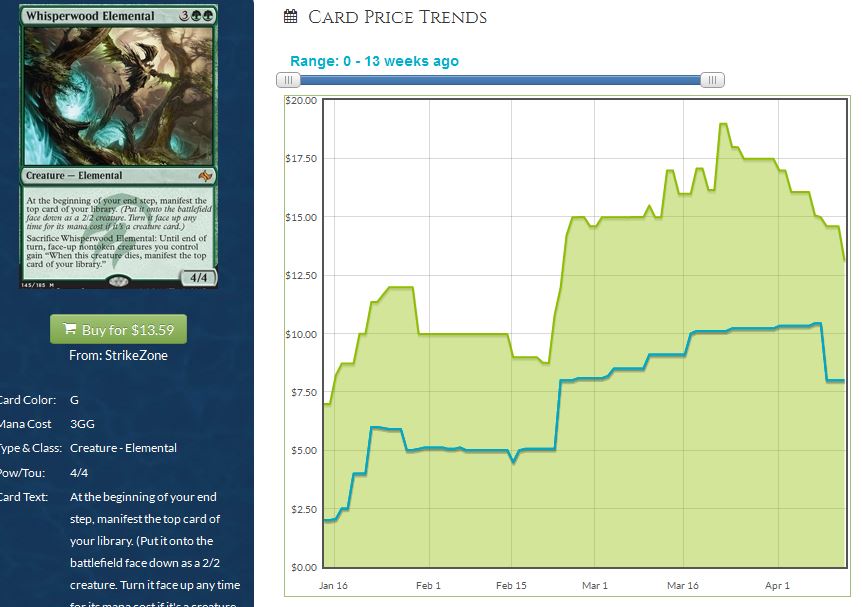 Ugin appears overpriced to me, but I'm generally biased against $30 planeswalkers. The card did show up in the most number of Top 8 decks, but usually as a one- or two-of. Nobody is going to jam a full set of these, and I believe this severely limits the upside potential on Ugin. If he wasn't such an iconic card, he would easily be $20. As it stands, I'd pass on these. But I can't blame you for holding since this is a popular mythic rare planeswalker from a smaller set. If nothing else, Ugin will remain liquid in trade binders.
I'll skip over Pearl Lake Ancient—I'm not falling for this one again. Shaman of Forgotten Ways made an intriguing appearance, but I'm not moving in on them based on this performance. And even though See the Unwritten made a rewarding appearance for those speculating on the cheap mythic rare, I'm likely to skip over the trend. Though I'll admit the Top 8 appearance does legitimize the card to some extent. I wouldn't be surprised if it trends higher from here, though how high is tough to say.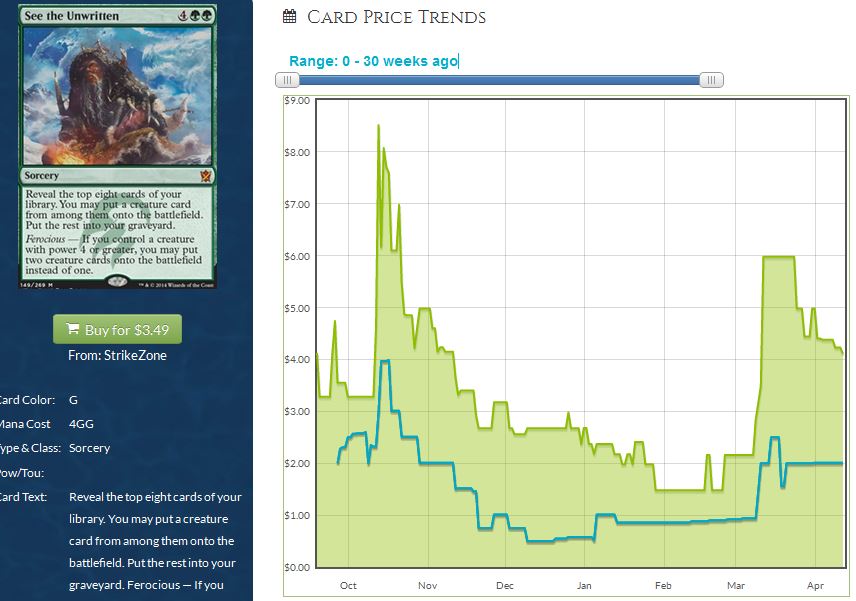 Before wrapping up this analysis, I wanted to mention a rare card I bought into at the start of the weekend, which put up zero copies in the Top 8: Den Protector. Clearly the newest version of Eternal Witness caught the eye of speculators, since it more than doubled in value over the weekend.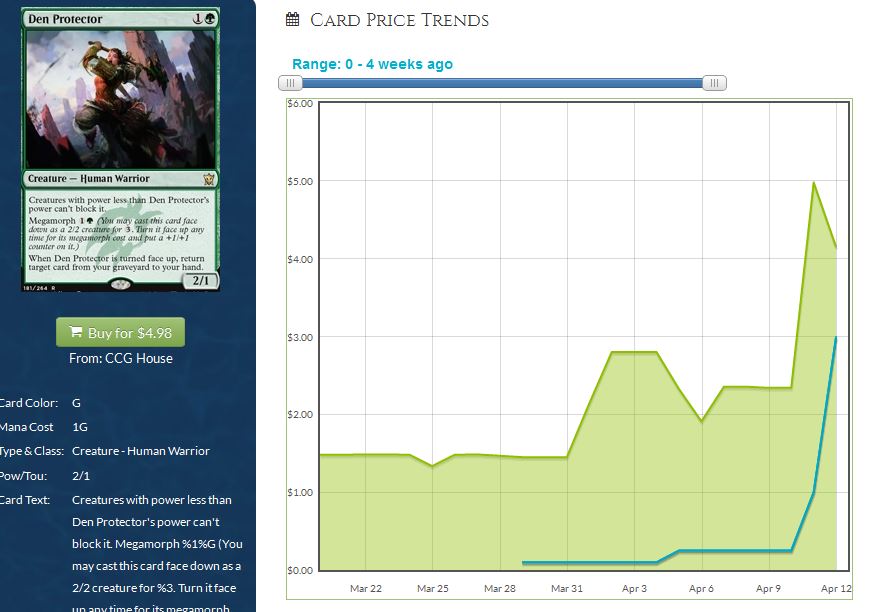 What's my take on the card knowing that it didn't Top 8? I'm still optimistic those who bought in under $2 will make at least some profit. But I don't see this going above $5 in the short term. I'd advocate selling copies you have in hand immediately with the hope of moving copies still in the mail rather quickly as well. Even if the card is as strong as some pros were indicating, the large set rare has a fairly low price ceiling unless it suddenly defines an archetype in Standard, a la Courser of Kruphix or Sylvan Caryatid. That being said, perhaps after rotation it will get a second wind. That's a gamble you'll have to accept if you choose to sit on copies through rotation. I'm not sure if I want to give up profits today to make that bet, but selling half now and half after rotation could be a balanced strategy.
Of course, there are dozens of other cards worth discussing. There were numerous rares from Khans block that showed up in the Top 8 of last weekend's Pro Tour. But I can pretty much guarantee my article won't be the only one to review the event's metagame. Therefore, I will allow my assessment to remain fairly short and incomplete, in the hopes that the objective look at mythic rares at least provides a unique perspective of this highly covered event.
Sealed Booster Boxes
I'm eager to discuss this topic because it strikes close to home. Before sharing my recommendation, I want to first tell a story.
It all started about four years ago…
My spouse and I were on a weekend getaway in coastal Maine, when we happened upon a hobby shop on a stroll through town. Naturally I couldn't pass up the opportunity to browse their Magic selection for deals. Most of their singles were fairly priced—no jackpots there. However, the store did have a couple remnant packs of Unhinged at a favorable price. The basic lands were already gaining traction and worth a couple bucks, and foil cards from Unhinged could randomly be worth big money. After endless deliberation I decided to roll the dice.
The contents of those packs were not as impactful as the ensuing thought process. At this point in time, Unglued booster boxes were already selling for $300 or more. Yet Unhinged boxes were selling for much less—well under $200. The light bulb went off. Unhinged wasn't printed a ton, the game had grown significantly since Unglued, and the chance at getting foil full-art basics buoyed demand for sealed Unhinged product significantly. Still being fairly conservative and working with a limited bankroll, I made a move and purchased two boxes. They sat underneath my bed for months.
During this time, the price of Unhinged booster boxes skyrocketed to $300. I rang the register for a sizable profit (and of course, these readily sell for around $500 today).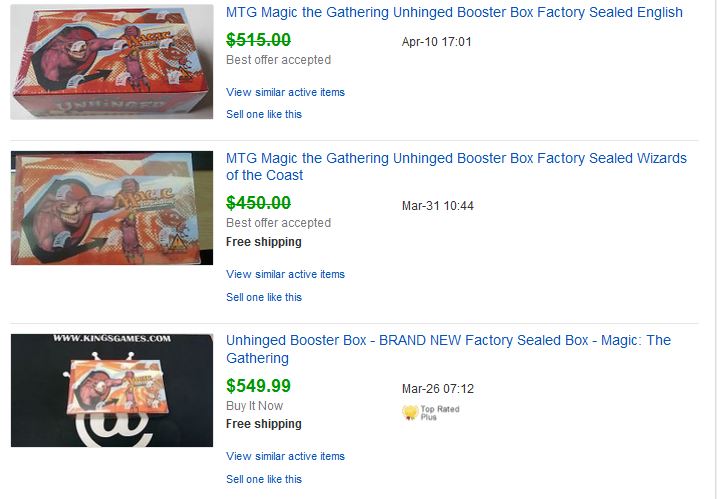 This is when the gears started turning in my numbers-oriented brain. Could other sets have similar upside? Do all booster boxes rise in price over time simply because supply steadily dwindles? I set to work, researching the price of all boxes on eBay and Star City Games. As it turns out, a booster box from every single older set, with a few exceptions, increased in price over time. And those that didn't were fairly obvious: certain core sets, Nemesis, and a couple others. And who would have wanted to invest in those boxes anyway?
The pattern turned into a realization—buying boosters boxes could yield almost guaranteed returns over time with minimal investment. Cha-ching! I began my shopping spree. Boxes of Coldsnap, Zendikar, New Phyrexia, Onslaught, and more all went under my bed. Usually it was only one or two boxes of each, depending on my level of confidence in each one. All of them appreciated nicely and yielded significant profit (and were all sold…prematurely).
Sometime during this endeavor, I decided to go deep on the set I was most confident in. It had already begun gaining traction in price and with such powerful eternal staples in the set I just knew it would take off. The set in question: Innistrad. At my peak, I had more money invested in Innistrad boxes than I had in certain stocks. It was a legitimate investment.
Impatiently, I watched prices rise. I tracked progress in a spreadsheet, noting small increases or decreases in the position's value based on recent market prices. The inevitable climb ensued, and the prices of my boxes went from $145 (my average buy-in price) to $200. A delicious 38 percent gain. Surely I should have been singing and dancing, right?
Absolutely not.
A few realities set in. First, I had to overcome the illiquidity of older sealed booster boxes. It may come as no surprise to you, but I was severely disappointed with how difficult it can be to actually move these boxes at market pricing. Sure, people would offer me $170 on sites like MOTL, but I couldn't bear to give up boxes for over 10 percent off fair pricing. It seemed that no one would be willing to pay $200 for the boxes unless I sold them on eBay.
The next issue was the timeline involved. I sat on these boxes for about two years and in this time I saw this 38 percent gain. I suppose profit is profit, but the opportunity cost of sitting on these boxes was brutally steep. Heck, I could have spent the same amount on foil Snapcaster Mages or Liliana of the Veils from the set and reaped a much larger return on investment for my money.
The booster boxes almost acted like an index fund for Innistrad. So while foil Snapcaster and Liliana more than doubled in value, boxes continued their slow and steady churn upward. Instead of honing in on the eternal staples in the set, I bought boxes, thinking the eternal staples would help drive box prices higher. It was naïve of me to not simply speculate on the top cards themselves.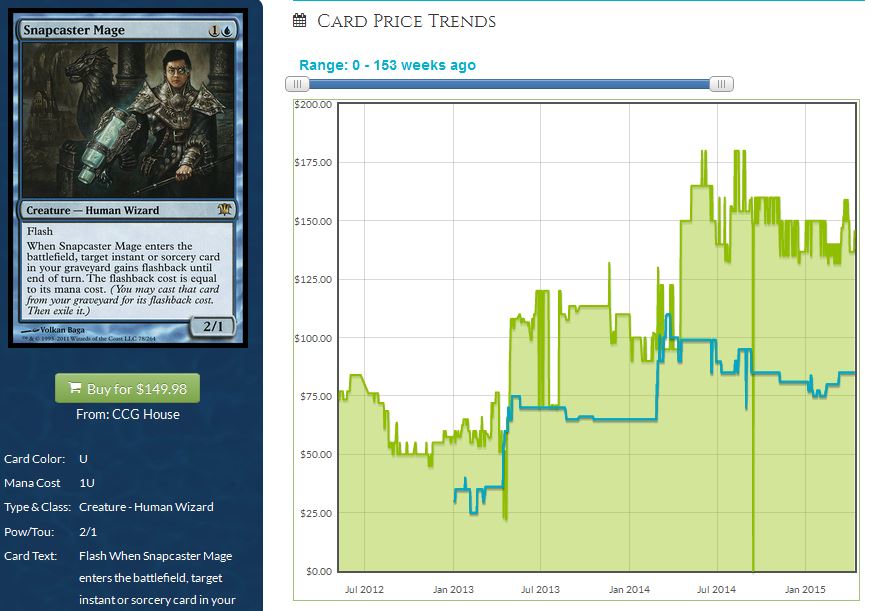 The worst part of this whole endeavor was the cost to unload this product. I had to price my boxes competitively on eBay in order to sell them. Then I had to eat about 13 percent in fees and $11 per box in shipping. Suddenly, selling a box for $200 only netted me around $163 . Now my profit had shrunk down to a meager 12 percent. After two years. During a time when the S&P 500 increased by around 40 percent.
While I couldn't have predicted the performance of the stock market, the comparison is no less painful to make.  So in essence, while I did find an investment with nearly guaranteed upside and almost no downside, the risk/reward equation still didn't quite work out as I had hoped.
As the dust settles, I look at my collection and realize that I (thankfully) only have a few boxes left—all of Return to Ravnica. At least with these, I got in at the floor. My average purchase price is around $85. But it's already been over a year and these are only selling in the $100 range. Selling them here would actually lose me money after fees and shipping. So I continue to watch these boxes collect dust, hoping for some catalyst to move them higher in price.
What happened?! Why didn't these boxes skyrocket like older sets? I had to think on this at length before coming to the inevitable conclusion: print runs. As Magic has grown in popularity, Wizards of the Coast has steadily increased its print runs. More and more stores are opening up each month, and they are all ordering more and more boxes to meet steadily growing demand from players. Often times, stores will max out their orders time after time to ensure they have enough product in stock for years.
With such large print runs, the time it takes for booster boxes of a set to run scarce takes longer and longer. Even with Modern and Legacy staples in a set, such as shock lands and Abrupt Decay, boxes just rise painfully slow nowadays. Yet again, I'm left wondering if I would have been better off putting this money into foil Abrupt Decays and shock sands rather than buying boxes themselves. They would at least take up less storage space.
So when people ask me about investing in Khans of Tarkir boxes, you can understand why I shiver inside. So much money tied up for years and years, the prospect of selling these boxes and eating so many fees, the storage space involved, the opportunity cost sacrificed…it's overwhelming. Personally, I can't stomach the endeavor again. If you are eager to throw money into a long-term spec, buy foil fetches. Or foil Siege Rhinos. Or just buy dual lands. At least those are on the Reserved List and are much easier to store.
Whatever you do, think twice before buying into new booster boxes. The return on investment just isn't there.
Sig's Quick Hits
Snapcaster Mage has really surged higher throughout the past few months. This is likely related to the fact that the card is dodging reprint in Modern Masters 2015. Star City Games has only 10 copies in stock, all moderately played at $45.65. Near-mint copies are sold out at $57.05. Why, oh why, didn't I put my Innistrad box money into these???
Another reason I question See the Unwritten? The fact that the card made Top 8 of the Pro Tour, yet still sells for $3.99 at Star City Games. They have 40 copies in stock, too. If they really thought this card would move, they would increase price or at least set their stock to zero until the dust settled.
On the other hand, Dragonlord Silumgar is completely sold out at Star City Games with the increased price tag of $7.99. This is a strong indicator the card's price will go higher. I'd much rather have money in these than in See the Unwritten or Dragonlord Ojutai (sold out at $17.15) right now. It just feels like there's more room for upside.