By: Guo Heng
I never cared about the value of playmats until Grand Prix Kuala Lumpur last year. No, it wasn't the event's playmat that spurred my interest in the value of playmats. Of all the Chris Rahn art available to choose from, they had to pick Ashen Rider.
What sparked my interest in the financial potential of playmats was a binder grinder from a neighbouring country at the event. He was going around the floor offering players RM80 ($21) for their Grand Prix playmat, which covered a good portion of the RM120 ($32) entry fee, and the whole entry fee if they were willing to throw in the promo Batterskull. Apparently there is a demand for those back at his LGS. That was when it occurred to me that playmats are worth more than I initially assumed (a.k.a. nothing). I know, that is probably common knowledge among Grand Prix veterans by now.
I've accrued a couple of playmats from the few Grand Prixes I've attended and won a few in tournaments, but they pretty much served the purpose of being the layer that stands between my Snapcaster Mage and utter condition oblivion from being tapped and dragged across the harsh surface of whatever tables I play on. Double-sleeving only protects your beloved Modern staples so much.
After Grand Prix Kuala Lumpur, I began to pay attention to the financial value of playmats. I also started taking better care of mine. No more chucking them in my bag like a rag. Heck, if spindown dices could be worth up to $30 and life counters up to $90, it should be no surprise that certain playmats are going to be worth something. It seems that everything that has to do with Magic could potentially end up as a collectible. Even an empty Alpha deck box could sell for $35.
These days, acquiring collectible playmats has become a side-quest of mine in Magic. I didn't bother attending the Magic 2015 and Khans of Tarkir Game Days because the champion playmats were mediocre at best, but I grinded the whole weekend during Fate Reforged's Game Day to obtain the coveted Ugin playmat. Getting my hands on the Vendilion Clique playmat and the special playmats at Grand Prix Chiba was one of my main goals at the Grand Prix. I came back from Chiba with more playmats than the number of Magic games I've played over that weekend.
As of writing, there do not seem to be much information available about the mtgfinance of playmats. This article stems from my research into playmats in order to help me decide if a playmat is worth getting or not (or in the case of Grand Prix Chiba, worth lining up for an hour at 7 a.m.). It's a rudimentary framework which I use to gauge how much a playmat could potentially be worth, in a manner more objective than ascribing value to a playmat based on whether I find the art delightful or not.
As the majority of playmats are given out at Grand Prixes, let's use Grand Prix playmats as case studies. Plus, it is easier to compare prices for playmats with similar supply level, rather than compare playmats given out at different sort of events like Pro Tour playmats or Game Day playmats.
Beauty is Subjective
It's hard to judge how much of a role a playmat's aesthetics plays in determining its price. While I personally thought it was disappointing that I got an Ashen Rider playmat at Grand Prix Kuala Lumpur, there are some players out there who really like the playmat: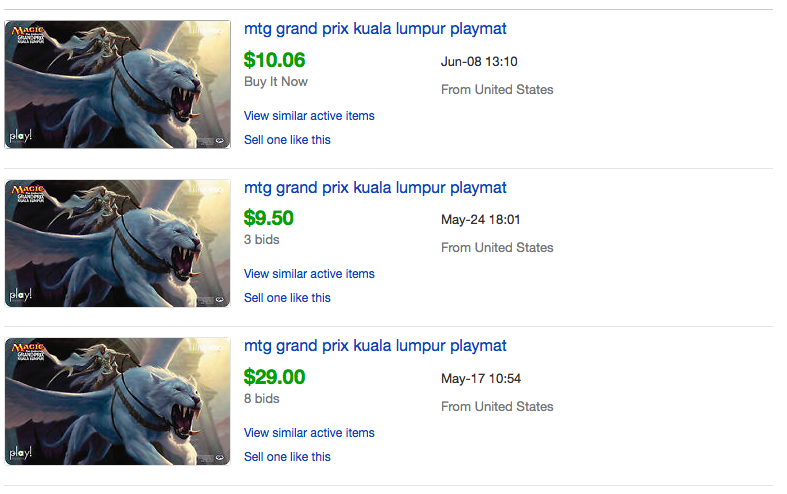 $29 for that playmat? I wouldn't even pay $5 for it. These days my Grand Prix Kuala Lumpur playmat serves as the playmat that I put under my Ugin Game Day playmat on rare occasions when I take it out. However, there are a subset of players/collectors who obviously thought that the playmat is worth a bit more than I did, which emphasises the importance of having a less subjective method to evaluate a playmat's worth.
The Artist Factor?
Seeing that playmats do not exert an impact on your game, it is not hard to assume that a playmat's price could be driven by the name of its artist. After all, in the art world, artist name seems to be the primary factor that drives the price of art pieces to ridiculous heights.
Could it be that the winning bidder of the $29 Ashen Rider playmat above is a big fan of Chris Rahn? Let's take a look at another playmat featuring a Chris Rahn art, this time an artwork of a card that is an EDH staple.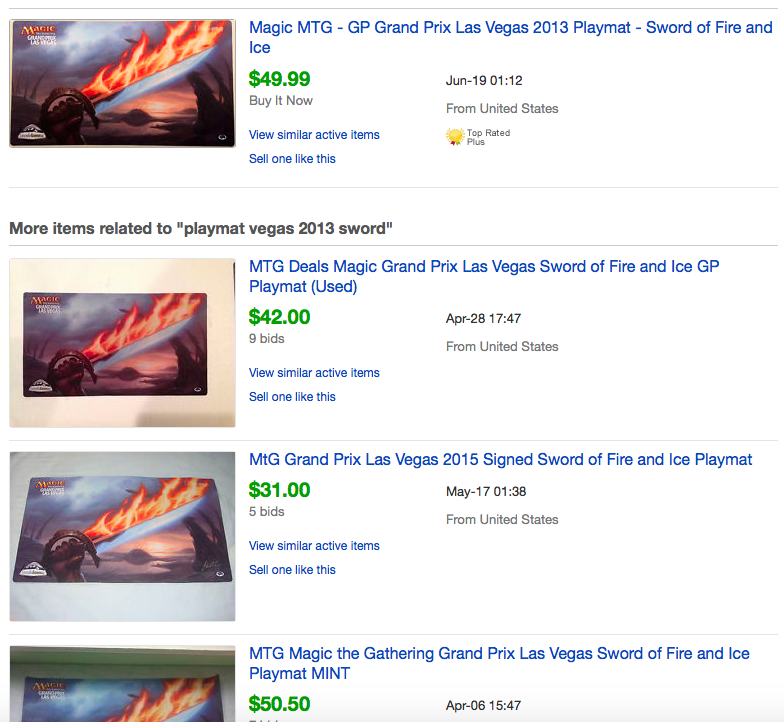 The Sword of Fire and Ice playmat was given out at the first Modern Masters Grand Prix at Las Vegas in 2013. Only 1,000 were given out at the event. The Sword of Fire and Ice playmat is more valuable than the Ashen Rider one,  but how much of that added value stemmed from the card's playability rather than the artist name?
Or the Card's Popularity?
Let's take a look at another example: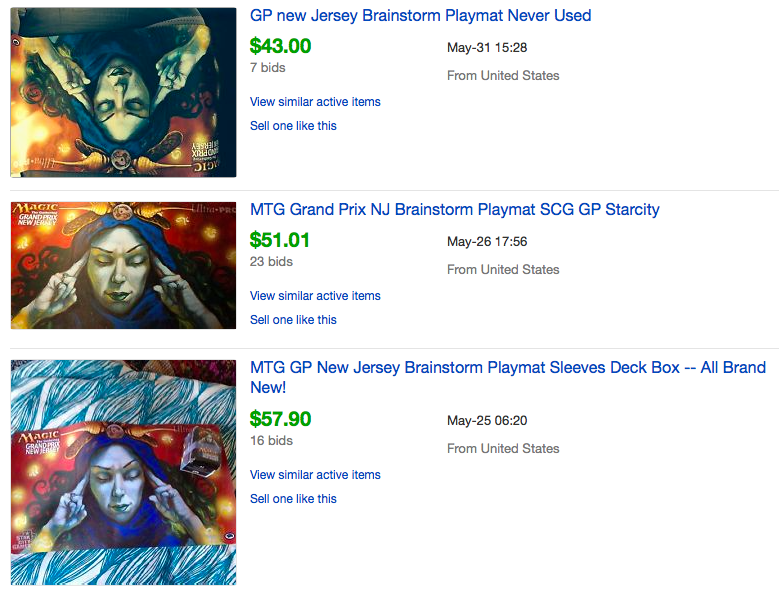 The Legacy Grand Prix at New Jersey last November featured the definitive Legacy card on its playmat and even after half-a-year, the playmat is in demand and is worth quite a bit (it's going for $75 on Star City Games).
An interesting point about the Brainstorm playmat is that while the card is the quintessential  Legacy card, the artist (Tony) DiTerlizzi has not been drawing for Magic since Planeshift in 2001. Yet the Brainstorm playmat was going for around the same price as Chris Rahn's Sword of Fire and Ice playmat and Chris Rahn is one of the most popular contemporary Magic artist.
By the looks of it, the primary factor in determining a playmat's value is likely to be the popularity of the card which art is featured on the playmat, rather than the popularity of the artist. Take the Grand Prix Richmond Eternal Witness playmat for example.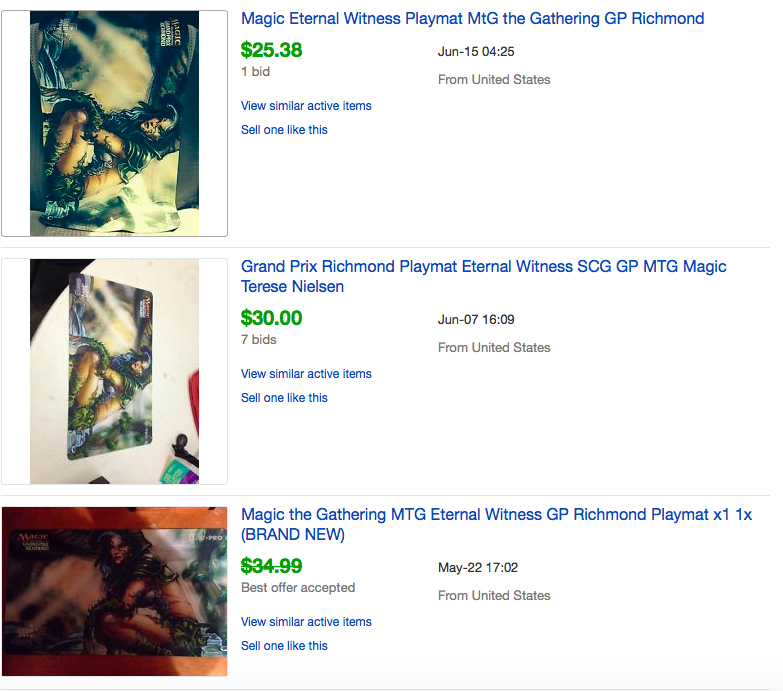 Terese Nielsen is probably one of the most beloved artist in Magic. Eternal Witness was witnessed in Birthing Pod decks before Pod got banned and is only found in Collected Company decks today. Played in Modern, but not exactly an iconic card in the format.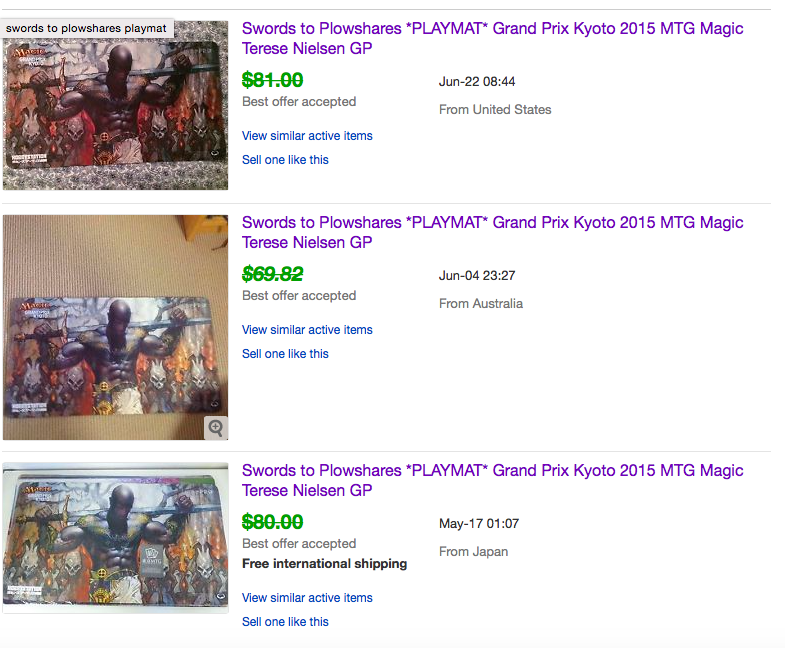 Note: The best offer price which those playmats were sold for were $70, $62 and $75 from top to bottom. The best offer price was viewed by running the original listing's URL through watchcount.com's search feature.
Swords of Plowshares is one of the most-played card in Legacy so it's no surprise that the playmat is worth more than the Eternal Witness playmat from the same artist. I'm tempted to say that the Swords to Plowshares playmat was selling for more than the Brainstorm playmat on the merit of being a Terese Nielsen piece, but the fact that it was from a Japanese Grand Prix may also be a factor.
Conclusion
Grand Prix playmats are exclusive to each Grand Prix and they are unlikely to be 'reprinted' outside of their respective events, making them a bit like reserved list cards. Bear that in mind the next time you attend a Grand Prix that gives out a sweet playmat, like the Mox Opal playmat that is going to be handed out at Grand Prix Singapore this weekend: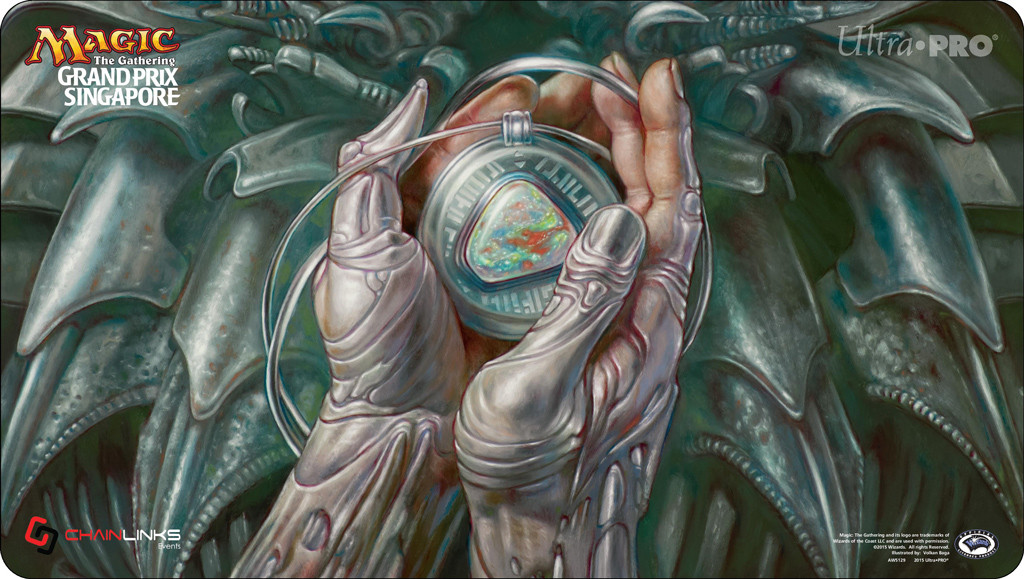 If you're attending Grand Prix Singapore this weekend, my wild guesstimate of the playmat's eBay sales price would be at the very least $30, with an average selling price of $40. I doubt it would hit the heights of Swords to Plowshares, but it should be able to fetch a price tag higher than the Eternal Witness one, based on Mox Opal's popularity in Modern as a four-of in the definitive aggro deck of the format.
I hope this article has shed some light on evaluating a playmat's value. Do share your thoughts and experiences in the comment section below, or catch me on Twitter at @theguoheng.
---