By: Sigmund Ausfresser
A number of Twitter followers and friends asked me if I was planning on attending Grand Prix Indianapolis, which took place last weekend. I always try to make it to any GP I can drive to in under two hours, so the question was absolutely valid. Except for one minor point…
It was Halloween.
For my son I can say without doubt that Halloween is the second most important holiday of the year and the third most important day of the year (only behind the winter holiday, Christmas in our household, and his birthday). With the holiday lying directly on top of the Grand Prix, there was no excuse in this universe that would make my attendance acceptable. Therefore, I had to sit out on the sidelines for this one.
I didn't mind that much – Standard isn't really my cup of tea. In fact, I am beginning to believe the most impactful event of the weekend was the dramatic Halloween-esque announcement Wizards made during the event. If you missed it, here's a link to watch the teaser video: https://www.youtube.com/watch?v=Jm8CdY75K-s
For those who don't feel like navigating away from this site for a minute, the news is the spoiling of our Spring 2016 set name: Shadows Over Innistrad. This likely implies yet another "return" set. It seems Wizards of the Coast is adopting this strategy of returning to every plane that has been successful sellers for them in the past. Coldsnap (sort of), Scars of Mirrodin, Return to Ravnica, Battle for Zenikar, and now Shadows over Innistrad.
The rest of this content is only visible to ProTrader members.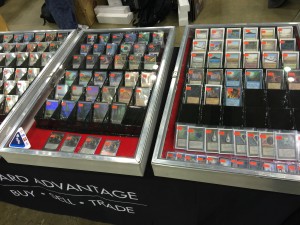 ProTrader: Magic doesn't have to be expensive.