Readers,
You knew I was going to address the Commander 2015 spoilers. With a lot of spoilers condensed into a few weeks, I'm going to have to basically address every card I can each week, since there is a lot to go over in a short time.
I'm potentially going to mention cards I've mentioned before in previous articles, but unlike previous articles, which highlighted archetypes that could emerge, these predictions are predicated on actual spoiled cards and there's likely to be a lot more pressure on the cards due to the impending printing of new stuff.
I am going to talk exclusively about the five legendary creatures spoiled today, because all of them have the potential to launch new archetypes or replace older cards within their particular archetypes, and I think they will have the most profound effect on prices. This will be less in-depth  than the other articles about these color combinations, but while those were speculative based on the abilities typically given to cards in those combinations, this is predicated on the actual, spoiled cards. There's a lot to go over, so let's get down to it.
Daxos the Returned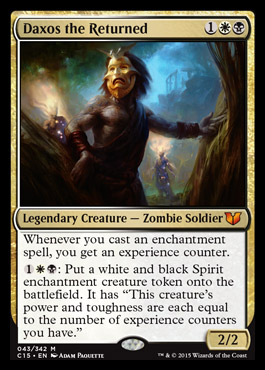 Potentially the best card spoiled so far with experience counters, this guy can get out of control very quickly. I have talked about enchantment-based decks before, with creatures like Heliod at the helm, but this guy is perfect. Are there cards we're going to want to jam in a deck with Daxos as the commander?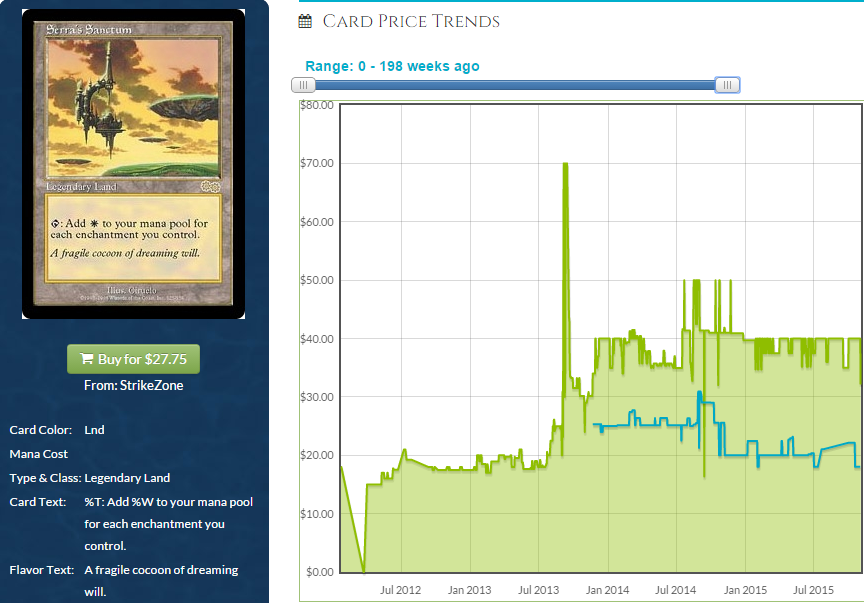 This seems like a shoo-in. Before, I discussed how good this was with a commander like Heliod, and while that meant this was likely to experience some growth eventually, I think Daxos as a commander is going to put pressure on this card right away. Every time you make another enchantment creature with Daxos's ability, this taps for more mana. That alone is stupid. Using a ton of mana to pump out more tokens means you get out of control quickly. Black and white are great colors for enchantments as it is, and Theros block gave us a ton of exciting permanents that are enchantments in addition to their other types. Spear of Heliod is a great way to give yourself an experience counter then buff the creatures you throw out with Daxos.
Serra's Sanctum itself is just dumb. While it doesn't get the love in Legacy that Gaea's Cradle does, this is just as good in some EDH decks and everything that made Cradle seem like a solid investment applies here. This card is on the Reserved List, and unlike Gaea's Cradle which had extra copies due to the premium printing, all we have are regular Sanctums. This is a $30 card that could easily hit $50 and is never going to be bad in EDH or get reprinted. This seems like a no-brainer to me. The odds of this being in the Commander 2015 precon are zero percent.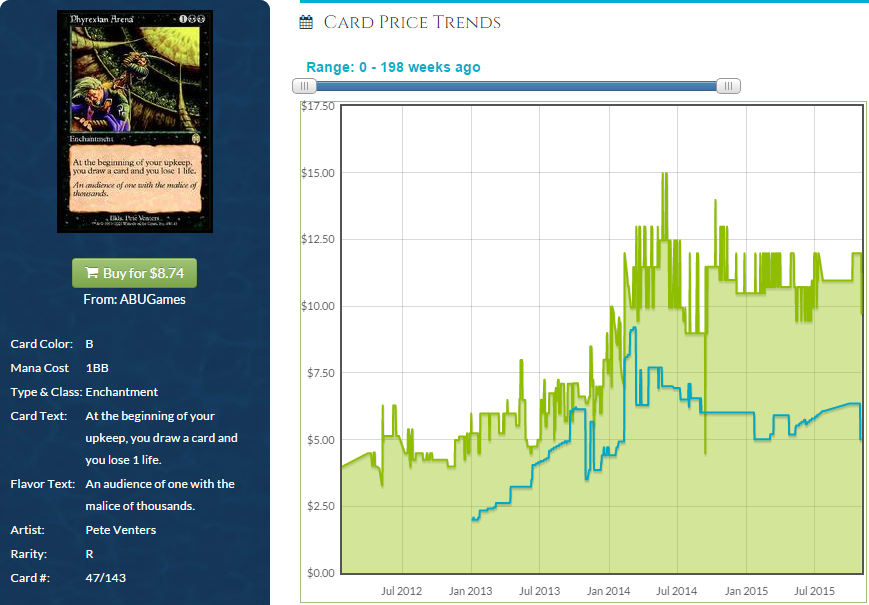 This is just going to shrug off reprints for days. With five printings and a nearly $10 price tag, this is an EDH staple. This s a very, very good card and it is very good in a deck like Daxos. Drawing cards is never bad, losing a life isn't too arduous in a 40-life format, and playing this to give yourself an experience counter feels great to me. I don't think this will go down a ton for very long if it is in the Daxos deck because it's so ubiquitous in EDH, the price is trending upward, and we could see the Wurmcoil effect we saw with the mono-red deck from last time repeated here. I would call the odds this is in the precon less than 25 percent, and I don't even think the reprinting would be that bad. If it is reprinted and the price tanks, buy these at its price floor. It absolutely will recover.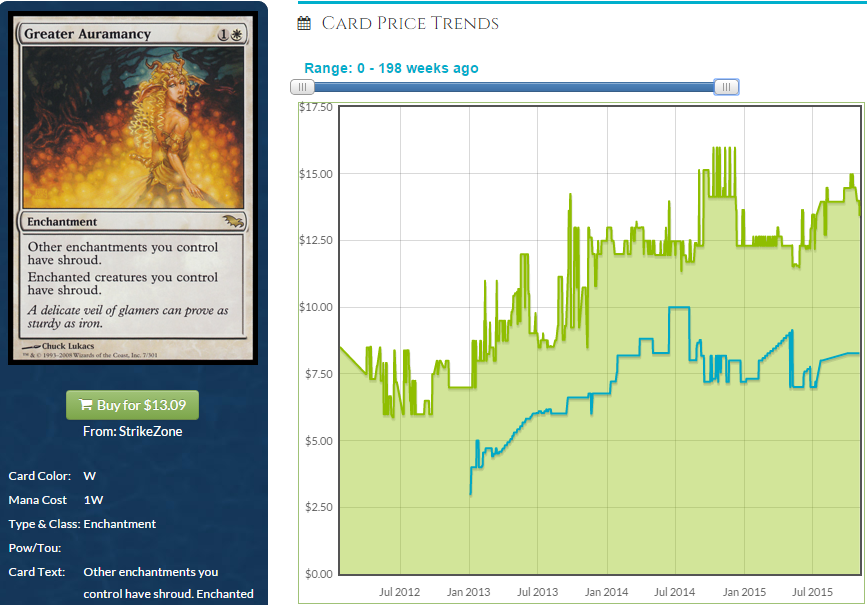 This is very expensive and is only getting expensiver. If you're not inclined to shell out $15 for a card with growth this flat, just remember this is going to get a boost from people building around Daxos. If this isn't in the deck, and I don't think it will be, the price has upward pressure. A reprinting would be brutal, but I think it's a less than 35-percent chance. I would buy any copies I want for personal use now before the price goes up with  65-percent confidence. There is no pressure to reprint this for Modern, and it's pretty expensive to jam in the precon. A card that soaks up that much of the value should really make the deck win, and this doesn't help the precon beat other precons. If you buy one for your deck, buy two and put one in a box.
Also watch: Debtors' Knell, Necropotence, Painful Quandary, Humility, Black Market, Land Tax.
Mizzix of the Izmagnus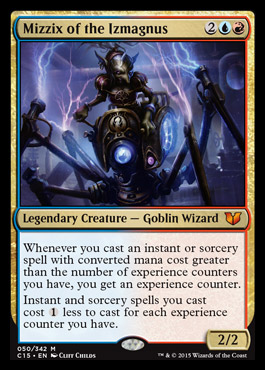 This card is basically what I imagined it would be, although it has an interesting caveat that I hadn't anticipated. I knew just straight, "When you cast an instant or sorcery, get an experience counter," would be too good and they got around that nicely by forcing you to play bigger and bigger spells to keep getting the cost reduction. Luckily, there are some great spells for that in Izzet.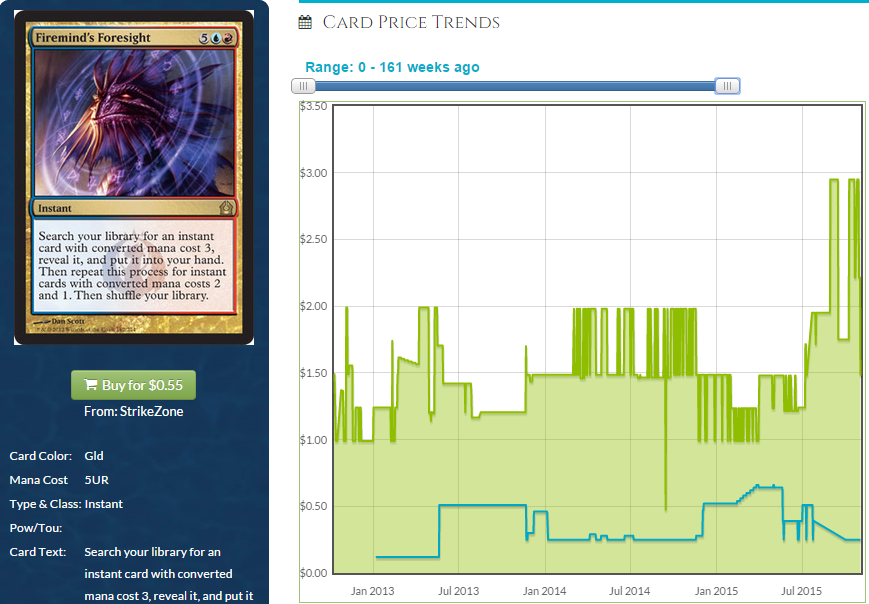 At $1.50 in foil, this is great in the deck but not super relevant financially. Still, I like how this plays with the new commander. You won't lose money if it's reprinted in the deck, and if you buy the foils you won't gain a ton of money necessarily, either. Dealers aren't super jazzed about this card—yet.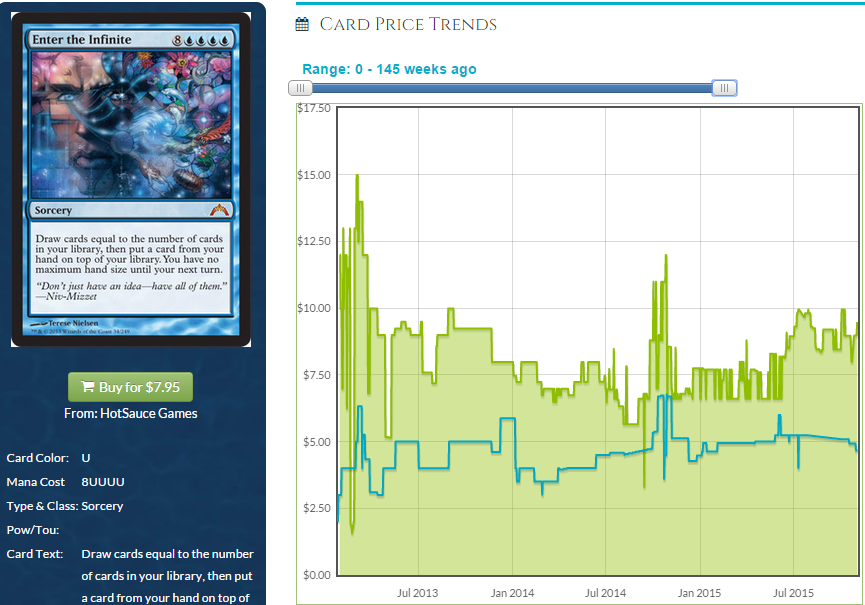 At $9.50, this foil has upside from new decks and no downside from a potential reprinting. I don't like the non-foils at $1.50 due to reprint risk and limited upside.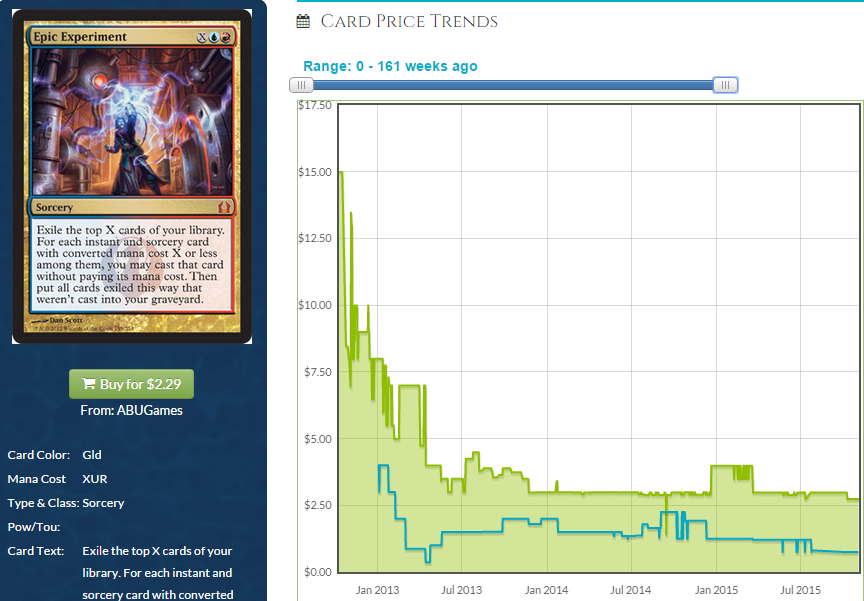 This foil is pretty saucy under $3 also. There is real upside here and it won't be reprinted in foil.
This guy is to Storm as Animar is to morph decks and Mind's Desire is going to get bugnutty. At $12.50, the foils are a bit pricey and the non-foils at $1 suffer from a lack of upside and a somewhat decent reprint risk, but this card is going to go in a lot of the new Mizzix decks. Is Mizzix better than Melek is for storm? Hard to say. But X spells in general are going to be insane.
Also watch: Inexorable Tide, Blue Sun's Zenith, Flash of Insight, Omniscience, Contagion Engine, Prosperity.
Mazirek, Kraul Death Priest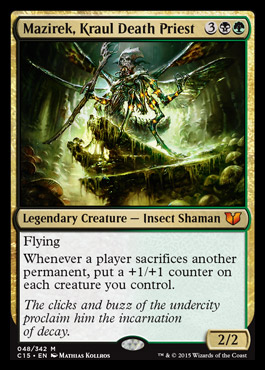 It seems unlikely that the Golgari card that gives you experience counters will be better than this, but you never know. What I do know is that this card is stupid, especially with creatures that have persist plus sacrifice outlets. Two persist creatures and a sac outlet gets dumb, quickly. This card is dumb.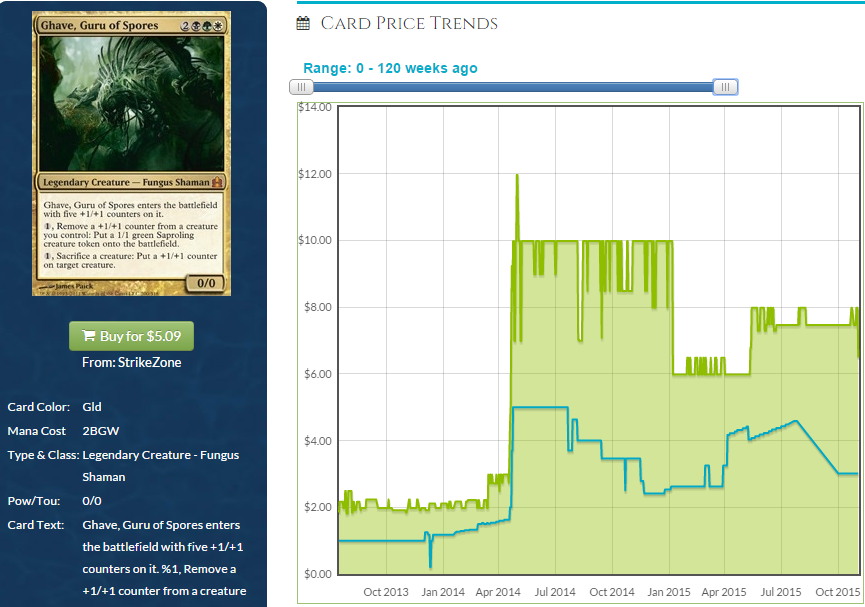 You might want to build a Ghave deck just so you can put Mazirek in it and start cheating at Magic.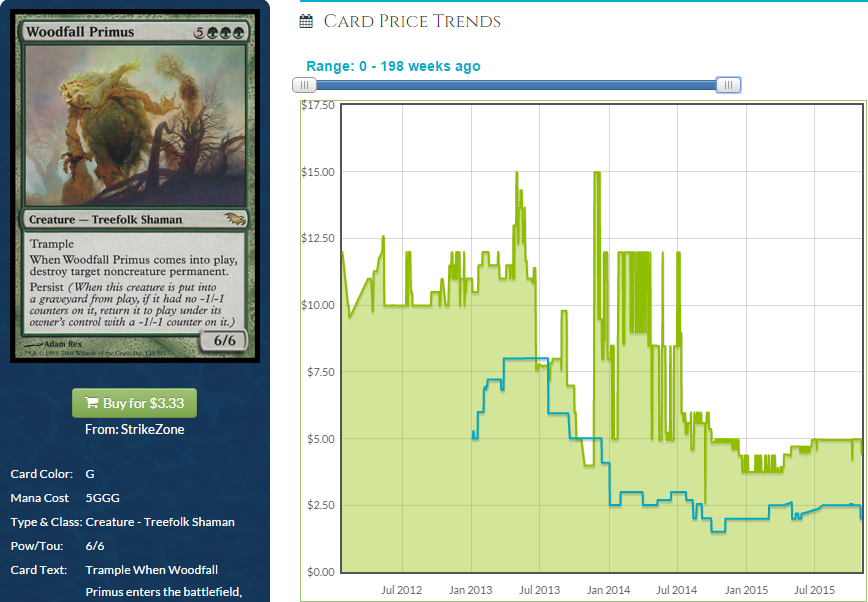 Modern Masters made this card stop being $15. Mazirek could make it $15 again, but not this year. Still, this isn't a $4 card anymore.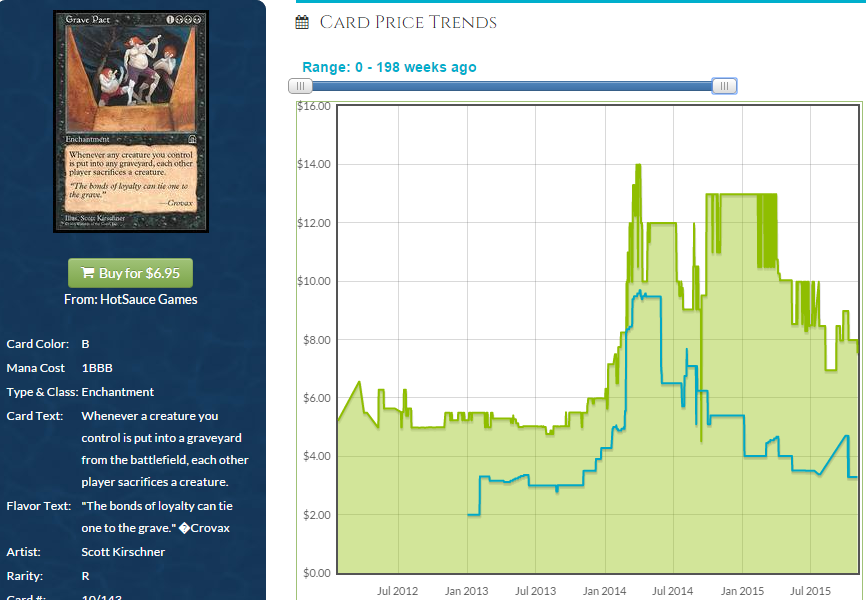 Prossh and the printing of Dictate of Erebos brought this staple down from its all-time high of $14, but it could get up there again.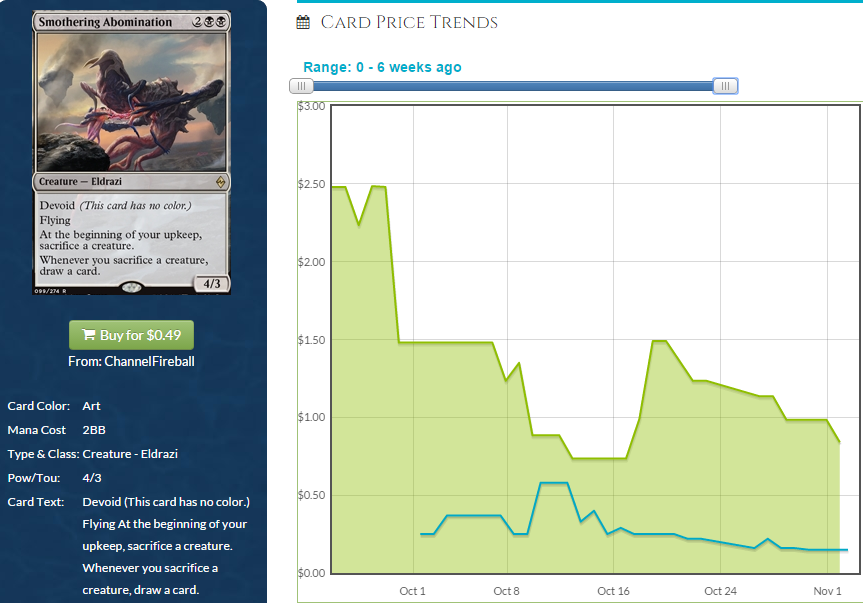 This personal Fecundity is pretty good, but I don't think it is at its bottom yet, nor do I think the non-foil can be pushed much.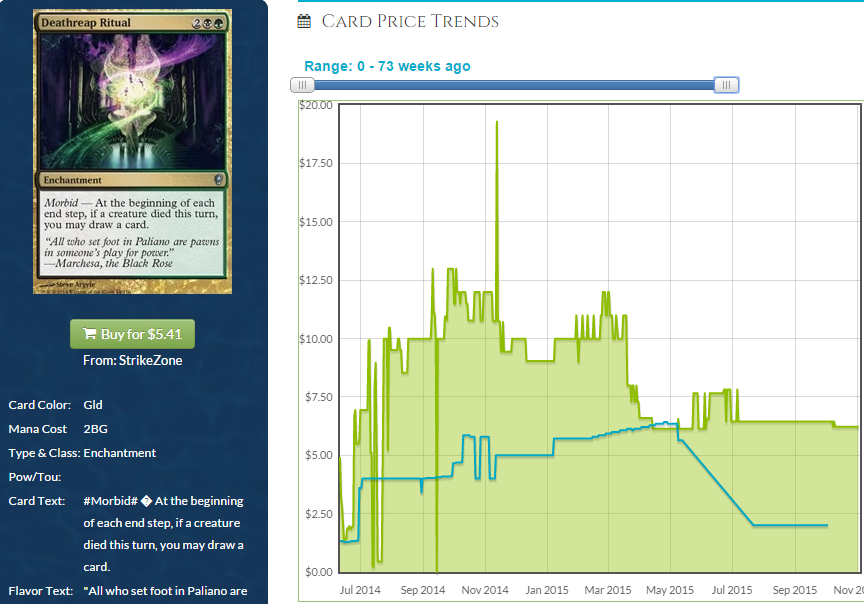 This personal Fecundity is a $6 foil and I think this deck gives it upside, and the fact that it's uncommon means the non-foil is irrelevant.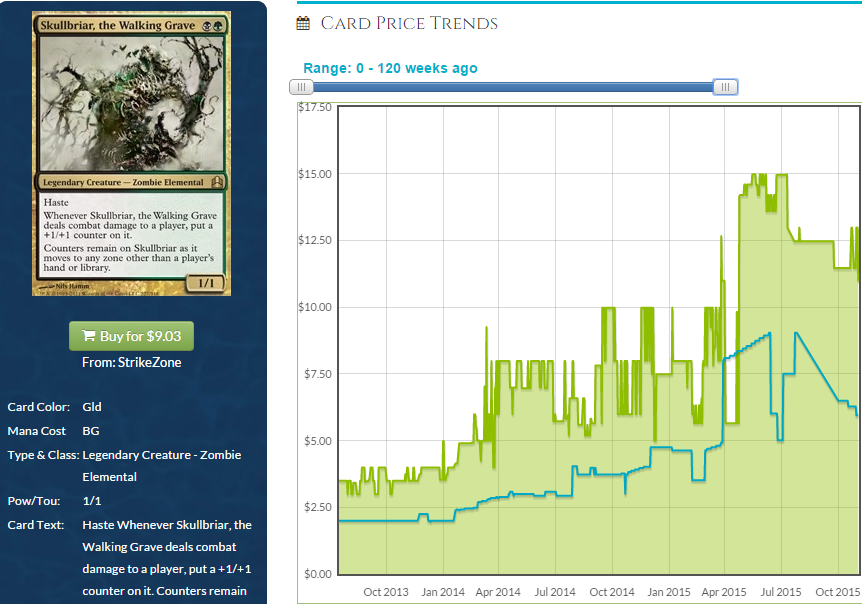 Skullbriar could get some upside as a deck as well as Ghave. Mazirek will be a fine commander but it can also bolster some older decks people may have forgotten about.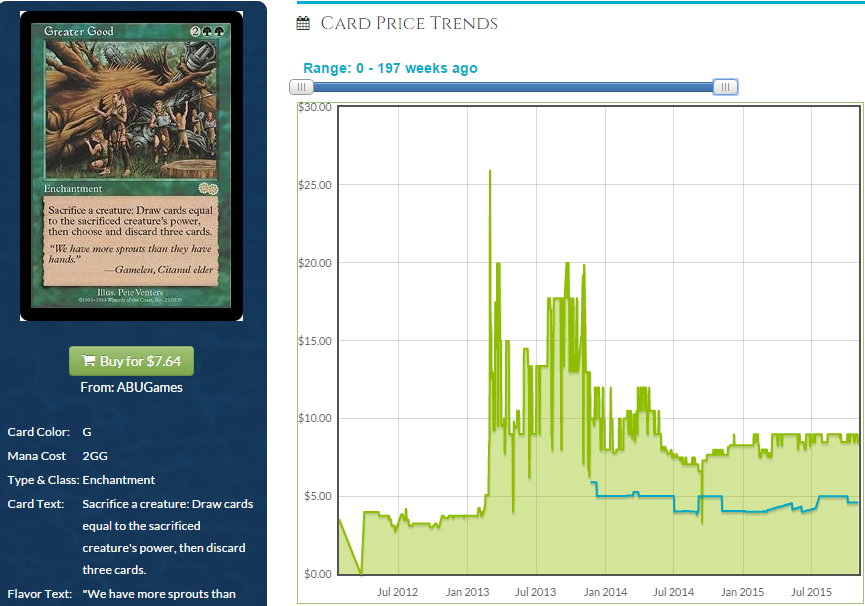 Greater Good is unlikely to be in the deck, but a sacrifice outlet is essential, and this is one of the best ones you can buy. This price has been flat for a while, but it has demonstrated the ability to be more than it is now. Renewed interest in sacrificing things will shine a new light on this.
Watch also: Prossh, Skyraider of Kher, Dictate of Erebos, Miren, the Moaning Well.
Kaseto, Orochi Archmage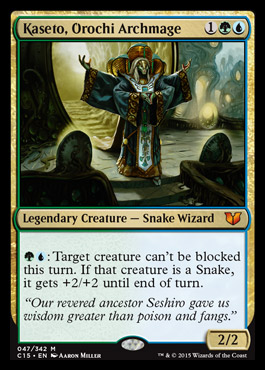 I'm not super jazzed about this, as Ezuri is much better, but since this is in the deck, we're likely to see snakes happen, so let's look at any snakes that get better with this guy at the helm since EDH players love to build tribal.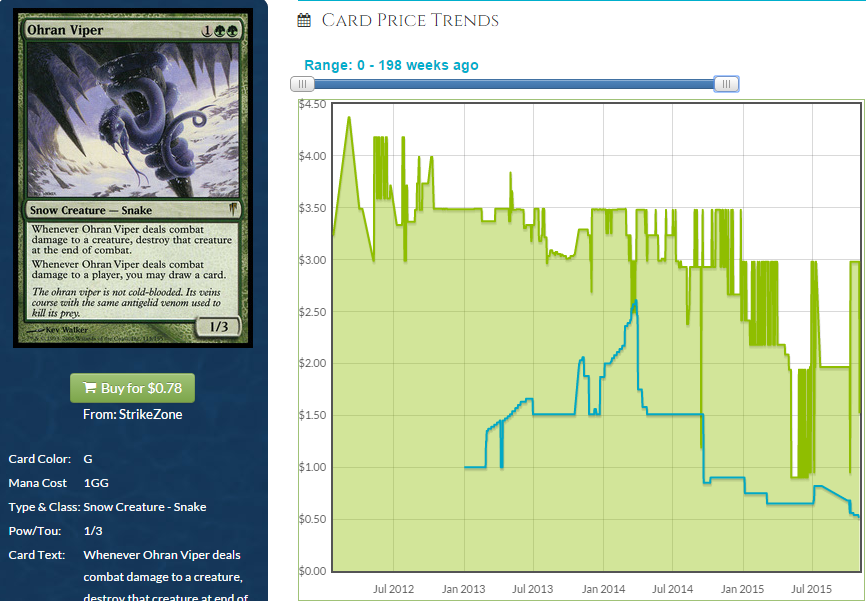 The Duel Deck printing pulled this card's pants down. I'm not sure I think the upside from the potential snake tribal deck makes me want to pay $12.50 for the foil, but the risk of reprint there is lower. This is a snake I want to make unblockable or leave on defense with the ability to pump up at will.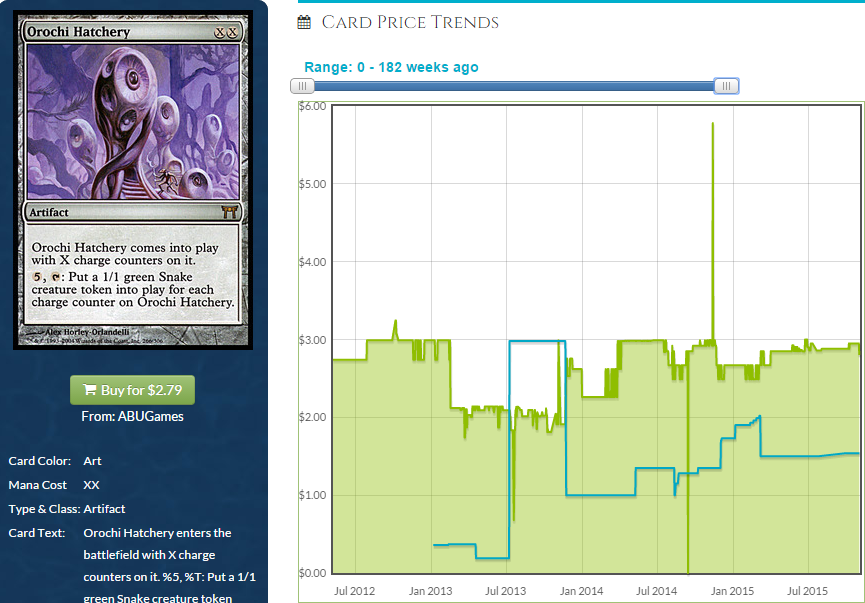 This is under $3 in foil and is absolutely going places. The non-foil could be in the deck but I like the foils.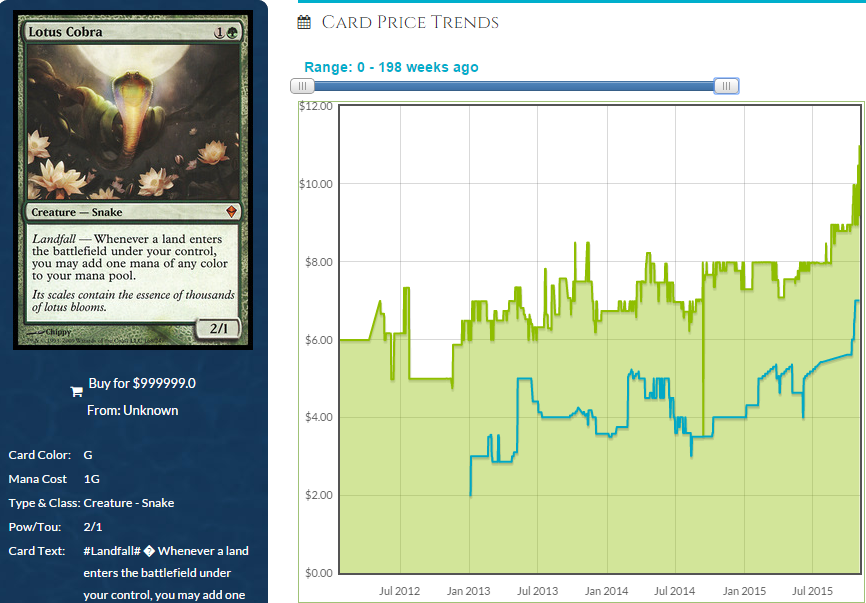 This card was going places already. You're not buying in at the floor, but with a combination of new landfall cards and this card's inherent unfairness with fetch lands, a new crop of which is in the hands of players and a new cycle of which is legal in Modern, this particular snake is gas.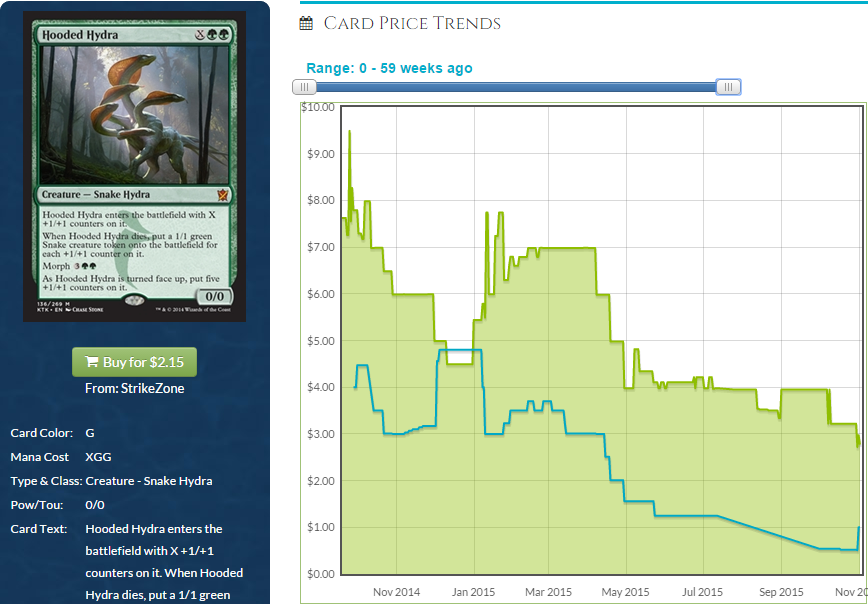 At under $3 in foil and close to bulk for a mythic, I don't leave a single one of these in a binder if I can avoid it. This is a snake that makes smaller snakes. Seems fine.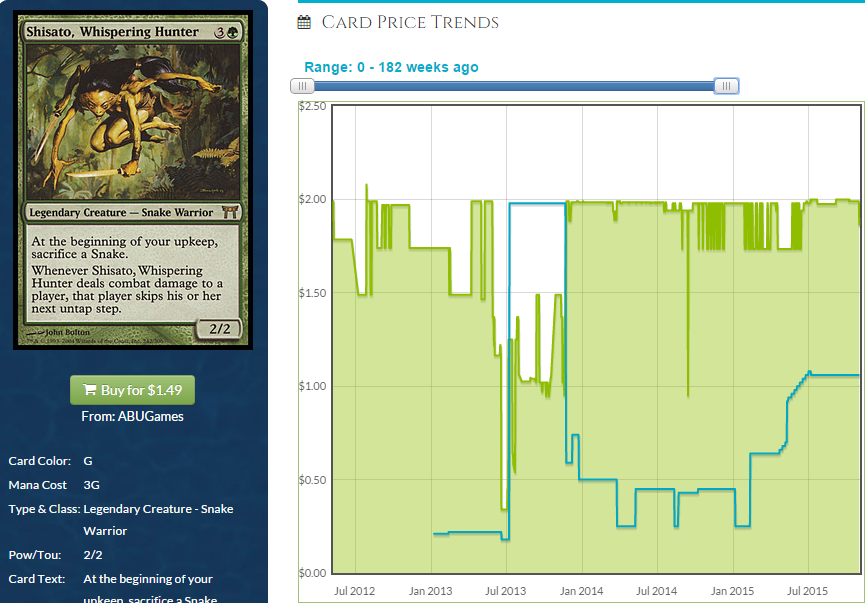 This gets a lot better when your commander can make it unblockable, and it's cheap even in foil. If snake tribal is a thing, this is in the deck.
Also watch: Nature's Will, Sasaya, Orochi Ascendant, Coat of Arms.
Ezuri, Claw of Progress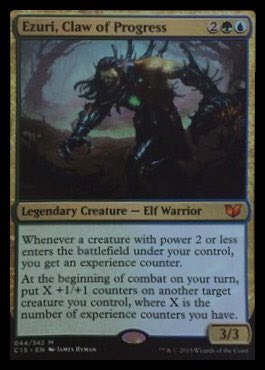 Wow. I was hoping the Simic experience counter guy wouldn't suck and this doesn't. At all. It's irresponsibly good. This makes too many cards good to even list.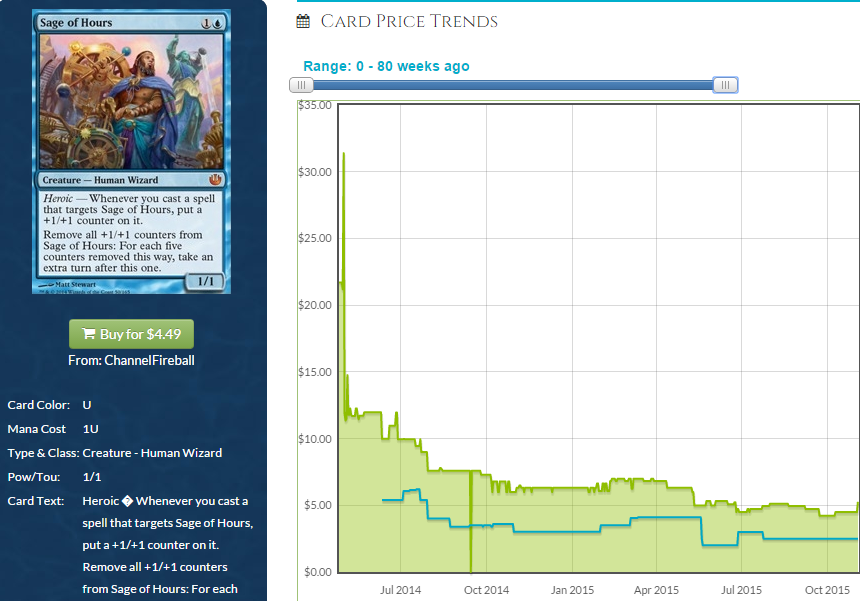 Can you get to five experience counters on Ezuri? What if you're proliferating? I'd guess $5 for a foil Sage of Hours is going to seem very reasonable in a week.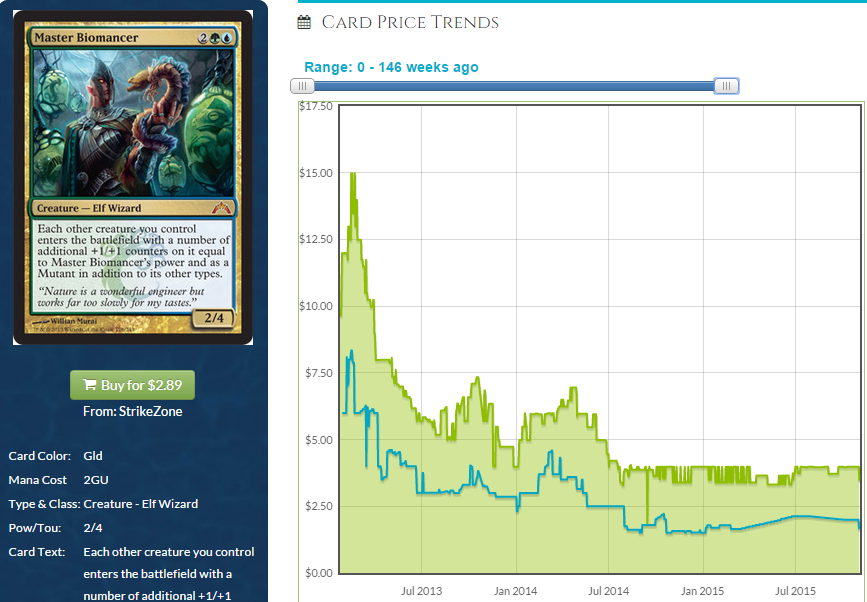 Hnnnnnnng. This is a bit of a nonbo if you're trying to put more counters on your commander, but just be good at Magic and don't sequence your cards terribly, and all of a sudden you can start dumping counters on Biomancer every turn and every creature you play is nuts.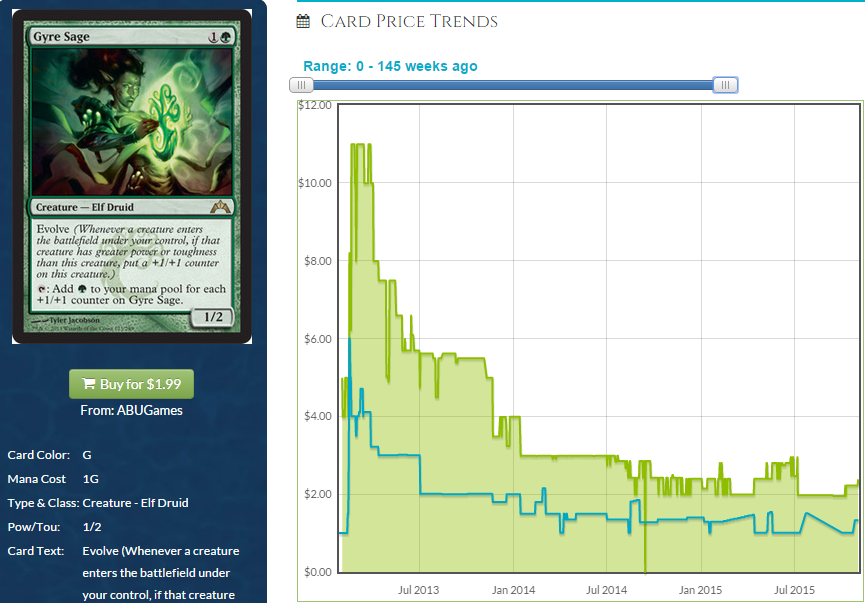 How good is this with Ezuri? Ugh. So good, that's how.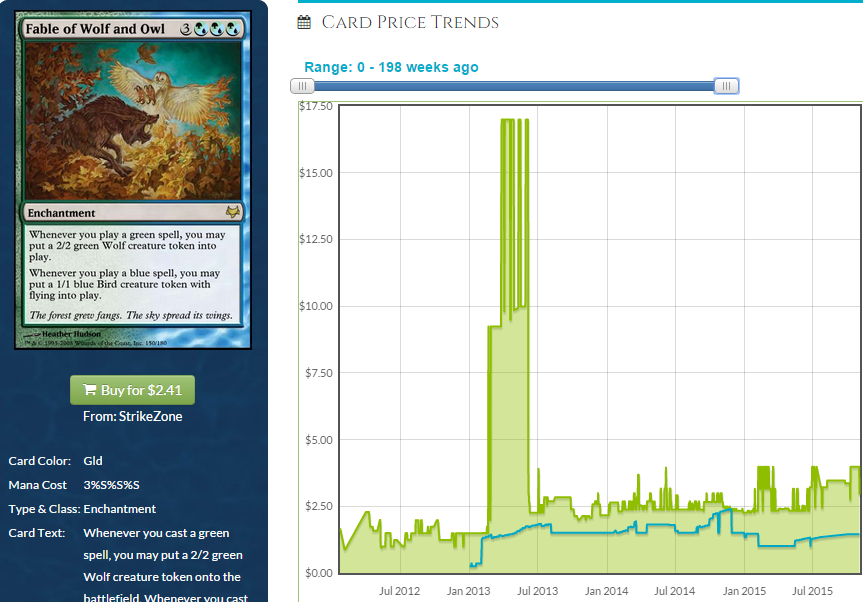 Yo, dawg, I hear you like triggers, so I made your triggers trigger your triggers. Imagine all the experience counters you will get playing this then something like Coiling Oracle. This is stupid. It's stupid how much better Ezuri is than every other card they've spoiled.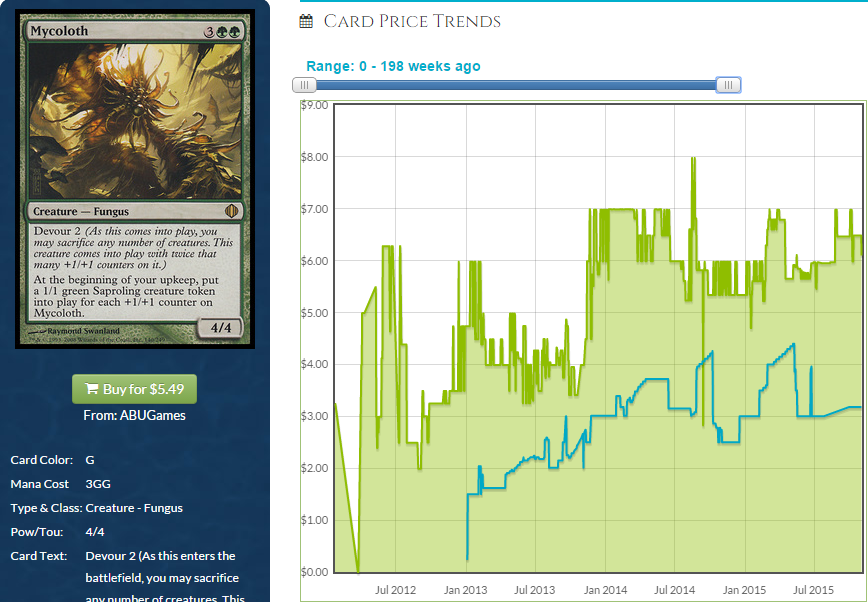 This is cheating. This is just absolute cheating. Mycoloth shrugged off a reprint and is headed for the stratosphere as it is and I can't imagine a ridiculous commander like Ezuri doesn't put a ton of upward pressure on this already decent price. This card is insane with Ezuri. I'm brewing a deck just by making a list of insane cards.
I don't know how much money you make buying this promo at $1, I just wanted to point out how insane this card is in an Ezuri deck. Jesus.
Also watch: Every hydra, Gilder Bairn, Doubling Season, Hardened Scales, Primal Vigor, Intruder Alarm, Cloudstone Curio, Inexorable Tide, Contagion Engine, Thrummingbird, basically every Simic card.
Why doesn't this card say "non-token" so you can't get 100 experience counters with a single Avenger of Zendikar? Why?
We're seeing some pretty good cards and there are a lot of older cards identified here that I'm very confident about the upside on. A lot of decks are about to be built, and the cards in those decks that didn't get reprinted have a lot of upside in their futures. Look what Nekusar did to wheel effects to see what kind of upside we're talking about for the best cards in these decks. EDH is a serious price driver, and we're about to see a lot of building going on.
I'm not super happy about getting EDH sealed product every year since it feels like too much to keep up with, but as long as I write for MTGPrice, I'm going to be on top of it and do the analysis so you don't have to.
We're going to get some new spoilers as the days go on, so check out MTGPrice for coverage and my weekly article series. Until next week!