With the wrap up of Grand Prix Seattle / Tacoma (which is really just Tacoma, I don't understand why Seattle is even mentioned), many people got another taste of the eternal format, Legacy.  Many players look at the huge turn out and wonder "why aren't there more Legacy Grands Prix? Look at how many people went to this one!"  While I understand these sentiments from the very vocal Legacy community, I don't think it's a good place to invest your future in Magic.
With the announcements from StarCity Games (here), the number of large Magic events is being cut in 2016.  StarCity games often had an open every weekend (including some holiday weekends) but has announced at least 5 weekends off in their first of 3 seasons this year (ending April 10th).  While I won't analyze the effect of less organized play opportunities as a whole on Magic, I will point out the breakdown of the 9 events.  There are 5 Standard events, 3 Modern events, and only 1 Legacy offering in these 4 months.  This cut back on Legacy in favor of Modern is indicative of a larger trend away from player's non-rotating format of choice from Legacy to Modern.  There are a lot of reasons why, but it's been in the numbers for a while.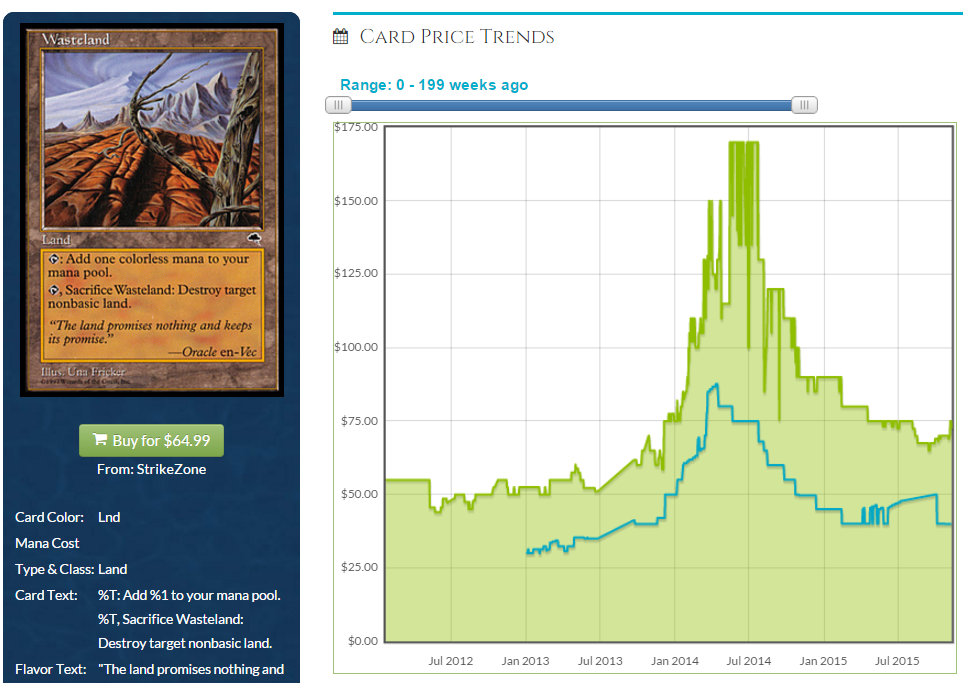 How the mighty have fallen, right?  Legacy cards have been heralded like blue chip stocks.  They have nowhere to go but up, right?  Wasteland is technically an uncommon and not part of the reserve list so it could be reprinted at any time.  Consumer confidence isn't high on this card and it's lack of Legacy play that is causing it to fall.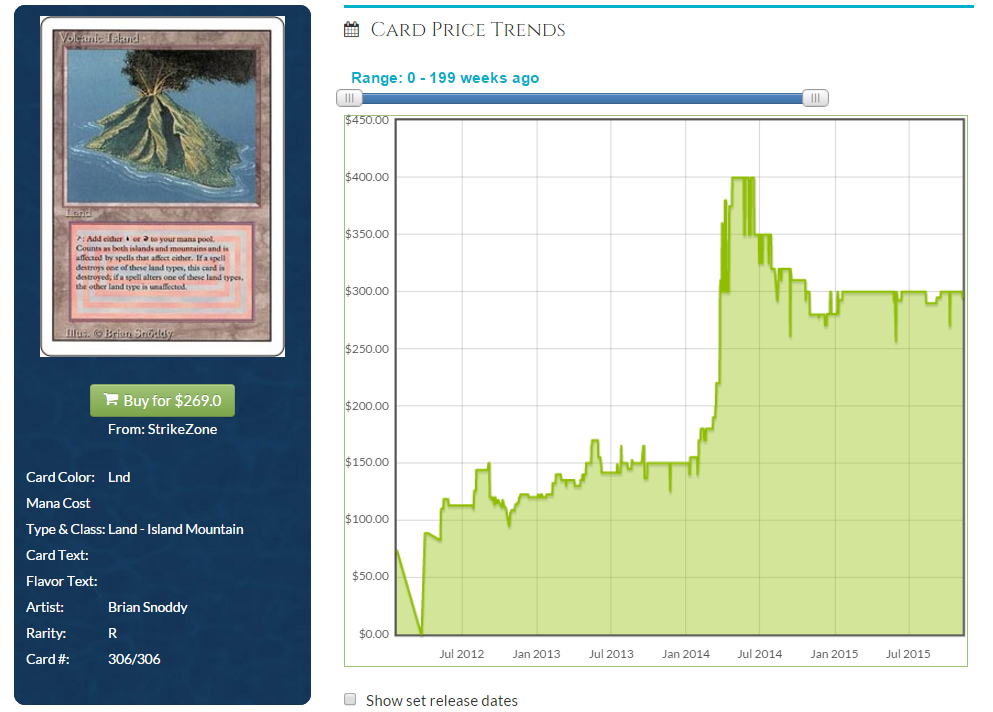 Even Revised Volcanic Island (arguably the most important land in the format) has seen a downward trend.  Although it is nowhere the pre-spike value of a mere $150, I can't see this card rebounding nearly as fast as Modern investments.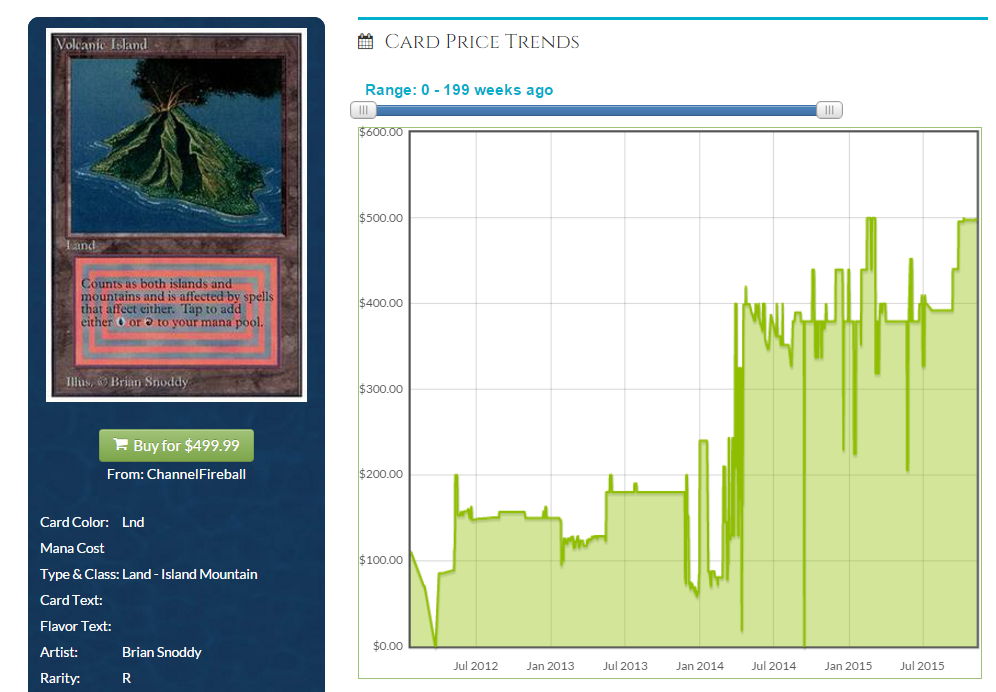 Unlimited edition Volcanic Islands have faired a little bit better because they're legal in that niche 93/94 format.  Given the fact that Volcanic Island was accidentally left off the Alpha print sheet (seriously, go ask a vendor if they have an Alpha Volcanic Island), there are far fewer choices for this dual land in this format.  If you want to invest in a dual, this is probably the best one (with scarcity being the only thing that continues to drive it's price up).
But what about Modern cards? They're just like Wasteland and can be reprinted.  What is happening to their price tags?  Well let's take a look at some cards from Modern Masters that were greatly affected by the reprint.
If you spent that $300 you could have spent to buy 1 Volcanic Island on Glimmervoid or Arcbound Ravager (cards that were not reprinted in Modern Masters 2015) in June, then you could have doubled your money in October.  The constant cycle of reprints is pushing the oldest cards to the front of the top gainers page each year.
The ease of turning Standard cards into Modern cards has never been higher with each set adding a few important cards to a Modern deck.  In fact, if you own the Standard Atarka Red deck right now you also own a minimum of 16 cards for a Modern burn deck.  It's much easier to make the transition to Modern than Legacy and it's more easy to support Modern at the LGS level because of sustainable reprints.
That being said, I'm not trying to take a shot at Legacy as a format.  I'm just voicing my concerns for continuing to hold cards that are highly influenced by their play in Legacy.  I think there are a number of ways Legacy can evolve as a format to allow for better game play and increased interest but I don't think this is the place to explain that.
Upgrading your Trade Binder
What can we learn from Modern Masters to apply to our portfolio at the end of this year?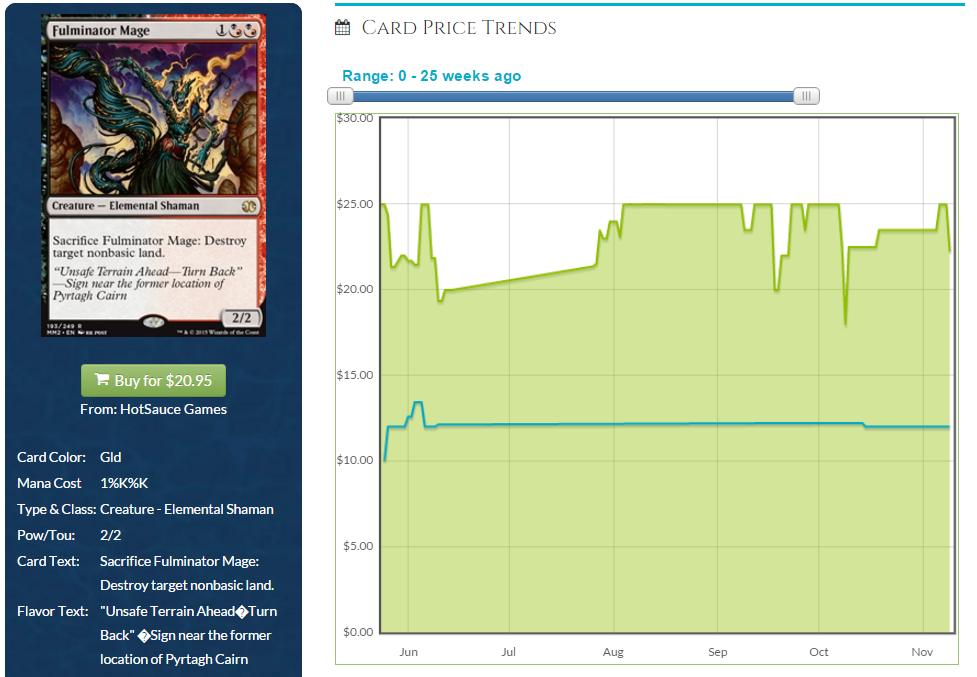 This is my go-to target for an easy double up.  As long as big mana decks like Tron and Amulet Bloom continue to see play, this will have a home.  All it takes is one weekend where Bloom or Tron win to cause a rush to buy Fulminator Mages.  The Shadowmoor Fulminator Mage hit highs of $60 before being reprinted, I can't fathom a world where this doesn't get back to $40 again before a reprint.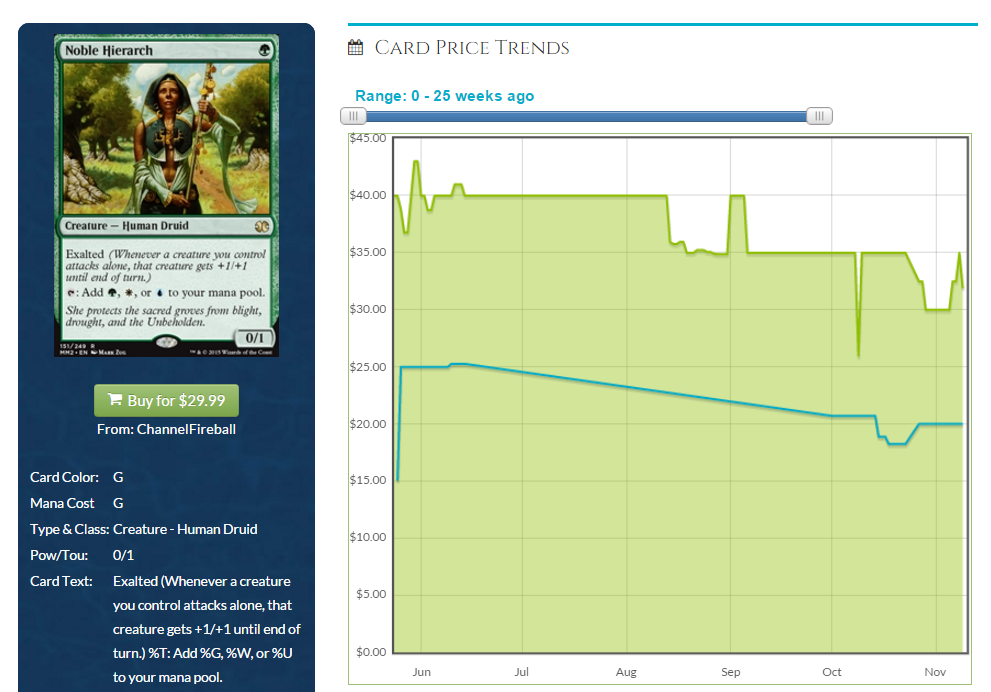 In continuing my trend of picking Modern Masters 2015 creatures, I think Noble Hierarch is another all-star that needs to be looked at.  True multi-deck staples will be the quickest to recover.  Noble Hierarch also gets some points for being the mainstay of a relatively inexpensive tier 1 deck, Infect.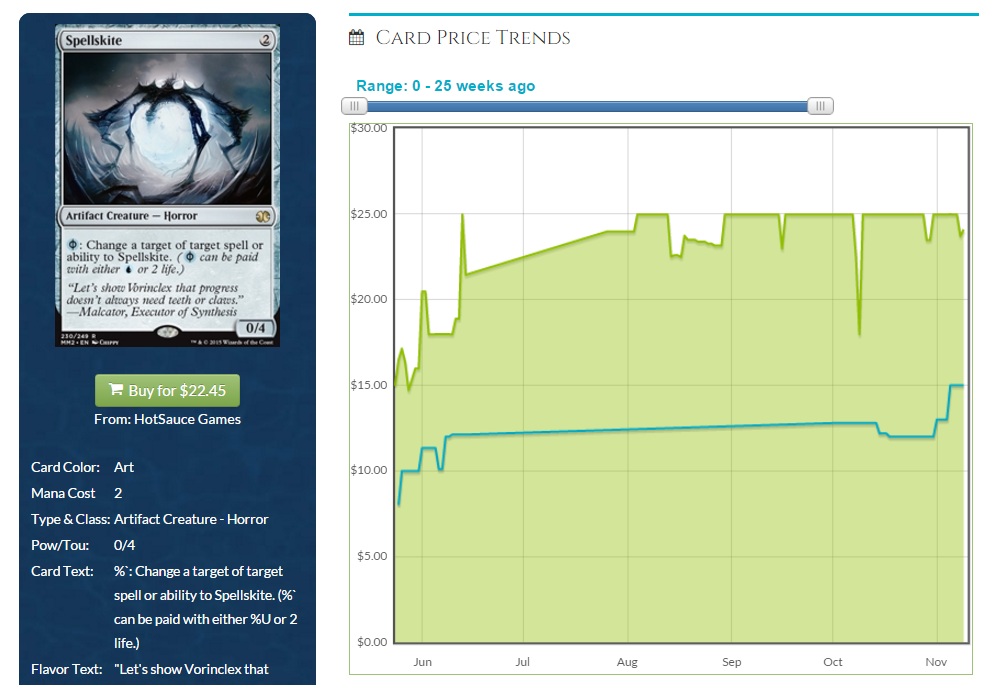 You know what's more of a horror than Spellskite's creature type?  It's one of few cards that has actually increased in price since it was reprinted.  It eats Kolaghan's Command like a champ, protects anyone from Lightning Bolts to the dome, gives Tarmogoyf +2/+2, and prevents Twin and Infect from winning pretty much on the spot.  Spellskite is like the perfect passive aggressive significant other that just sits in play protecting you at the potential cost of 2 life.  Anyone that doesn't have multiple of these will be scrambling for them when Modern events kick into high gear again.
Not everything is gold, however.  I would avoid any cards that got reprinted in both Modern Masters and Modern Masters 2015.  It wouldn't surprise me to see the trio of Tarmogoyf, Dark Confidant, and Vendilion Clique show up as marquee cards in Modern Masters 2017 (or whenever the next Modern Masters set is).  Some cards that got reprinted as a mythic but are a little more niche are also probably fine pickups.  Mox Opal will be in for a price correction if Ravager and Glimmervoid get printed again.  Karn will likely see a jump if Grove of the Burnwillows is in our near future.
You know what's a real odd one?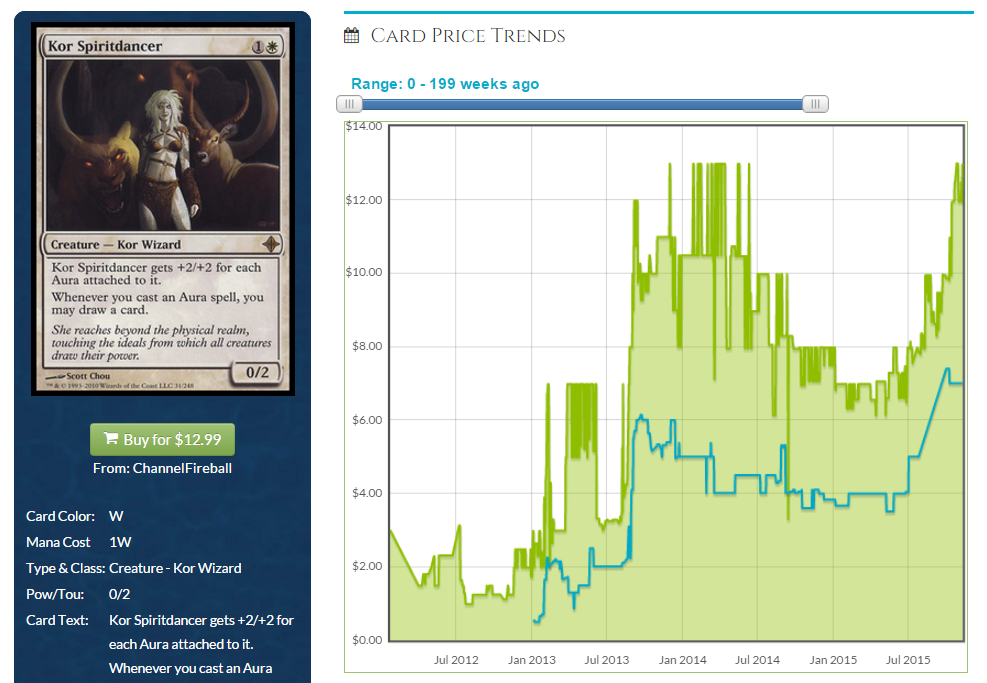 Kor Spiritdancer is probably a pretty decent investment for the near future.  This card has been on an upward trend since the $30+ Daybreak Coronets got reprinted.  Boggles decks are largely a collection of draft commons and Horizon Canopy  so they are a perfect budget option for a lot of players.  At some point, something in the deck has to be worth something and this is probably it.  It's hard to reprint since the Kor are native to Zendikar and there isn't an enchantment theme going on like during Rise of the Eldrazi.
Final Thoughts
I really don't want to hold onto Sensei's Divining Tops right now.  If Legacy is ever going to evolve into a format that is enjoyable to the general player base, that card will need to be banned.  It sits on the Modern banned list for similar reasons as to why it will probably eventually get banned.
In my opinion, Wizards needs to figure out a way to print creatures that cost more than one and less than eight that provide exciting game play for Legacy to experience any growth.
Khans of Tarkir and Fate Reforged cards are at the highest they will be for the next 2 years.  I do not expect any kind of jump in January when Oath of the Gatewatch is released.  Sell accordingly.
Expect a shake-up on the Modern ban list prior to the Pro-Tour in January.  Given the heath of the format, an unban seems more likely than a ban.
I expect a new Kozilek to be in Oath of the Gatewatch.  If he is as game ending as Ulamog, expect a green Eldrazi ramp deck to be good.
I don't expect the Commander 2015 decks to be a total bust.  If you can pick up Sword of Selves or Command Beacon in trades they should mature well.
Next week I will bring you some information from the vendors and artists at GP Atlanta