The full decklists for Commander 2015 have been published, so the slow trickle of spoilers is over, and now we have the weekend to make moves. It's a little late to do anything rash, but it doesn't hurt to be forewarned going into the next few weeks. Let's talk about what matters and what could happen.
First of all, here are the decks.
"Call the Spirits" AKA Daxos, the Returned
Relevant new cards – Daxos, the Returned ($3), Karlov of the Ghost Council ($3) , Grasp of Fate ($4), Righteous Confluence ($4)
Relevant reprints – Lightning Greaves ($7),  Karmic Justice ($7),  Phyrexian Arena ($10),  Black Market ($12)
Relevant exclusions – Grave Pact ($8), Dictate of Erebos ($2), Phyrexian Altar ($20)
If you were paying attention to my articles, you may or may not be impressed. You may be impressed that I identified Phyrexian Arena and Black Market as likely reprint targets, or you may be not impressed because I identified other cards that weren't reprinted. Either way, it's too late to sell off now, and  I have to imagine these cards, especially Black Market, can shake off the reprints.
Star City Games is only charging $6 for Black Market right now and that price is going to go down before it goes up. I'd watch what the price of Black Market does closely. Since a lot of the value of this deck is in reprints and not in new cards, I don't see speculators targeting this product heavily, which means the price isn't likely to plummet to much. Black Market was a card I identified as a potential corollary to Wurmcoil Engine, which rebounded nicely after the Commander 2014 reprinting.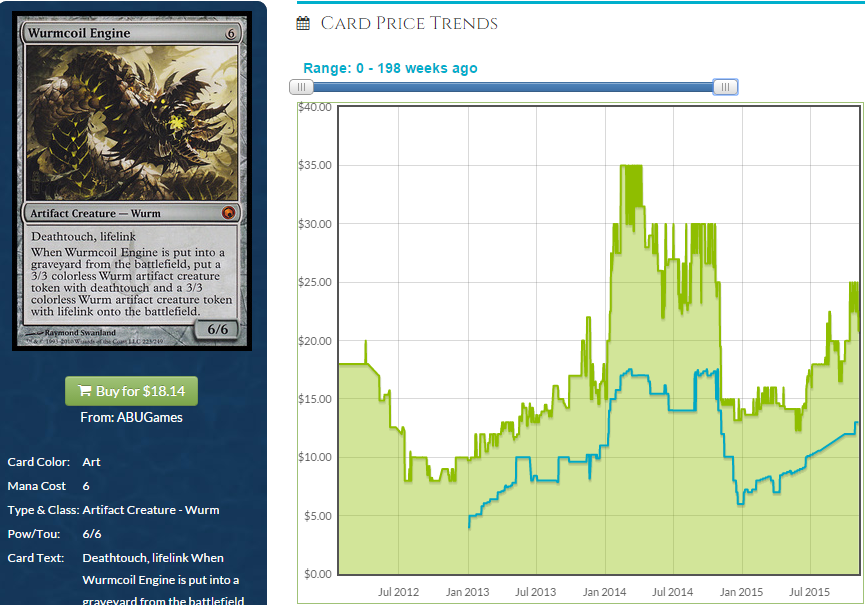 I think if we see Black Market dip below $5, especially the old border copies, you should trade aggressively for them. The card is insane in EDH and the reprint might help it in the long term because, like it or not, this may be the first time some players see this card and it may alert them to something they need in their deck and didn't know was real. I'm stocking up around $5, because I want a lot of these for my decks and I was holding off, hoping for a reprint.  I see opportunity here.
Similarly, Star City Games only wants $4 for Karmic Justice right now and that number is also going to go down. While the supply is greatly increased, Karmic Justice's price wasn't entirely predicated on scarcity but rather mostly on playability, and more copies won't entirely mitigate the price. I bet we see Karmic Justice rebound to a price nearly perfectly midway between its future $3 and its pre-reprint price of $7. There isn't a ton to be made, here, but if you trade for these at $2 to $3 and buylist them for $3.50 in a year, I don't think you'll be that upset, especially if you trade away Standard cards that are going to lose their value. I love trading Standard cards away and picking up EDH cards, it's like getting 100 percent of retail for your cards by shipping to a buylist in a little while.
"Seize Control" AKA Mizzix of the Izmagus
Relevant new cards – Mystic Confluence ($7)
Relevant reprints – Blatant Thievery ($4),
Relevant exclusions – An expensive card
I predicted a Legacy-playable card would be printed to make up a lot of the value of this deck and while they sort of tried with Mizzix's Mastery, no one is confident that card will go anywhere.
Players seem to be bullish on Mystic Confluence, given that a lot of people consider Jace's Ingenuity playable and this is that but better. The card simply isn't good enough to maintain all of the value of the deck. This is going to keep prices mostly from collapsing, but Mystic Confluence might be prohibitively expensive because there isn't much financial impetus to buy the deck. EDH players wanted something that interacted with artifacts and didn't get it, and they're similarly upset at all the $3 cards that are going to be $0.50 from now on.
I think there is opportunity, here. I think Aethersnatch will get a little cheaper before people realize how good it is, but I think it could go up from its current $3 fairly easily. It's a better Desertion and Desertion flirted with $10 for a while before its second reprinting in Commander's Arsenal. If Aethersnatch goes below $2.50, I'm going to target it in trades.
Mizzix's Mastery is very cheap, also. If anyone tries to play this in some sort of Storm deck, it's going to go way up from its current $2 and people will want them a playset at a time. Luckily for EDH players, no one is going to want Mystic Confluence for Legacy anytime soon, so EDH demand is going to dictate what prices in this deck do.
I wish they hadn't jammed a Thought Vessel (thoughtlessly) in every deck, because not every deck needs it and a little scarcity could have helped the price do something. Reliquary effects are lazy from a design standpoint and make the game annoying, but no one wants to be the first guy to eschew them, so they're here to stay.
"Plunder the Graves" AKA Meren of Clan Nel Toth
Relevant new cards – Wretched Confluence ($4), Meren of Clan Nel Toth ($4), Skullwinder ($2)
Relevant reprints – Eldrazi Monument ($10), Eternal Witness ($6), Mycoloth ($4), Lightning Greaves ($5), High Market ($4)
Relevant exclusions – Pernicious Deed ($3), Abrupt Decay ($15), Grave Pact ($8), Dictate of Erebos ($2), Asceticism ($10), Lord of Extinction ($13), Yavimaya Hollow ($10) (unreprintable)
First off, I want to say I bring up Yavimaya Hollow, because it is worth a second look given the new Simic and Golgari decks. It's on the Reserved List, as I was reminded when I wrote my Golgari article because I never remember to check that. With the card getting more looks as more people build more decks and no more copies coming, that seems like a safe place to park a few Hamiltons.
Speaking of that Golgari article, I do think it's funny that reading the comments I see Eddie Sárraga say, "Lotleth Troll and not Spiritmonger?" It's not funny because I was right about both of those things, but because it was a guess, and when I read that comment, I remember thinking, "Crap, they could totally reprint Spiritmonger and then this guy will laugh at me," which didn't happen. Spiritmonger wouldn't have been a terrible reprint, but didn't really fit the theme of the deck. I picked Lotleth Troll based on it doing color-pie-appropriate stuff since I figured they would build the deck around a Golgari key strength. Spiritmonger is a good "standalone" card, but doesn't place nice with graveyard shenanigans the way Lotleth Troll does. It wasn't an actual total guess on my part and was heavily influenced by the logic that the article was predicated upon. Not a bad guess, Eddie, but no Spiritmonger this time.
This deck is heavily valued based on reprints. I don't see any of the new cards going super nuts and becoming a ton of money, so the reprints are going to be the key draw for buying the decks and will accordingly have a tough time holding value.
We dodged a bullet as Butcher of Malakir got yet another reprinting instead of Grave Pact or Dictate of Erebos, two cards I expect to hold their value and increase dramatically in the case of Dictate. A reprint on Dictate before I can realize any profit from the heavily invested position I am in is a risk, and I took it gladly, but I would just as soon not have it happen. Reprint Butcher all you want. That card costs too much mana and is easier to kill than an enchantment. I mean, sometimes.
'Wade into Battle" AKA Kalemne, Disciple of Iroas
Relevant new cards – Blade of Selves ($1), Anya, Merciless Angel ($4), Fiery Confluence ($4)
Relevant reprints –  Gisela, Blade of Goldnight ($4), Urza's Incubator ($6), Lightning Greaves ($5), Taurean Mauler ($3), Sun Titan ($3)
Relevant exclusions – Aggravated Assault ($9), Scourge of the Throne ($9)
I did pretty well with my predictions on this one, nailing giant tribal enabler Urza's Incubator while I urged people not to hold onto Gisela, Blade of Goldnight and to wait until the spoilers to buy in if they were inclined. I had a few people message me telling me they saved some money by waiting and avoided losing some by shipping these cards, so I feel pretty good. I expected way more spells in this deck. Only nine total cards that aren't artifacts or creatures? That's so few. Every deck I see built with this precon in mind is predicated on a Sunforger package, so maybe that's where we should look for opportunities.
There just isn't a lot of value in this deck. It could be the worst one, and I think people predicted that would happen when they saw Kalemne spoiled. Ironically, grousing and talking about how the Boros deck would be the worst was people being optimistic. That optimism paid off—Boros is bad. Oh well. The blue and black decks were both pretty bad last time, and they both have pretty staunch defenders.
Besides, if we don't care, a bad deck could help us. Here's why. People who like some of the cards or just don't care about prices will buy the deck because they want to build Boros. If the deck is bad, the stores won't mark it up above MSRP, making it attractive to buy for people. Then they will jam other good stuff in. More dragons, equipment, and auras to make it more profitable to attack with Kalmne. They may even build with Gisela as the Commander, and that will sell all kinds of singles.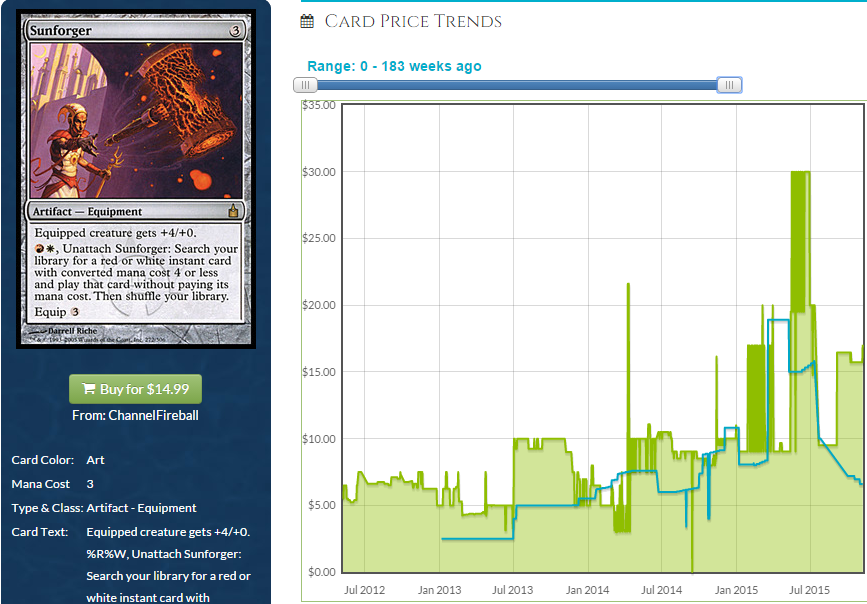 Foil Sunforger is returning to reality after Tiny Leaders proved that it wasn't a real format played by anyone. I'm not going to waste my word count saying, "I told you so," but you all know I absolutely did that. Sunforger on a Kalemne is pretty brutal, and having a Gisela out when you hit them with a Fiery Confluence could be fun. Tutoring for a 12-damage spell is very EDH. The reprinting in Modern Masters 2015 hurt the foil and non-foil prices of Sunforger, but I still think there is upside. The card is too good with Kalemne and the rest of the precon.
The only other opportunity I really see is that I think Blade of Selves is way, way too cheap. Then again, I've misjudged EDH equipment as a good buy at $1 before.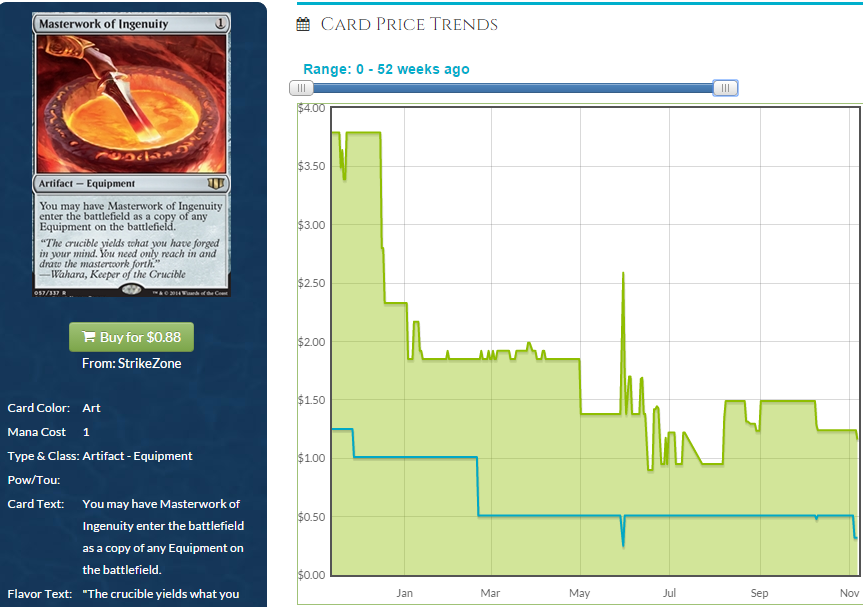 I still don't get why this hasn't caught on.
Still, Blade of Selves is much, much better than Masterwork of Ingenuity and can make some ridiculous board states. I think $1 is a pretty low-risk buy-in point, and if Blade of Selves is still $1 next week, I might look into investing $50 or so.
I don't see a ton of opportunity here. This deck mostly just smashed $10 cards into $5 cards and they will take a long time to recover from it and that's too bad.
Look, we've come to the one I want to write about.
"Swell the Host" AKA Ezuri, Claw of Progress
Relevant new cards – Ezuri, Claw of Progress ($4),  Skullwinder ($2)
Relevant reprints – Eternal Witness ($6), Forgotten Ancient ($4), Solemn Simulacrum ($4), Bane of Progress ($2), High Market ($4)
Relevant exclusions – Voidslime ($7), Doubling Season ($25)
This deck won't have a ton of value after the reprints tank, and the new cards seem to be underrated price-wise. I think this deck is going to be purchased for utility and that could create some scarcity and give Ezuri a little upside. I don't know if anyone wants to build snake tribal, but building around Ezuri seems nutty. The problem is that most of the cards that work in the deck are cheap already. Hydras could see the biggest boost, and I am all-in on cards that double counters.
Contagion Engine survived a reprinting and now that everyone is no longer holding their breath, we'll either see the non-foil go up or the foil come down or both. Contagion Engine is a card I identified as being great with Simic a long time ago, and it's still true.
This deck is the best to build around and with a new, mono-green Master Biomancer called Bloodspore Thrinax printed in the Golgari deck, we could see people play with both of those cards. After you get some experience counters on Ezuri, you can dump counters on Biomancer and Thrinax, and all of a sudden your Coiling Oracles and Mystic Snakes come into play as 12/12 creatures. So what if you can't get more experience counters? Why not proliferate, plebe? Do I have to tell you how to do everything?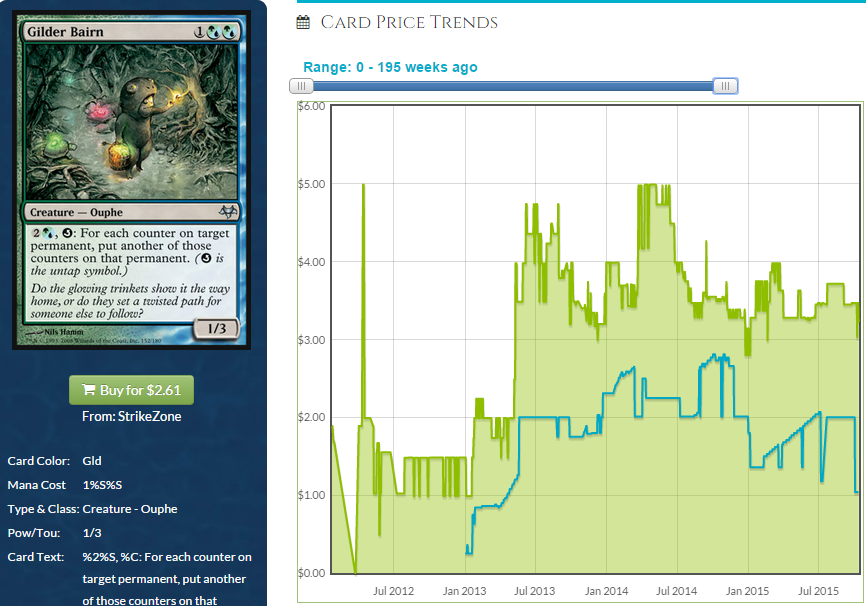 This could easily hit $5 as a result of this new deck if it's as popular as Twitter seems to think it will be.
I called Orochi Hatchery as my Brainstorm Brewery pick of the week if memory serves. I got blown out by the reprint. I sure hope I said "foil," but I have a feeling I didn't. Still, the card will get upside, especially the foil, as the reprint introduces new people to the card and gives them a snake tribal commander that isn't mono-green for once. I feel like this deck will have the biggest effect on the prices of cards that aren't in the deck, and I made suggestions about that here in this article and also in this older piece, so check those out for targets.
That's all I have for you this week. Next week I will brew a bit with the actual cards we got and talk about cards likely to be directly affected rather than speculating on what will be in the decks. This should be fun. We'll be looking at a ton of decklists, so get ready for that. It will be fun, I promise. Would I lie to you?