By: Travis Allen
@wizardbumpin
Before today's lesson, I have some announcements for the class. The first is that James Chillcott (@mtgcritic) and I have started a podcast, MTG Fast Finance. It's a no-frills, on-topic discussion of the week's Magic finance news. We start with a review of the biggest price changes, why they occurred, and what to expect. Then we each share several cards we're watching as potentially profitable. Our third segment is a look at any recent meaningful tournament results (this week's episode will assuredly look at SCG Atlanta). We finish off the episode with some quick back-and-forth on whatever topic strikes us. Our goal is to keep the content at the forefront, without a lot of fluff. Neither of us enjoy listening to 3 hours of banter with 3 minutes of useful information inside, so we're thinking maybe some of you guys don't either. Our goal is to make this into a weekly show that appears on, among other places, MTGCast and iTunes. Please give it a listen, and watch @mtgfastfinance for upcoming episodes!
If that isn't enough for you, I'm also still doing Cartel Aristocrats with Jeremy Aaronson, Douglas Johnson, Jim Casale, and Sigmund Ausfresser. It's an unedited video stream where we take questions and discuss the latest Magic events. You can find all the episodes on YouTube here, and submit questions/watch for news at @cartelartistocrats. Our next live stream is tentatively scheduled for this coming Saturday, 1/30/16 at 2:30 EST. Come hang out and ask a question!
Speaking of Cartel Aristocrats and segues, our last episode included a question about whether someone should sell their Eye of Ugins and Eldrazi Temples now or if they should hold them until some point in time we felt was ideal. I won't speak for the other writers, but I've been asked this question not only on Aristocrats, but also Twitter, in Reddit threads and article comments…really, anywhere I have a presence, I get asked this question. It's not always those two cards, and it's not always this time of the year, but it's a frequent inquiry. It doesn't even need to be a recently spiked card, but instead a staple such as Snapcaster Mage. And while that question gets asked year round, it happens most frequently about a month before the February Modern Pro Tour, which this year happens to be Pro Tour Oath of the Gatewatch.

The rest of this content is only visible to ProTrader members.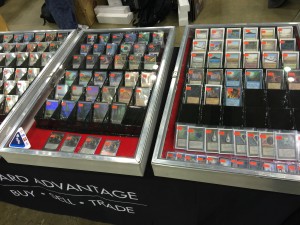 ProTrader: Magic doesn't have to be expensive.