So About Those Legacy Cards….
How about that? Magic prices have been going crazy over the past few weeks, and a lot of it is thanks to the Eternal Masters Announcement that I personally haven't really talked about a whole lot. I've been more focused on casual hits and collection grinding recently to worry about that kind of stuff, although I did enjoy the jumps on a few Legacy staples. Thankfully, the market that I want to talk about today moves a lot slower than the more competitive land of 4-ofs. While the wake-up call of "Reserved List is here to stay" has driven some interesting Legacy prices spikes, I'm happy to say that Commander has so far remained relatively untouched. If you're someone who's been on the fence about certain Commander staples for a while, let me be one of the first to say that you don't have a lot of time left.
Why Commander?
First, let me address some of the reasons for speculating on cards when their sole demand comes from singleton formats like Commander, Cube, and Tiny Lea-hahahaha…. Sorry, I couldn't write that with a straight face. Anyway, let's say for example that you buy 9x SP copies of Volrath's Stronghold for $21.29 each. You know that it's a powerful staple in almost every black Commander deck, and you've jammed it in at least a few Cube drafts before. According to EDHrec, Stronghold sees play in 10% of all decks that can support it. While this isn't close to the numbers of staple cards like Eternal Witness or Sol Ring, it's still a strong showing and a versatile card.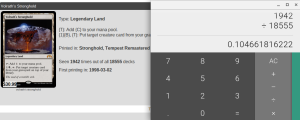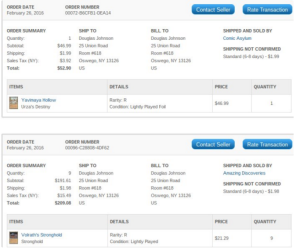 You did so because you've been noticing the supply dwindle on TCGplayer from 48 sellers with no price filters, all the way down to 30 sellers as of 3/1/2016. You want to check vendor confidence in the card, so you check SCG's storefront and their buylist. They're currently out of stock on Volrath's Stronghold at $30, and their buylist for NM copies is $17.50, which is 75% of the TCGmid price today. Starcity wants more Strongholds, so I'm going to follow suit.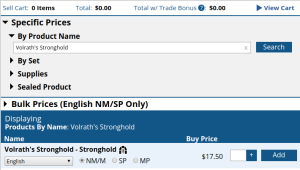 One of the problems in speculating on a 1-of wonder is the inability to unload a significant amount of copies relatively quickly. Patience is a virtue when dealing with Commander cards and finding the right buyer for them, because we're not shipping them out in playsets or selling into the hype from tournament results. We have to accept the slow trickle of sales as they come, and that type of strategy certainly isn't for everyone. It's probable that this is not the single best Magic: The Gathering card to buy right now if you're looking to make a huge amount of money in a short period of time (In other words, it's not the next City of Traitors where you can easily sell playsets to aspiring Legacy players). However I think it's safe to say that cards like Volrath's Stronghold and Earthcraft are some of the safest buys you can make at the moment (Except bulk rares!), especially if you intend to jam them into your Commander decks for the next year or so.
Specsheet Tracking
I sometimes obsess over cards that I speculate on, because I'm that confident in them. Many of the cards that I buy in collections and set aside for later have an "Eh, maybe one day" feel attached to them (Breaking // Entering, Seance, and Aggressive Mining are some of the forerunners in this category). However, the rest are the vocal majority that I've chosen to write about. I like to break down as many aspects of the card as possible, and keep my finger on the pulse day after day to check any minuscule change. Noticing the small 2-3% increases in price day after day is often the sign of an incoming spike in the near future.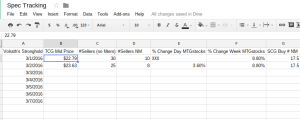 While this spreadsheet model is far from perfect, I think it's a decent representation of the factors that I'm trying to keep track of in my single-card case studies. Creating an "MTGfinance" routine in the morning can take less than ten minutes; simply scroll through Twitter, check your mtgstocks interests, and take quick glances at the applicable pieces of information in the spreadsheet above.
So Other than Stronghold….
Oh, right. Volrath's Stronghold is obviously not the only card that we need to keep our eyes on here.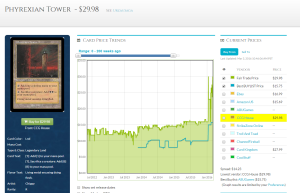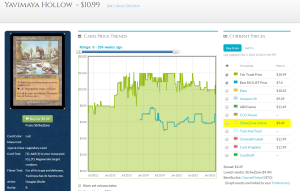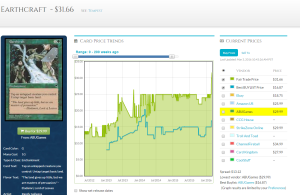 Is "Buy reserved list cards" going to be earth-shattering news to anyone with a cardboard cutout degree in Magic finance? No, of course not. You all have already made your money on Mox Diamond and City of Traitors, so these singletons are irrelevant to you.
End Step
Breaking news: Wizards just announced the first werewolf planeswalker, which we can probably assume will follow the trend of being a double-sided walker like Garruk Relentless. I would assume that she is able to flip back and forth between forms due to the following line "she can control the transformation, in both directions, with relative ease."
As we talked about last week in the Werewolf article, the Shadows over Innistrad checklist that was spoiled shows no mention of any legendary werewolf or planeswalker, but it is labeled "CH1/297". I think this all but confirms that we will receive a second checklist card with a separate set of double-faced cards to represent [Ed note: Wednesday's Werewolf Planeswalker announcement supports this]
I do not think that Wizards will reuse the templating from the Origins planeswalkers, because "Legendary creature turning into planeswalker" now has the flavor attachment of igniting a spark and having time pass between the two faces of the card.