First things first;
Jason Alt and I have been slaving away at spoiler coverage. Thankfully, we have it all in one convenient place that's only one click away.  Allow my excitement about how 90% of the set will be flavorful bulk rares flow through your mind. Now that that's out of the way, we can focus on the best card in Shadows Over Innistrad.
The Best Card in Shadows Over Innistrad
Have you seen this freaking frog? Don't worry, I'm going to avoid all of the overused Futurama hypnotoad references.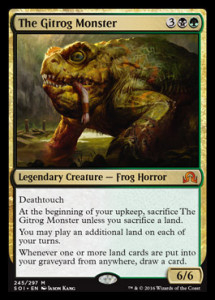 I know that I'm mainly supposed to write about finance and prices and all that jazz, but sweet miss Mary; this card is the bee's knees in my Child of Alara Lands deck. Every set I always cross my fingers and think "Maybe there will be just one card that I can throw into a certain Commander list", and this thing is it. Trade Routes, , Seismic Assault, Life from the Loam, fetchlands… the possibilities are endless. Oh, you want me to talk about Standard play? Meh, he's probably a bulk mythic, so I'll just wait two months to pick up a foil one for my Commander deck at like $1-2.
The Meat of the Article

Oh, right. I actually have to write about something this week. Well, let's start with an announcement made by TCGplayer.com last week that will have an impact on the way we buylist cards;
DIRECT IS NOW EVEN BETTER.

Las Vegas, NV, March 16, 2016 – Today TCGplayer.com® announced a dramatic expansion of the TCGplayer Direct service, the only fulfillment shipping program in the World for the multi-billion dollar collectible gaming industry.

TCGplayer's first of three announcements was a global expansion of TCGplayer Direct. With a brand new international fulfillment program for the collectibles industry, customers worldwide will be able to order from multiple collectible sellers and receive the orders in one package, for one shipping fee and verified by the professional graders at TCGplayer.

This revolutionary offering by TCGplayer allows its sellers to fulfill international customer orders at domestic U.S. shipping rates through TCGplayer Direct. TCGplayer Direct International will be the most efficient, affordable and safe way for sellers to sell collectible products worldwide.

The company also announced an expansion of its current TCGplayer Direct program, which will now fulfill orders of any size without a minimum order size. This change allows buyers to make smaller purchases from multiple Sellers for quick, spontaneous purchases of lower priced collectibles. This means significant sales growth for sellers while improving their profit margins on inexpensive but labor intensive orders, returning valuable hours for seller investment elsewhere.

Finally, the company's biggest announcement was the launch of a brand new marketplace called the TCGplayer Buylist, a revolutionary, first-of-its-kind program that empowers customers to easily find and receive the greatest prices available for everything in their collection without breaking it apart. Just as TCGplayer Direct combines the best prices for cards from hundreds of sellers, the TCGplayer Buylist provides the highest value for customers to sell their collection to all of the country's largest brick and mortar sellers through one convenient transaction.

For sellers, the TCGplayer Buylist will help them keep up with the accelerated sales that TCGplayer's new programs will drive. The TCGplayer Buylist provides sellers unparalleled inventory access from the World's customers, freeing them from the limitations of acquiring inventory from their local markets. Cards sold to sellers through the TCGplayer Buylist program are received and processed entirely by TCGplayer, delivering more incredible labor and logistics savings for them.

"The TCGplayer Buylist is the first marketplace designed to help brick and mortar stores acquire more inventory for the explosive collectible gaming market." said Chedy Hampson, founder and CEO of TCGplayer.com. "We're now able to provide our buyers and sellers with incredible logistic efficiencies that benefit everyone. The ability to instantly find and sell collectibles at one time for the best prices possible online will delight customers. And our sellers receive new solutions that grow their online sales while solving their inventory dilemma as they expand beyond their local town or city into the global ecommerce market."

Rollout of TCGplayer Direct International begins next week, with the order size expansion of TCGplayer Direct to follow at the end of the month. The TCGplayer Direct Buylist is underway for a summer 2016 launch.
Okay, there were a lot of words there. I know you kids love your TL;DRs, so I'll do my best to give you a summarized version of what we care about in this announcement.
People from around the world will be able to order cards via TCGplayer Direct. More importantly (at least, I assume that most of my reader base is 'Murican), that means it'll be a hell of a lot cheaper for us to sell cards to the international market if you're a TCGplayer Direct seller. Want to become a Direct seller? Honestly, it's not that difficult. If you have an average of four sales a day and you have over 99.5% feedback rating, you can apply right now.
There will no longer be a minimum order amount when buying cards through TCGplayer Direct. Currently there's a $25 minimum when placing an order with Direct, I assume so they don't get destroyed on shipping costs. This removal makes it a lot easier for those budget players who want to pick up an entire deck of bulk rares/commons for $20 can do so while only receiving a single package in the mail. Again, much better for those who want to hop into the Direct program but unaffecting you if you're a small time seller.
Their last announcement is by far the one that will have the largest impact on the market for everyone, regardless if you're part of the Direct program or if you're even a TCGplayer seller. They're coming out with the TCGplayer Buylist, allowing an individual person to ship their entire collection to TCGplayer and get the best buylist prices among those who sign up for the program. While there aren't a whole lot of details, it could be an attractive option for those players who want to dump a Commander deck or their entire collection without pricing out a billion different stores.
We don't have the exact details of everything about these new practices yet, but I'd still like to give my initial thoughts to quell some of the questions that I've been receiving. One of the biggest responses I've gotten to this post is as follows, paraphrased slightly:
"But DJ! How am I going to be able to act as my local buylist if TCGplayer is going to become one of the most prominent locations to sell cards to other brick and mortar stores? People will see their prices, and I'll have to up my buy prices on collections to compete with Channelfireball, Cardkingdom, etc."
Well, I'm not exactly worried about this encroaching on me being a local buylist. These same buylists existed before TCGplayer's Direct buylist, and very few players in my local area made the choice to ship their cards over selling to me or other local players. The biggest advantage you have as a local buylist over TCGplayer that won't change is that you have cash in your hand now. While CFB/CK/ABU might offer $600 on Person X's collection, you can still offer $500 on his/her pile of cards because immediate cash dollars have an inherent value when compared against "We'll send you a check/Paypal you in a few weeks after receiving/grading/verifying."
You're also removing a large chunk of the work from their side of the equation. Oh, you have six semi-foiled Commander decks that you need to get rid of to pay for X expense? Well, you'll have to set sort and alphabetize within sets for every card, and that takes a non-zero amount of time.  Then there's figuring out how you're going to ship it safely, taking the time to go to the post office and mail it…. Remember the magic words; "I have cash and can be at your place in X amount of time." Unless you live in an area where there's already a significant amount of competing buylists for high dollar staples, I don't think you'll have to worry about the Direct Buylist encroaching on your ability to buy collections or lots from local players.
That's actually a good segue into the next thing I was going to write about. Guess how many stores are going to have a Direct buy price for Scalding Tarn. There's going to be a lot, right? Okay, how about the number of stores who can afford to put a deep enough buylist for cards like Lightning Helix, Manamorphose, and Rancor? There will probably be some stores who can port their buylist directly (ChannelFireball, Cardkingdom, etc), but it should weed out a lot of the smaller minnows who are trying to play with the big boys.
Okay, final question. How many Direct buyers do you expect to see put up a non-foil Immerwolf or Savage Lands? Exactly. I'm going to predict that 99% of the stores who want to take part in the Direct buylist will not care in the slightest about paying pennies for the buylistable commons and uncommons that I have grown to love and enjoy. Go ahead and let the big cats fight over whether they're paying $55 or $60 for a Scalding Tarn, while you're happily buying bulk commons and uncommons by the tens of thousands and burning through Season 2 of Daredevil while you pick out the $.25 and $.50 cards.
The TCGplayer Direct buylist will allow the big name vendors to fight over paying top dollar for the hot staples in competitive formats. I think the best way to compete with this new market is to avoid it entirely by focusing on what has always been the best way to make money in Magic: bulk and bulk accessories. I'd rather have 23,000 bulk common/uncommon over a single Scalding Tarn any day of the week, and only one of those is going to give you an anxiety attack in the coming months about whether or not its' going to be reprinted.
Advertisement: OzGuild makes organizing your Magic card collection simple… Scan your cards into a digital catalogue using your smartphone, it's fun, fast and easy. Scan in your first deck for free!