If you haven't watched all of the Magic on Shadows over Innistrad weekend and don't want to be spoiled go watch it now and stop reading!
Spoiler warnings aside, congrats to fellow New York Rangers aficionado Jim Davis for his win with Bant Company.  If you played a Rally deck before the rotation this one is pretty similar make up (largely a backbone of Jace / Collected Company deck) so a switch would be easy.
Archangels and Lieutenants
Let's take a look at the decklists from the Open and see what  information we can glean about the future:

Thanks Craig!  Yes, half of the Top 8 of this event was some version of a white Humans Aggro deck.  Nine of the top 32 decks were a flavor of Humans Aggro deck.  Some decks stayed to the tried and true mono-white while others splashed blue or green for some exceptional main deck humans and additional sideboard flexibility.  What all of the decks have in commons is this base:
White-based human decks are likely to become a mainstay for people who really like to put on the beatdown.  That being said, I think the current price of $2-3 for these rares is unsustainable for a deck that was 29% of the top 32 meta game.  I expect these cards to creep up slowly because they're not very flashy.  However, if a humans deck does get a win they will probably spike.
Goggles in the Ice
If you watched the Open you get to see StarCity Games' writers a lot if they're doing well.  Well, Todd Anderson was doing pretty well this weekend with this monstrosity of a deck.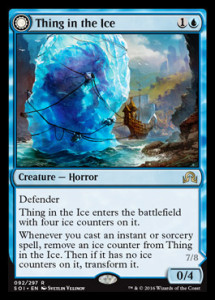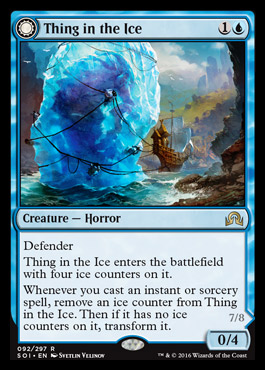 Thing in the Ice was definitely a very important part of this deck as it let Todd go from defense to offense very quickly and close out a game almost immediately.  That being said, it's price is still very confusing. The diverging buylist price and average sell price have me concerned that the player demand is not actually there.  I am still of the opinion you should sell these cards until we can see if it does anything in Modern and Legacy.  From the results this past weekend it doesn't look anyone is trying it besides the "fun of."
The price on these have already gone crazy (TCG low is $10 as of Sunday, up from about $2 on Friday) so I wouldn't buy them until it all settles down.  I tried to play a Pyromancer's Goggles deck a while back but it always ends up being frustrating when you draw the wrong half of your deck.  Lightning Axe might be the removal spell it needs to make Goggles consistent enough to play but I don't think this card can really carry a $10 price tag for long.  I'm a seller.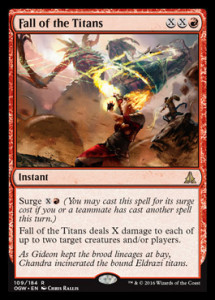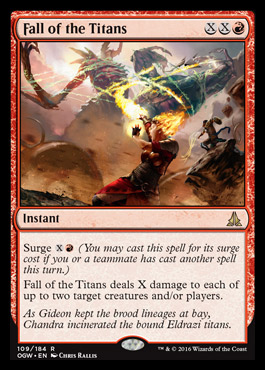 Boom flavor, right?  This was played in Todd's deck and is still a bulk rare.  If you're really intent on playing the deck I can't imagine these being cut.  It uses all of your extra mana and works great when forked with the goggles.  This is the kind of card I wouldn't be surprised if it gets played in larger quantities later and goes up to a few bucks.  Right now you can buy in for a quarter (and worst case scenario sell it back for a dime) so there is little downside to picking up a personal playset.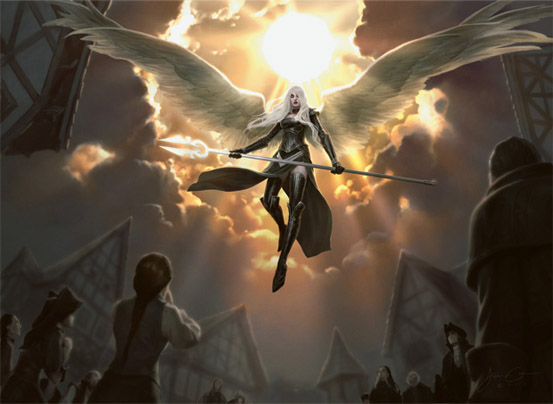 White is really good
Roughly 85% of the top 32 deck lists at SCG Baltimore played basic Plains.  Of the five decks that didn't, only one was in the Top 8, and only one more in the Top 16.  Turns out all of the white spells are really good right now.  Declaration in Stone, Archangel Avacyn, Archangel of Tithes, and Gideon, Ally of Zendikar showed up in multiple different types of decks this weekend.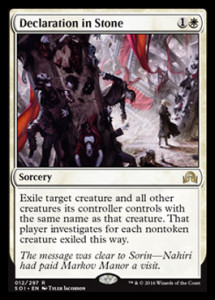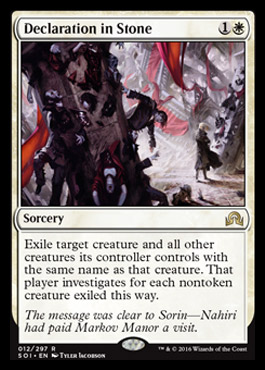 Declaration in Stone showed up as a 4-of in the 75 of six of seven Top 8 decks it could be played in.  The seventh deck was Jim Davis's which only played a paltry two.  It's clear this is a real show stopper for a lot of decks and allows the rag tag human army get past anything with ease.  I'm going to say this is going to end up a lot like Hero's Downfall.  It has the potential to hit $15-18 for a week or two and then fall down to a more reasonable number once MTGO redemption starts.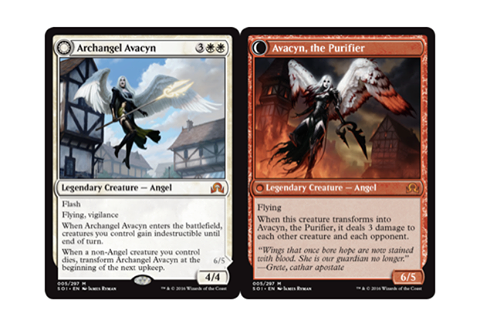 This card has a real chance to be another Jace, Vryn's Prodigy.  I'm not sure yet if it can keep climbing (it's already $30 on the cheapest places on the internet).  There wasn't the full four copies in every white deck because some of them played 22 lands and having consistent 5-drops is overly optimistic.  The casual angel appeal will also keep this card high so I'd expect it to follow Declaration in Stone's trajectory and become cheaper once MTGO redemption starts.  Right now I'm selling my extra copies to lock in profit.
Tokens
Westvale Abbey was definitely really good in the decks it was good in.  That sounds pretty obvious but Dragonlord Ojutai was really only mediocre in the decks it was good in.  Token decks that can dedicate whole turns to flipping the Abbey will be a real factor in Standard.  Their ability to chump humans until they can assemble a 9/7 haste lifelink to catch them up is huge.  Going forward this style deck might morph into a more all-in version with Cryptolith but time will tell.  I think this deck will be most affected by testing and tuning done at the Pro Tour.  All that information aside,  I'm super not interested in hanging onto Abbeys or Secure the Wastes with their current price tag.
Final Thoughts
Ancestral Vision probably won't be as good as people want it to be.  I didn't see very many in the Top 8 of the last Modern Classic
If we are going to see great innovation in Modern I would keep a close look at GP LA/Charlotte weekend.  We will see big movers then.
Shadows over Innistrad EV is very high right now. I'd sell everything you are not actively playing with while you still can.
If you want to meet up I will be making the tournament grind the entire month of May, hitting up GP NYC, SCG Indy, GP LA, and probably GP Minneapolis in an effort to secure two byes for the next year of Magic