Here's the list of rares in Modern Masters 2015 that are currently worth the MSRP of a pack:
Noble Hierarch $47
Spellskite $33
Fulminator Mage $29
Leyline of Sanctity $15
…and that's it. Only four rares worth the retail of $10, and that doesn't account for any markup you paid along the way.
I am pretty sure that there will be a similar trajectory for the rares of Eternal Masters, though some of the foils will have amazingly high prices. I'm expecting low things, much more in line with Modern Masters 2015: a few chase mythics, a little value at rare, and a lot of $5 and under cards.
I'm not going to go over every card, just the ones that I think will be near, at, or above the $10 mark by the time we get to Eldritch Moon.
Enlightened Tutor – Currently, this is solidly at $16 for the two nonfoil versions. Supply is tiny, though, and a lot of these are going to get put into Cubes and decks. I think this ends up just about $10.
Karmic Guide – The original is at $6, the Commander 2013 version is $3 and even the Judge Foil is barely at $20. This is the nail in the coffin, and will settle around $2.
Mother of Runes – Three printings keep this between $3 and $5, and I see no reason for that to change. The foils on this are interesting, as this art is more appealing than the other two foils, so we may see $25 or more on the foils.
Mystical Tutor – This is $8 with a From the Vault lurking at $25. It won't be higher than $10, but it will be more than $5. The foils will easily be $25 or more, though, as people will get rid of the FtV foil and the unusual look those have.
Serendib Efreet – It's never been good enough, though the stats alone are impressive. It's a 3 /4 flyer for a mere three mana! It'll be a dollar rare, unfortunately.
Ichorid – I'm inclined to say this takes a dive. Currently at $11, I'm pretty sure it'll fall to $6 or lower. It's just not popular enough. It's possible that people open this and want to build a Dredge/Bridge from Below deck, but I highly doubt it.
Sinkhole – Let's get this out of the way: It's not going to stay $30. This was a judge foil in 2010, and while it was a common, it was last printed in Unlimited. I would be fascinated to know if there were more Judge versions out there than Alpha and Beta ones. I suspect it's close, though I don't know for sure. This is best friends with Hymn to Tourach, but as a rare, I think this is going to end up very close to $10 out of pure price memory.
Toxic Deluge – It's played rarely but it was nudging up to $20 before the reprint news cut it to $10. I think it falls all the way to $5, and at that point, it's intriguing as a pickup.
Gamble – There are enough decks that want this to keep the price high, though I feel it will fall to $15 or so. Losing half of its value is still painful. Foils on this could be quite silly, though, because a lot of Commander decks will love it.
Sulfuric Vortex – This will put all the versions to bulk, though the foils might make it to $5.
Heritage Druid – Elf players need to brace themselves, because this is going to drop like a rock. Three dollars, but the foil will be about $15.
Regal Force – This is a surprisingly awesome card in a range of creature decks, which you might not expect for its stats. Financially, though, this is going to be a $5-$7 card with the foils about $20.
Shardless Agent – The buylist on this has already dropped by $5 in the last couple weeks, and that's a very bad sign for anyone who has these in stock. Once pushing $25, these will end at about $10.
Vindicate – That's a scary graph for a card, gradual declines over the last couple of years and now this. It's a universal answer, though, and you can never have enough of those. I want it to be higher, but this won't be above $10.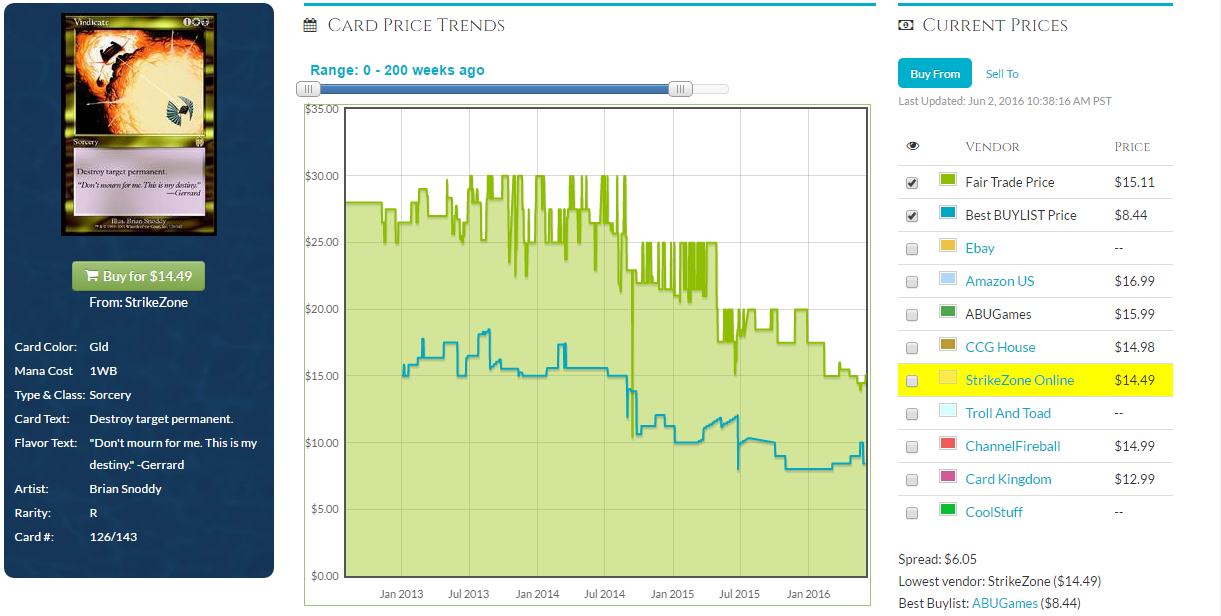 Isochron Scepter – Once, this was expensive and amazing with split cards, but it's gotten supplemental products here and there and this will put it to $2.
Sensei's Divining Top – The top has dropped nearly $10 since being spoiled and that's a very telling indicator. I personally can't stand people running this in Commander, as it is incremental advantage in a battlecruiser format, and it just takes so long! I expect this to settle at about $10, but I'm prepared for foils to carry a big multiplier, likely to about $40-$50.
Maze of Ith – I love to think about cards where the FTV version is less expensive than the original. Is it the art? The foiling process? Maybe it's amazing in 93-94? Thirty dollars is not where it's going to stay, but I do think we are going to see some odd price disconnects with this. The Eternal Masters version will likely settle between $10-$15.
Mishra's Factory – First off, I think your original four seasons versions are perfectly safe. Every other version is going to be just above bulk.
Wasteland – A Tempest uncommon, a Judge Foil, a Player Reward, a Zendikar Expedition, and now this. It's had that many extra printings and I think all the specials are relatively safe. They will feel a bump, but the Tempest version has lost more than $20 so far and it's going to fall farther. I think it ends up about $30, and that's a price I'm going to think about buying a few at.