By: Travis Allen
@wizardbumpin
---
Don't miss this week's installment of MTG Fast Finance! An on-topic, no-nonsense tour through the week's most important Magic economy changes.
---
Some weeks are easier than others. There are periods where I've got multiple articles in the chamber, and I end up waiting a month or two to finally get through them all. Other weeks…well… My article idea list has got a good 10 or 15 bullet points on it, but all of them require a considerable investment of time, something I have in short supply this week. After turning to Twitter for any suggestions and getting several that are not-quite article length, I figured I'd address several at once. You guys get lots of information, and I don't need to be creative. Works for everyone!
A quick note: you won't see any content out of me for awhile. I've got a long vacation planned, and then return to two busy weeks at work. I'm not setting any hard dates, but I probably won't be writing here or participating in the MTG Fast Finance podcast with James for a few weeks. (Though he may grab someone to fill in for me.) I'll be back eventually, probably before August. Don't think I've abandoned all of you; I'm just on vacation.
Ok, onward to useful discussion.

The rest of this content is only visible to ProTrader members.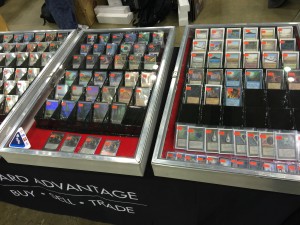 ProTrader: Magic doesn't have to be expensive.