Written By:
Douglas Johnson @Rose0fthorns
__________________________________________________
Welcome back, friends. I spent the last weekend moving into a new apartment, so I didn't have a whole time to spend on Magic. Thankfully I've still got some decent ideas leftover from last week's article, so we're going to talk about customer service in this industry a bit more. I'm sure you all want to hear about Craig Berry and the whole Reserved List buyout, but Corbin has already covered that extensively in an interesting interview with the man himself. I'd really recommend checking that out.
Last week we went over a couple of the scenarios where things can go wrong in the process of buying or selling a Magic card, and the proper procedures for both the buyer and seller to resolve things as peacefully as possible without resorting to insults and witch hunts. I'd like to start this article on a brighter note, and provide sellers with some ideas that can be used to really brighten a buyers' day and earn those coveted five-star reviews that we all want to secure. As such, this article will be a bit more "seller focused" because that's where I have more experience.
Freebies
Maybe this is getting to be more common practice, but I don't buy enough singles online to personally know whether or not that's true. What I do know is I've really started to enjoy shipping small little tokens of appreciation with my orders, often in the form of literal Token cards. While I'm not about to become Santa Claus and start throwing in the Wurm tokens for Wurmcoil Engine, a single Plant token for their Nissa, Voice of Zendikar can go a long way.
Seriously, these things are $3 each.
On a similar note, how many of you ship out the appropriate checklist card when you sell a double-faced card? While they only go on TCGplayer for pennies, you save someone from having to pay $.25 or $.50 at their LGS if you just throw in the appropriate checklist card. While someone purchasing an Archangel Avacyn is probably playing with opaque sleeves at a competitive event, there are a non-zero number of people who prefer to avoid the judge call entirely and just use checklist cards in their opaque sleeves while reserving the actual card in a clear sleeve in their deckbox for an easy flip back and forth.
My favorite card to ship with the matching checklist is definitely Startled Awake. Do you know who's casting this card? I'll give you a hint; they probably don't play with opaque sleeves, if any sleeves at all. That person will be ecstatic that they don't need to hunt down the checklist card. Now that we're on the subject, I'm absolutely fine with holding Startled Awake at the $3 they're at now.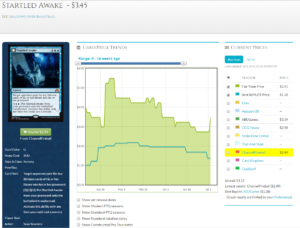 It's not quite at the point where I'd actually feel comfortable listing it on TCGplayer, because that flat .50 fee per transaction makes selling cards under $5 less than appetizing to low level sellers. Remember that there approximately the same number of these in the market right now as there are Archangel Avacyn. This is a casual all-star with ridiculously low supply, which helps beat the test that Breaking // Entering fails to pass. Being a launch promo during Dragon's Maze kind of kills all of the potential that one had. Anyway, where were we?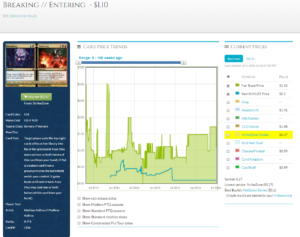 Wrong Address
Oh, right. Customer service stuff.  Now here's a situation that's never happened to me and I'm very thankful that I haven't had to deal with it. Every now and then, human error gets the best of us and two orders get shipped to the wrong addresses. The Modern player who ordered four Life from the Loams gets sent a foil Kaalia of the Vaast, and vice versa for the aspiring Commander player who just wants to bash with dragons and angels. Just great. So what do you do? Do you ask them both to ship the cards back to you? You could just ask them to ship to each other…..
WRONG.
Do not do this. Ever. Nope nope nope nope nope. Do not ever put yourself or the buyer at that kind of risk. You don't want to be giving out other people's addresses, and you don't want buyer A screwing up the shipping process while they end up getting their card safe and sound, while buyer B is screwed over. You also shouldn't be sending them money to cover the cost of the PayPal shipping label. Here's what you need to do to make this right on both ends: It will cost you a decent chunk of money, but it's your fault multiplied by two in the first place.
1. Print out a total of four shipping labels to start with. One of these is going to buyer A, and one is going to buyer B. The other two shipping labels are addressed to you as the seller.
2. Place the necessary shipping materials inside each of two bubble mailers. That includes one other bubble mailer, the necessary sleeves, toploaders, and/or a team bag. Whatever is needed to safely package the card and return it to you.
3. Ask each buyer to safely and securely package the order just as it came, and then reseal it in the bubble mailer they received, taping the pre-paid shipping label to the envelope. Those mailers go back to you as the seller, so that you can then re-ship the correct orders to the correct buyers.
None of this can be done without tracking, because this gives buyers an opportunity to lose or even steal cards without you being able to provide evidence of what happened. Cover yourself every step of the way, and take the loss like an adult.
Of course, the exact method listed above can easily cost you $10 in shipping materials alone. For this reason, it's only really worth it for you to do if the cards shipped to each party are valuable enough to care about being tracked. In the case of smaller orders (think $4-5), it might just be easier and cheaper to just purchase a replacement copy of each buyer's order, and ship it directly to them via PWE, then tell them to keep the misplaced order as compensation for the trouble.
Endgame
So what's the end goal here? As a seller, I've technically given you a bunch of ways to lose money in the past two articles. Paying buyers for condition discrepancies, lost orders, and throwing in free cards? Who would want to do that? If you ignore the whole "hoping for repeat customers" reason, there's still tangible benefits for having a high feedback rating on TCGplayer.
If you start selling a decent number of cards on TCGplayer, you might want to work your way up to "Gold Star Seller" status. I'll let you read TCGplayer's description of what that entails.
That middle statement is the really relevant part to us. When you're looking to buy on TCGplayer, you can set a filter so that you're only looking at "Gold Star Seller"s.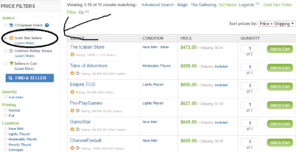 Alternatively, you can use positive feedback from eBay or TCGplayer as references when starting to sell via Facebook or Twitter. One of the downsides of trying to start out selling on social media is a need for checkable references for accountability. Being able to prove your reputation and connect it to a "tangible" online store that can receive feedback and be named in case of trouble can help get you started in the market of Facebook and Twitter, which is where I always recommend trying to pick up singles at less than TCGplayer low prices.
_____________________________________________________________________
ADVERTISEMENT: OzGuild makes organising your Magic card collection simple… Scan your cards into a digital catalogue using your smartphone, it's fun, fast and easy. Scan in your first deck for free!