By: Travis Allen
@wizardbumpin
---
Don't miss this week's installment of MTG Fast Finance! An on-topic, no-nonsense tour through the week's most important Magic economy changes.
---
Our second weekend in of Eldritch Moon Standard and we continue to find ourselves in bant company.
After the cut, Bant made up something silly like 50% of the metagame. What's really impressive about that is that nobody showed up not expecting to play against the deck. Everyone sitting down Saturday morning had a plan for Bant, and apparently that plan was "play Bant." When a deck does this well in the face of a well-informed and readied opposition, it's telling that things have gone wrong. This coming weekend is Pro Tour Eldritch Moon, where hopefully the pros will have found a strategy to crack Bant's dominance.
Dissenger's GU Crush of Tentacles deck looked like it may offer some relief from endless Company mirrors. It may be that any solution is going to require going well over the top of anything they're capable of. Casting a sweeper or two may not be sufficient; establishing a true lock over the game state may be what's required. Control decks typically don't include such an air-tight (and resource-intensive) end game plan. Perhaps that will need to change.

The rest of this content is only visible to ProTrader members.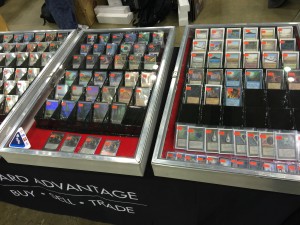 ProTrader: Magic doesn't have to be expensive.