So my Conspiracy "set review" is going to be something a little bit different, just because the set itself is very unique. We are going to center the discussion not around individual cards, but the dividing line in the set between constructed-focused cards and group-play focused. Commander is a set that straddles this dividing line from a format perspective, just as Show and Tell does from an individual card perspective, but I think you'll understand once we get started.
Let's start with why this card is "bad":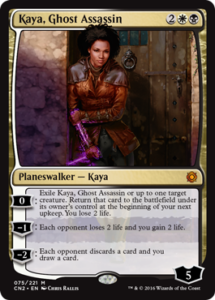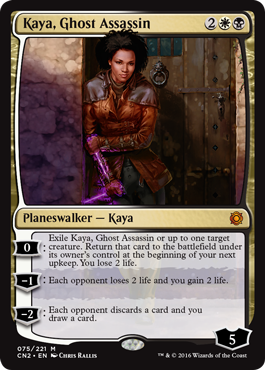 Kaya operates on a functional axis that is very different than any form of constructed 1v1 Magic. Playing Kaya is a means of residual card value (in the traditional sense of "card advantage", which is more accurately "card economy"), rather than a means of simply "this card is a threat to win the game". Dividing Magic cards into two camps ("Threats", meaning things that will kill people, and "answers", which negate threats) leaves a very large undefined portion of cards (think Rampant Growth). These remaining cards are best classified as "materiel", the resources gained or developed to accomplish the task at hand.
In traditional constructed formats, materiel is prioritized based on immediacy and efficiency- Brainstorm is not better than a Braingeyser for 7 in a vacuum, but the former is a Legacy staple. This is because materiel serves only in the deployment of similarly efficient threats. Put another way- Tournament Magic is about spending resources efficiently, whereas Commander (and associated forms of group Magic) are simply about acquiring more resources1. Kaya is going to draw you a card on two of your next three turns (and also force your opponents to discard, which is probably just so they will actually bother to attack her), and that will essentially be a loop until she is removed or the game ends. Over nine turns, she will draw you up to six cards, which is really impressive. In Legacy, she would likely draw you a card, and force your opponent to discard two cards (one from her ability and the Lightning Bolt that kills her). Tournament Magic compresses the number of turns in a game, where group Magic (by nature of higher life totals, higher converted mana costs, and the intrinsic haze of group game politics) has more turns. Kaya, by virtue of being a card that scales in quality with the amount of turns in a game, is better in formats that are not tournament sanctioned2.
The financial impact here is an interesting wrinkle. Although Commander is not the only multiplayer format, it is currently the de facto multiplayer format. If future generations come to appreciate things like Emperor, then the following rationale may change, but as is we are going to see most of Kaya's "demand" be in the form of single copies. If a playset of a card can meet the demand of four players rather than one, then the supply can very quickly meet and outstrip demand.
In the case of conspiracies (the card type) and other draft-reliant cards, the overall demand for these is so low that it is hard to see any of them becoming more than curiosities long term.
With all that out of the way, let's look at what Conspiracy 2 has worth mentioning: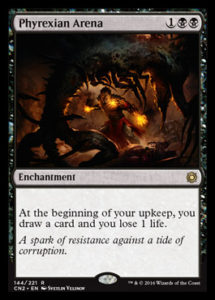 Burning Wish: Better than the three cards listed above, but really only good in one already expensive deck.
Stunt Double: Anywhere that you were playing Clone, you are now playing this. Unless your Clone is Alpha, Beta, or Onslaught JP foil.
There are a lot of really crappy rares in this set.
Serum Visions: Trade these for a pack with anyone who will let you. At uncommon, these are likely to sit below $3 for a long while. This card was really only expensive because it was so (relatively) scarce- the blue decks have so many other expensive cards that this won't suddenly lead people to build U/x control decks in Modern.
Daretti, Ingenious Iconoclast: This seems like a definite include in most cubes, especially Powered ones, but I'm not as sure if it is able to slot into Vintage as cleanly as Dack Fayden did. The +1 isn't great, and the ultimate is largely just a "win more". This could easily be the most expensive foil in the set, even if it ultimately underwhelms in cube and Vintage.
I really looked for a card that might be Legacy or Vintage playable that contains the word "monarch" in the rules text, but it seems like everything that fits is priced too conservatively. That's unfortunate, because there are a few matchups in Legacy where there is so little creature combat that it could easily snowball games in your favor. Maybe that's why? Also, Goad is essentially blank space.
That's all for today! Also, make sure to check out NPR One "The Next Wave" in the ProTrader forums. Let's say it's required reading for next week.
Best,
Ross
1Aaron Forsythe has before said something very similar, and I'm not going to say that I came up with this independently.
2I will always and forever exclude Commander pods as actual "tournaments"- they are more accurately WotC-endorsed ways of meeting new friends.
3Painted Stone- the Tennessee Titans of Legacy decks (because it is terrible and I hate it).