By: Travis Allen
@wizardbumpin
---
Don't miss this week's installment of the MTG Fast Finance podcast, an on-topic, no-nonsense tour through the week's most important changes in the Magic economy.
---
Kaladesh is pretty awesome looking, right? Aesthetically it's a great blend of multiple inspirations, and the glistening flourish of the art direction is a welcome reprieve after the grimdark atmosphere of Shadows Over Innistrad. People are glad to see a new artifact set that isn't Mirrodin. Vehicles are rather Star Wars Episode I: Pod Racery for my taste, but they're fine overall. I actually think they're probably way too good.
Wizards has a track record of setting the bar too high on new card types and subtypes. They were nowhere near where they wanted to be with the original five planeswalkers, and it took years before they finally got them to an appropriate level. Back in Mirrodin when they rolled out equipment it was laughably overpowered. Skullclamp, one of the ten strongest cards in Magic's history, was an uncommon. Grafted Wargear exists. Loxodon Warhammer was an uncommon. Bonesplitter was common.
The rest of this content is only visible to ProTrader members.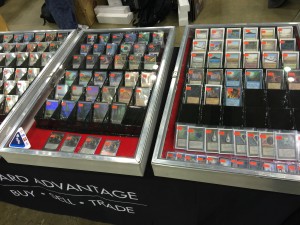 ProTrader: Magic doesn't have to be expensive.