So Kaladesh is arriving this weekend, and here's a piece of advice that has never ever failed me: Trade everything away this week. Someone wants that foil uncommon. Someone is dying to be the first one to play with that sweet rare you opened. Someone's willing to trade you $4 in value for that booster pack.
Don't be the one trading for Kaladesh this weekend. Trade it away. Demand is at its highest and supply is super small. This weekend, and this weekend only, scoop up leftover uncommons and commons, and send them out on Puca.
I agree with a lot of you that my trade velocity has gone down, but I think the Inventions are going to cause a lot of movement. Zendikar Expeditions led to a lot of points flying around, and I think we are in for another wild ride. I've certainly got a few on my wishlist, and I'm not the only one. I see most bonuses in the 10-20% range, and I wouldn't fault you if you went higher.
This week, I want to talk Oath of the Gatewatch, along with a few early Kaladesh impressions.

The rest of this content is only visible to ProTrader members.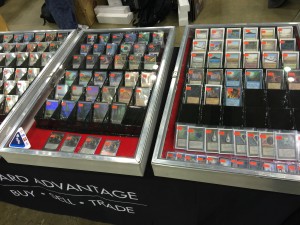 ProTrader: Magic doesn't have to be expensive.