So Commander 2016 lands in a week, and maybe some of you are checking your big box stores early. It's not unheard of for them to stock these a day or two ahead of schedule.
This week I want to look at the listed prices and see where I can either buy low or sell high, even though you can't quite get your hands on these yet, I like to plan ahead.
I want to be clear that if you can buy the decks on the first day, and then move out the singles, I don't think that's a winning play…mostly. The postage rate is going to be pretty high, unless you've got a great source for stamps, or you know someone who wants most of a deck.
That being said, these decks have a ton of value, and a lot of potential. Some people, who get stamps through work or some such, are going to really turn their $30 msrp into an easy 6000 points, but I just don't have the time for that. If you do, more power to you. I'm properly envious of those who have the stamps and the spare time.
On to the cards!
The rest of this content is only visible to ProTrader members.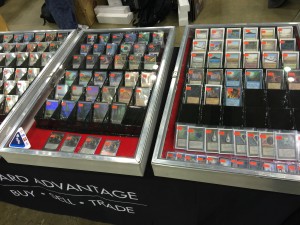 ProTrader: Magic doesn't have to be expensive.