I decided to switch it up and not talk as much about the Wizard commanders as much. I might just take it week by week, I might right about emerging trends as they emerge, I might just do what I want each week without trying to be accountable to some sort of arbitrary I set up in advance because that would stifle my creativity and limit me as both a financier and as a person. Next week I might talk about Dragons, I might not. All you need to know this week is that I'm going to talk about Mirri, Weatherlight Duelist and what I think we're going to end up spiking as we build with her.
It may be a tad premature to say I think Mirri is one of the more popular commanders right now because no one has the cards yet, but that doesn't really stop people from brewing. People have had decks on TappedOut since the Dragon cards were leaked even without knowing what was in the rest of the decks. THAT was premature. But when people do things prematurely, they're signalling that they're the most fanatical of the bunch and that means a few things I think we need to think about.
Fanatics follow through
The people who are so jazzed about building their Taigam, Ojutai Master extra turns rebound deck that they didn't even wait to see what else was in the Dragon deck (Fractured Identity, a card that's way better than I think most people are aware of) are going to buy the Dragon deck to get the cards and they're also likely ordering or have ordered the rest of the stuff from the deck. They put it up on TappedOut weeks early with a fake placeholder like Lavinia so you can only find it by googling Taigam's name and they will buy the cards the second they can. Is it ridiculous that they made a fake deck super early? Sure, but it's equally ridiculous to assume they aren't champing at the bit and won't be the first in line to buy the cards.
They thought this through
A person fanatical enough about the new commander to go out and register their decklist on a deckbuilding site before they're really even supposed to has scoured gatherer, similar decks, discussion groups and even reddit. They have tweeted about the cards and interactions and gotten feedback from other lunatics like them. Granted, cards slip through the cracks, but the general thrust of these new commanders are identified and explored by people weeks before the cards are for sale. It didn't occur to me to use Buyback spells with Taigam or Beacons because I didn't think about it as much as these nuts. Luckily for me, they put their findings online because they're proud of them and I get to come by, look at what they figured out, and figure out how to buy the cards before they do. They're too busy writing a 3,000 word screed on MTG Salvation that no one else will ever read to take a second to order a few copies of Beacon of Tomorrows wherever a person like that orders cards (SCG) and when they try to buy them, they'll see they're all gone because my readers thought about that. Still, it's good that they are doing so much thinking and posting about the new cards because…
They set trends
Like it or not, two things have more influence over what ends up on EDHREC. The first is inclusion in the precon. There is going to be a huge degree of correlation between Arahbo decks and Hammer of Nazahn. If you were building an Arahbo deck from scratch, you'd never include the hammer. It doesn't really interact with the way you want to build the deck that much and it doesn't make your Top 100, ever. However, people simply aren't going to build the deck like that. They're going to buy the kitty precon, take out the bad cards and replace them with better cards. They are going to leave in a lot of marginal, "too good to take out therefore good enough to play" cards, at least initially. They may cut them later, but people are way better about getting their crazy lists up than editing them. We call this the "precon effect" over at EDHREC. Cards from the precon that shouldn't be in the deck end up in EDHREC lists just because people don't take them out regardless of whether or not they're really impactful enough to always play.
The second thing that influences what ends up on EDHREC is what people put in TappedOut early. The people who use EDHREC to build their decks or check around TappedOut subsequently will see what the first people to register their decks used, and EDHREC will generate an "average list" when people request it, meaning the people who register their decks early will have their picks seen by everyone who builds subsequently and any of those suggestions that subsequent people follow will be seen by even more people. That's not a limitation of EDHREC as a metric, though. I think it's quite the opposite, really. I think it means that the people who build first have a lot of impact so there isn't much point in waiting for more data. The heavy influence of early adopters makes early analysis just as fruitful as later analysis and we'll come to a lot of the same conclusions. Right now, there are roughly the same amount of decks registered for the "good" commanders and a handful for the "bad" ones. We have enough data to look at what early adopters are using so let's see what they're doing with Mirri decks. That's me telling, not asking. This is happening.
Actually
Before I do that, real fast, I wanted to remind everyone that although you read my article here, you may not be aware that I do other stuff. I can't take for granted anyone knowing my whole life so I want to point out that I am always giving out good finance info on the Brainstorm Brewery podcast and I am writing something that sometimes really approaches this article on Gathering Magic every week. I don't evaluate cards with respect to finance in that series, but I do talk about cards that I think are good and other people read it and buy cards when they agree with me and it's worthwhile to know what people who have followings think about things. I try to keep my picks from the two places separate, so I'd read both if I cared about my opinion.
So what do we think Mirri is going to do to stuff based on what early adopters, whom I've already (hopefully) established are going to correctly predict and also influence what subsequent builders buy are using? I'm glad I pretended you asked.
For quick reference, here is the Mirri page.
Nacatl War-Pride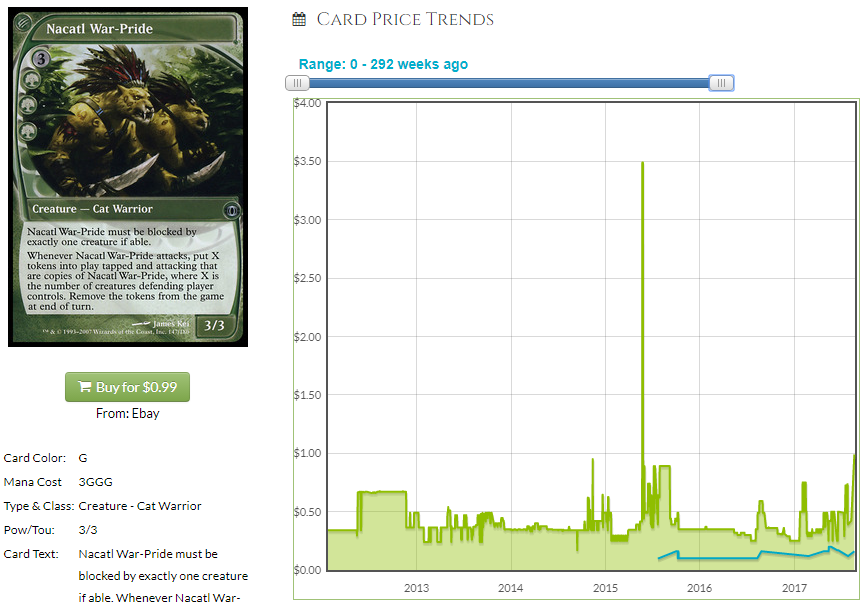 Something is going to happen to push this card over the cliff and it may be a lot of new usage from kittycat decks, especially Mirri decks. Mirri benefits from going wide around their solitary defender and if they want to block War-Pride, they can't block Mirri, letting Mirri continue to lock them down and also survive to be a Crawlspace. War-Pride will fart out a ton of tokens to make it miserable for them to have a lot of creatures they can't block with. War-Pride was one of EDH's best-kept secrets despite it having some vocal cheerleaders and that was before Mirri made it even more miserable to have this swing at you. With Parallel Lives, Anointed Procession, Cathar's Crusade and other cards you'll already play in a Mirri deck, this card is busted.
Now, can this card get above a buck being an uncommon? Sword of the Meek is like $8, Dryad Arbor is $10, Aven Mindcenser was real money, etc. War-Pride will never be as important, ubiquitous or nutty as those cards, but it also establishes that Future Sight uncommons can have an upside as high as $10 or so even after reprinting. War-Pride is already in 500 decks on EDHREC and that was when it was way more fair a card. It's super unfair now and buying these under a buck makes sense if this ends up $3 or $4, which I think is doable.
This is also a $10 or so foil so while I think the ship sailed when every lunatic bought every kittycat card and in true broken clock fashion, got one right, I think the non-foil has a lot of upside. I also think financiers who claim people are lining up to buy a stupid kittycat precon deck and then foil out the deck they build should save some drugs for the rest of us. If you find some of these in foil bulk, hooray, but I'm not a buyer in foil above like $4, which isn't really possible anymore.
Dragonlord Dromoka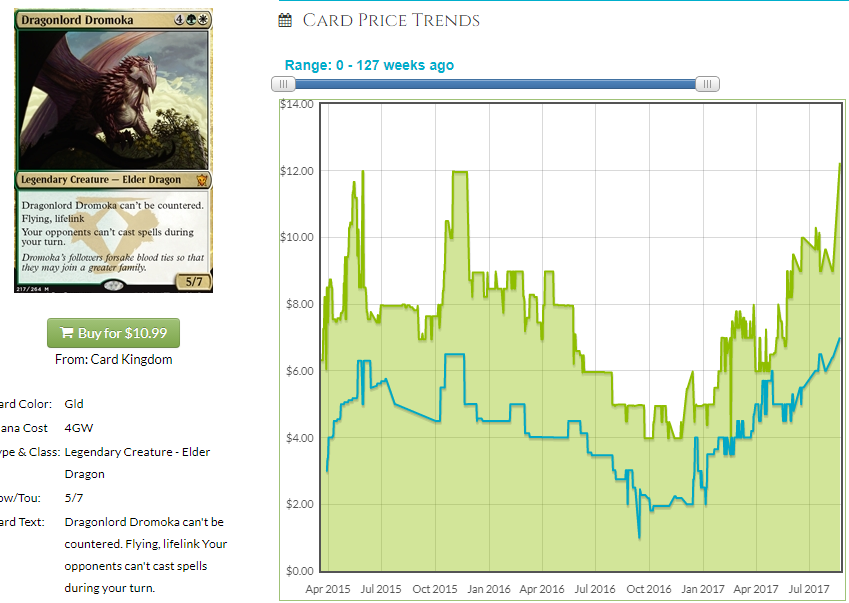 I'm sure we all wish we had been paying better attention to this card. I noticed it dipped but I didn't remember to tell anyone it would go back up or buy any copies for myself which seems like a silly thing to have done. This was always secretly the best Dragonlord but since it wasn't good in Standard, no one cared. Well now we're all about Teeging them and this Teegs better than any other Dargon ever and also Baneslayers pretty good. Mirri decks want unfair creatures like this, they don't want terrible Cats. You're not going to be Cat tribal with Mirri so make sure you don't forget to include good token creators and savage Dargons like this one.
I think this image says a lot about how quickly these prices shifted recently.

The prerelease foil sold out very close to where the non-foil is right now and the set foil is barely more than the non-foil. For all of this talk about how EDH players are so willing to foil their decks out this seems to indicate the real truth is that 99% of EDH players would play an alternate art Dromoka with a picture of Guy Fieri's frosted pubes as the image if it were 50 cents cheaper. The 1% of EDH players are buying foils. Sure, you'll probably sell the foil if you buy it for $19 bucks, but don't let that trick you into thinking you should buy every foil of every spec because it can't be reprinted. Most EDH players want the cheapest possible version, and if you want to make money, you need to be able to buy a lot of copies inconspicuously and have outs for all of them. I stay away from foils for the most part for this reason – lower stock means it's very hard to buy inconspicuously. Still, there is a price correction incoming on the foil copies and it probably has nothing to do with demand for the foil copies and everything to do with the foil being $4 more than the non-foil seeming "wrong" to people.
Linvala, Keeper of Silence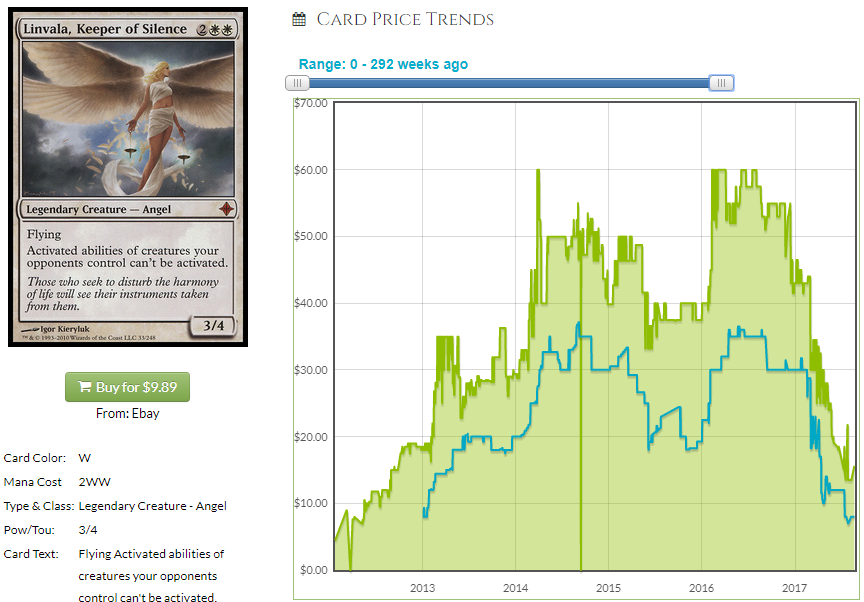 As long as we're Teeging people, take a look at this Angel at her floor. The copies from Modern Masters 2017 are even cheaper and due to rebound. Modern Masters 2017 was a pretty under-distributed set and this is a sick, iconic angel that is killer in EDH and straight shuts down a lot of annoying cards. I think you buy iconic Angel cards at their floor and that time is now, especially if Mirri decks take off and people jam these as often as they are now (percentage-wise, which isn't inconceivable). You'll sell a lot more of these at $20 than you will at $40 and I think you will be fine selling at $20 if you get in at $10. Wizards may reprint her again so I think a nimble in and out is the play.
That does it for me this week. I think you may find other cards you like if you keep checking the Mirri page for updates, but I think this is where I would park my money. I think there are a lot of cheap, inconspicuous copies of Nacatl War-Pride online and I think you find those. Go to local stores and yank these out of bulk. Let TCG Player get bought out a month from now when you have all of your copies, otherwise your orders will get cancelled and you just told a bunch of dealers to reprice their cards for free. Let's be smart about this, as unpopular an opinion as that is these days. Until next week!