ADVERTISEMENT:
Readers,
I apologize for my lack of.. doing an article last week. I wrote one on Saturday, otherwise known as 3 days ago, and you can find it… directly under this one.
I'm back on my regular schedule and I promised some exclusive picks for insiders, and I sort of wish I hadn't, because, you see
No One Cares About Guilds Of Ravnica
That's not accurate, I regret writing that in such big letters. Let's refine that so it more accurately represents my findings.
People Building EDH Decks Don't Care About Guilds Of Ravnica
Well.. maybe. I'm sure cards from the set are finding their way into all kinds of decks and the new mechanics are very interesting .
People Aren't Building Decks With Guilds Of Ravnica Commanders
And can you blame them? There's nothing really new, is there? Remember this graphic from Saturday?

Those are the only Guilds commanders that even cracked the top 25 of the week and Niv-Mizzet barely counts as a new commanders. How do we even know what to care about in the face of builders not really caring about the new set?
We're going to have to do what I do, the hard way.
A New Technique
Since searching by commander seems a little bit fruitless, we can search by card and see if that tells us anything. Yes, that's a thing.
Type h t t p colon backslash blackslash w w w dot edhrec dot com into ask jeeves. The first  result will be EDHREC's website. Alternatively, just click this link and don't go to websites the way my wife does.
Peep the bar at the top.

See the link for "sets"?

You can click on that dropdown and pick a set.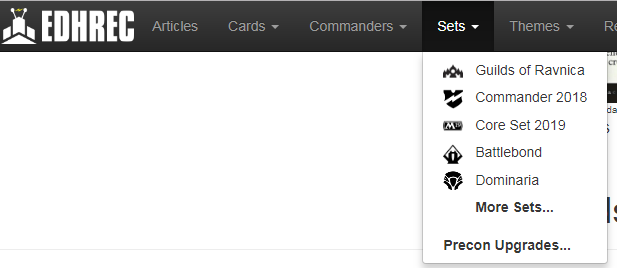 That will take you to a page where we'll be able to see the cards from Guilds that are getting put in the most decks. Searching by commander is pretty fruitless but we may find some things searching by set.
ADVERTISEMENT:
POP QUIZ
Before you bring the page up, which card from Guilds of Ravnica do you think is appearing in the most decks? Remember, Niv-Mizzet is the most popular commander in the set and people are building Lazav, then Izoni then Emmara. Got a guess? Go ahead and click the link to bring up the page.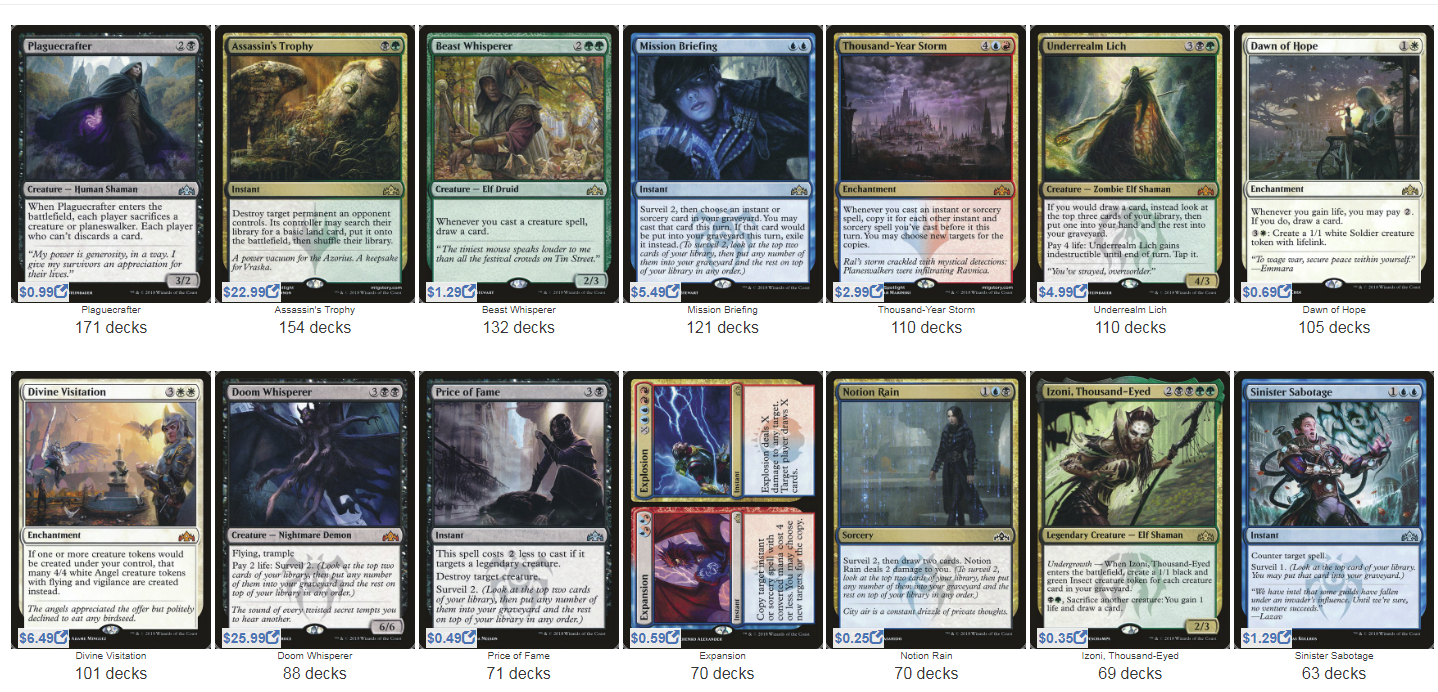 I wouldn't have guessed this exact sequence of cards, but it's not a shock to see Assassin's Trophy and Thousand-Year Storm in the top 10.
Here are some thoughts.
Izoni is in a lot of 99s
Izoni is a fun commander in its own right and a lot of people are brewing with it even though the card sort of looks like a bad Meren or similar commander. However, making a ton of tokens and being able to sac them rather than having to sac real creatures seems like a real winner. If you do something I should have done last week and look at Izoni as a card rather than as a commander, you see where it's going.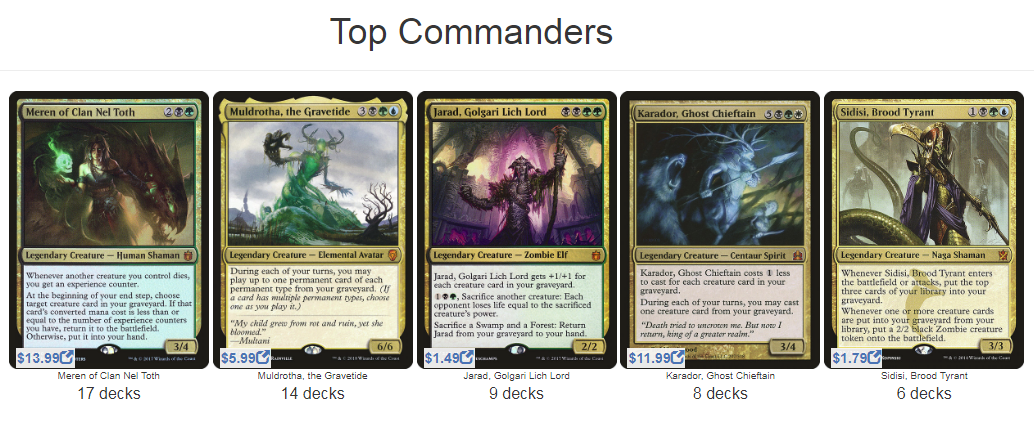 If Izoni is a reason to update Meren and Muldrotha, it's worth looking at which other cards from Guilds are going in those decks. When some of the most popular decks of all time start using a card, it's going to have a much larger impact than a new archetype springing up and petering out after 3 months.
Here's Meren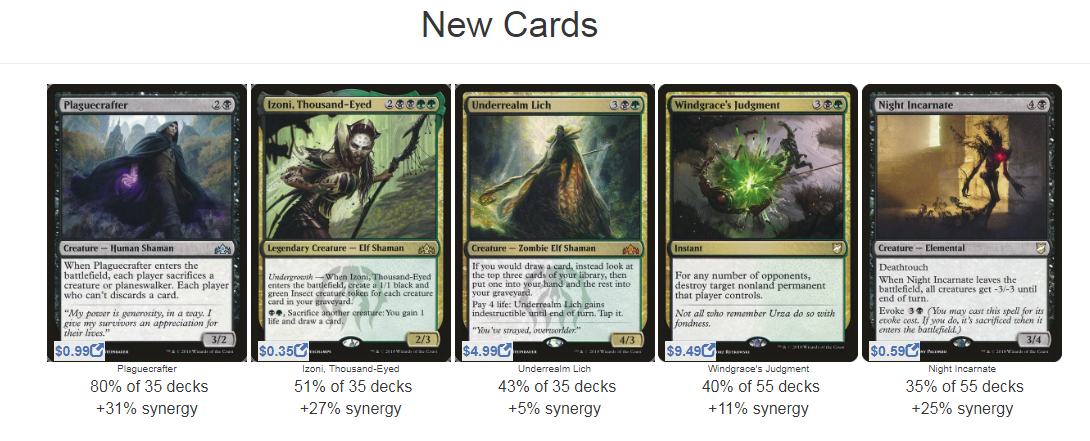 And here is Muldrotha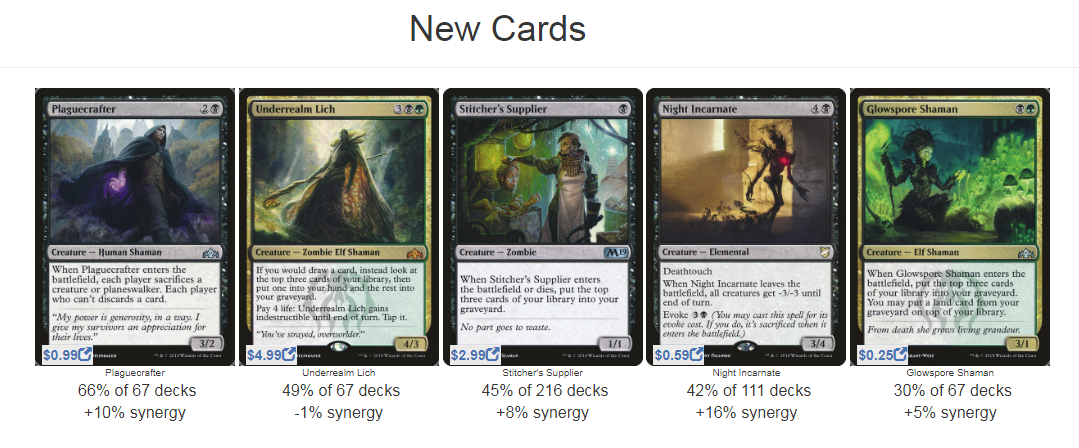 3 of the 5 new cards between those decks are identical – Underrealm Lich (GRN), Night Incarnate (C18) and Plaguecrafter (GRN). I think the overlap between two of the most heavily-built decks of all time could be a lot of demand for those cards. In fact,
Plaguecrafter grabs the top spot?
I would never have guessed that with Niv-Mizzet blowing the other decks away, that Plaguecrafter, a card basically no one seems to be talking about is getting jammed in more decks than any other card from the set.

No surprises when you look at the decks it's getting jammed in, but the card itself didn't seem THAT remarkable when the set first dropped. However, it makes sense – players who laughed at Fleshbag Marauder because they were a creatureless or Superfriends deck aren't laughing anymore.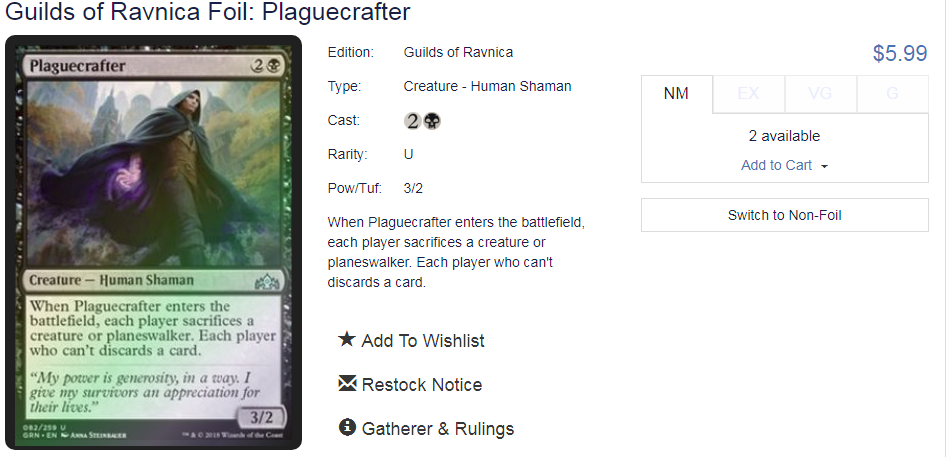 The 6x multiplier lets me know that people are very eager to get a copy of this guy into their lives and I can dig it.
Beast Whisperer is Legit
It's often we get a card that kind of has this ability, but at 3 mana, this is one of the cheapest ways we've ever been able to keep our hands full as fast as we dump them out. I don't know if EDH demand is going to be able to move the needle on an in-print non-mythic, but I have to imagine this is an important card basically forever. It's also really easy to reprint, so hoard responsibly.
It's an Elf and a Druid and I think that could end up mattering a great deal but I also think if this ever flirts with $6 or $7 it likely gets reprinted.
Mission Briefing May Actually Be Good In EDH
People seem inclined to try it, and with EDH being a big mana format, 2 mana tacked onto any spell in your 'yard is probably not that big a deal. I don't think its price is done dropping but I also think it's better in EDH than people think just as it's worse in other formats than people think.
I don't know if any of this information is at all useful.
I think some of this stuff will be worth looking at long-term but in the mean time, I want to close out by looking at what goes in a Thousand-Year Storm deck because that's pretty exciting and none of the rest of this seems super relevant.
ADVERTISEMENT:

I have seen a lot more people online using Kess than I have Mizzix, but I am not doing an anecdotal method here so I guess I am forced to look at both.
 Mizzix of the Izmagnus
1 Baral, Chief of Compliance
1 Charmbreaker Devils
1 Docent of Perfection
1 Goblin Electromancer
1 Guttersnipe
1 Melek, Izzet Paragon
1 Talrand, Sky Summoner
1 Young Pyromancer
1 Blue Sun's Zenith
1 Brainstorm
1 Capsize
1 Comet Storm
1 Counterflux
1 Counterspell
1 Cyclonic Rift
1 Dig Through Time
1 Fact or Fiction
1 Firemind's Foresight
1 Frantic Search
1 Fury Storm
1 Increasing Vengeance
1 Mystic Confluence
1 Mystical Tutor
1 Nexus of Fate
1 Prophetic Bolt
1 Pull from Tomorrow
1 Reiterate
1 Rewind
1 Scour from Existence
1 Seething Song
1 Stroke of Genius
1 Turnabout
1 Unwind
1 Blasphemous Act
1 Blatant Thievery
1 Bonus Round
1 Epic Experiment
1 Faithless Looting
1 Jaya's Immolating Inferno
1 Mana Geyser
1 Merchant Scroll
1 Mizzium Mortars
1 Mizzix's Mastery
1 Mystic Retrieval
1 Past in Flames
1 Ponder
1 Preordain
1 Rite of Replication
1 Tezzeret's Gambit
1 Treasure Cruise
1 Vandalblast
1 Volcanic Vision
1 Windfall
1 Izzet Signet
1 Lightning Greaves
1 Primal Amulet
1 Pyromancer's Goggles
1 Sol Ring
1 Swiftfoot Boots
1 Thought Vessel
1 Worn Powerstone
1 Metallurgic Summonings
1 Swarm Intelligence
1 Thousand-Year Storm
1 Jaya Ballard
 Kess, Dissident Mage
1 Baral, Chief of Compliance
1 Docent of Perfection
1 Goblin Electromancer
1 Guttersnipe
1 Laboratory Maniac
1 Notion Thief
1 Snapcaster Mage
1 Spellseeker
1 Talrand, Sky Summoner
1 Brainstorm
1 Cabal Ritual
1 Chaos Warp
1 Counterspell
1 Cyclonic Rift
1 Dark Ritual
1 Expansion
1 Fact or Fiction
1 Force of Will
1 Frantic Search
1 Go for the Throat
1 Impulse
1 Increasing Vengeance
1 Izzet Charm
1 Mission Briefing
1 Mystical Tutor
1 Negate
1 Rakdos Charm
1 Reality Shift
1 Swan Song
1 Terminate
1 Vampiric Tutor
1 Damnation
1 Dark Petition
1 Decree of Pain
1 Demonic Tutor
1 Dreadbore
1 Faithless Looting
1 Gamble
1 Gitaxian Probe
1 Past in Flames
1 Ponder
1 Preordain
1 Serum Visions
1 Skull Storm
1 Torment of Hailfire
1 Toxic Deluge
1 Vandalblast
1 Windfall
1 Aetherflux Reservoir
1 Commander's Sphere
1 Dimir Signet
1 Fellwar Stone
1 Izzet Signet
1 Primal Amulet
1 Rakdos Signet
1 Sol Ring
1 Talisman of Dominance
1 Talisman of Indulgence
1 Jace's Sanctum
1 Metallurgic Summonings
1 Search for Azcanta
1 Thousand-Year Storm
1 Ral, Izzet Viceroy
I used a tool I found online to quickly find the list of cards that were in both decks.
1 Baral, Chief of Compliance
1 Docent of Perfection
1 Goblin Electromancer
1 Guttersnipe
1 Talrand, Sky Summoner
1 Brainstorm
1 Counterspell
1 Cyclonic Rift
1 Fact or Fiction
1 Frantic Search
1 Increasing Vengeance
1 Mystical Tutor
1 Faithless Looting
1 Past in Flames
1 Ponder
1 Preordain
1 Vandalblast
1 Windfall
1 Izzet Signet
1 Primal Amulet
1 Sol Ring
1 Metallurgic Summonings
1 Thousand-Year Storm
It seems like Docent of Perfection and Talrand are both pretty casual which means we may not get a good idea of what more competitive players are doing. Competitive players buy more foils, better mana bases and they aren't afraid to drop money on the best cards for a deck. I think competitive players also severely overestimate their numbers, impact on the format and overall relevance. EDH is a casual format and it isn't like competitive players use cards casual players have never heard of.
If I were going to build around Thousand-Year Storm (Not if, when) I would use Kess but either way, I think these cards are the ones to focus one. Let's cut the irrelevant and obvious ones.
1 Baral, Chief of Compliance
1 Goblin Electromancer
1 Guttersnipe
1 Brainstorm
1 Cyclonic Rift
1 Fact or Fiction
1 Frantic Search
1 Increasing Vengeance
1 Mystical Tutor
1 Faithless Looting
1 Past in Flames
1 Ponder
1 Preordain
1 Vandalblast
1 Windfall
1 Primal Amulet
1 Metallurgic Summonings
We have 3 creatures, 2 which reduce the cost of spells and one that domes them when we play a spell, which is great in a deck with cantrips.
We have 6 instants, 1 card that goes in every blue deck because it wipes the board, 2 cantrips, 1 tutor and one card that lets us copy spells. We have 6 sorceries, 3 cantrips, 1 wheel, 1 spell that lets us rebuy our yard and 1 artifact sweeper which seems useful since it leaves our Primal Amulet alone. Metallurgic Summonings is one I almost threw in the pile with Talrand and Docent but I figured it was worth talking about briefly since it's rotating and could go down in price and might be a good snag. In fact…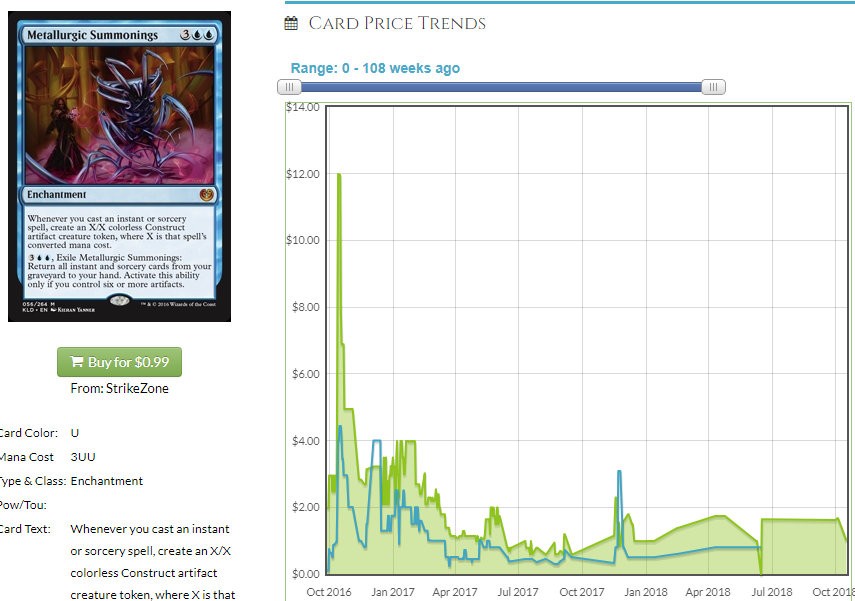 Rotation sent this price plummenting from $2 to $1 which doesn't seem like much but considering this price was entirely predicated on EDH and only tanked because people wanted to dump at rotation, it's very reasonable to assume this could be $2 again in the near term and more in the longer term. It's not like Standard was helping us with demand any and the more people who build spellslinger decks, the more copies of this card, one I think is tough to reprint unless they do another spellslinger EDH deck this close to the last one, we'll see soaked up. I think if you can trade other rotating cards that will tank forever for something that might not tank forever, you won trading straight across. I get these in bulk in collections so often I'm not inclined to pay $1 cash on these but selling out on a few sites wouldn't hurt its appeal.
There was doubt this could recover from two reprintings in two years but it looks like the doubters can eat Storm Crow. Formats where this gets used 2-4 copies don't really exist anymore so EDH is soaking up a lot of copies but doing it just fine.  This is a powerful card with a lot of upside and if it managed to shrug off two reprintings, it's got more upside and it also likely doesn't get hit for a while at least. I like this pickup.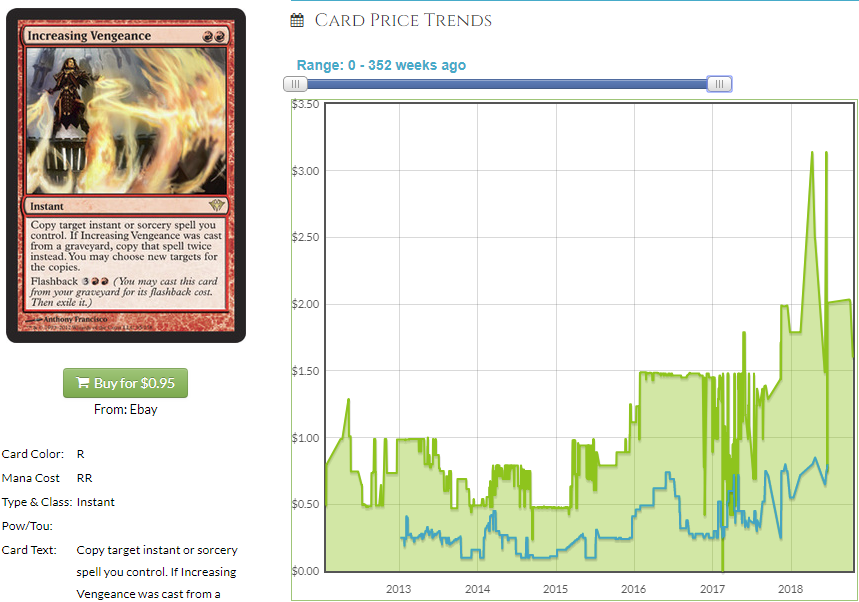 The cheapest NM foil is like $5 on TCG Player which is barely twice the non-foil price. I like this pickup a lot. It's got flashback which somewhat limits its reprint venues which is not a guarantee but is an insulating factor. There is some evidence to suggest a non-foil reprint increases the foil price if no foil is printed at the same time such as with a Commander precon or goofy boardgame or something. I think both are an excellent place to park money and they should be in any deck that runs Thousand-Year Storm.
That's all for me! Tune in next week or if you're a Pro Trader, keep reading for a few bonus picks that I promised to thank you for not rioting when I didn't publish an article until Saturday last week. If you aren't a Pro Trader, it is very inexpensive and a lot of the time when one of us recommends a low-stock pick, 48 hours makes all of the difference. Consider supporting the site. Thanks for reading!
The rest of this content is only visible to ProTrader members.
ProTrader: Magic doesn't have to be expensive.

MTGPrice helps keep you at the top of your game with our daily card price index, fast movers lists, weekly articles by the best MTGFinance minds in the business, the MTGFastFinance podcast co-hosted by James Chillcott & Travis Allen, as well as the Pro Trader Discord channels, where all the action goes down. Find out more.
ADVERTISEMENT:
Please follow and like us: