Another week in isolation has passed, and I'm only really aware of it because my phone told me to write another article. Time isn't real any more. But I'm back with more Magic Online picks this week, as online tournaments are in full swing now and will most likely stay that way for the foreseeable future. Short intro over, let's go.
---
Modern Horizons – Various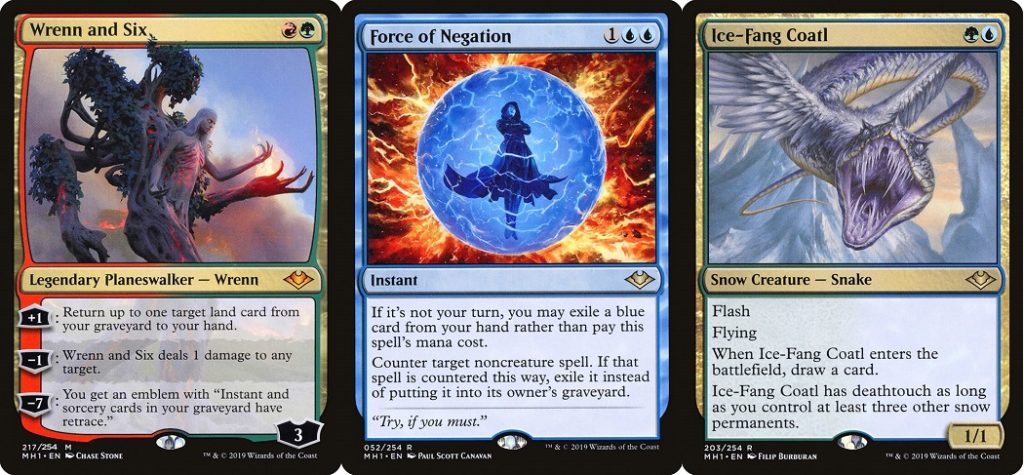 Price today: $Some
Possible price: $More
Rather than picking just one card in particular here, I'd like to echo my sentiment from last week, in that a lot of MH1 cards are great pickups right now. Modern Horizons drafts have been up on MTGO since last Wednesday, and will come to a close this Wednesday in favour of the Modern Cube. With all this drafting, a lot of players have been selling the cards they've opened to recoup costs and play more drafts, and this has been pushing prices down online. With drafts coming to an end, players that need these cards are going to buy them and prices are going to creepy back up. I think the lowest point for most of these cards was on Saturday, but there's still money to be made here.
Let's take a look at some specifics. Wrenn & Six dipped down to 64 tix on Saturday, and is already back up to 84. I can see this heading back over 100 tix in the next few months. Ice-fang Coatl dipped to 14 over the weekend, and now back up to 24 – I think this will be headed to 40+ in the long run. Force of Negation, after hitting a high of 90 tix in the middle of March, is down to 57 – this will be 80+ in short order too.
As I said, I think the lowest point for all of these cards looks like it was on Saturday. There is probably a decent amount of speculator movement in here, but the online demand for these cards is real. Quarantine or not, online is the biggest place for Legacy play anyway, so cards like Wrenn & Six will be headed back upwards due to demand and price memory, and with Ice-Fang and Force of Negation both being key elements of the most popular Modern deck at the moment, they're going to be moving in the same direction.
Klothys, God of Destiny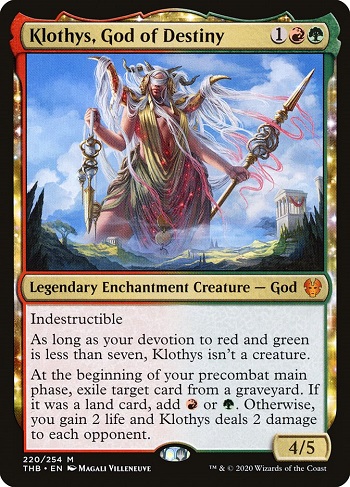 Price today: $7
Possible price: $12
I called Klothys as a paper pick back in January at $10, and unfortunately it hasn't made too much of a showing since then – but I think that's changing. I'm still a strong believer in the power of this card, and the online results are starting to back that up. Red Green Midrange is a deck that's been putting great results up in Modern recently, usually playing 3 Klothys – it's sort of a Ponza deck but with more midrange cards like Seasoned Pyromancer and Glorybringer, rather than ramping into bigger things like Inferno Titan. We still see plentiful Pillages and Magus of the Moons, but the power level of the whole deck has been upgraded.
As well as being a new player in Modern, the card is popping up in Pioneer too. Gruul Aggro is making some small waves in the meta, with a couple of variants showing up – one with and one without Collected Company. Both decks are mostly playing one or two Klothys along with a bunch of one and two drops to try and get your opponent dead as quickly as possible.
Theros Beyond Death is still 'in print' online, but this is a mythic from the set and seeing play in multiple formats. Klothys, after bottoming out at around 2.5 tix online, has moved back up to around 7 tix, but I think there's a decent amount more runway to go. This could well end up being a longer hold, but I'm pretty confident that this will be a good one for the long-term.
Niv-Mizzet Reborn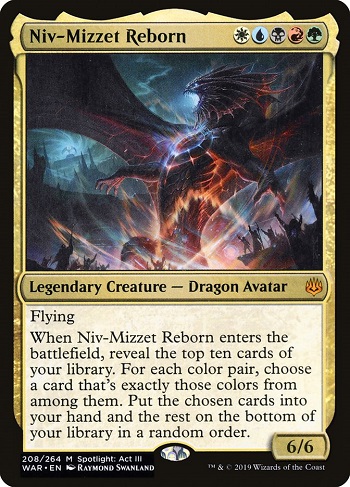 Price today: $7
Possible price: $15
Niv to Light was a deck that first found real success in Pioneer, using a suite of Uros along with some wild singletons to accrue value. Apparently Niv's power level is high enough that the deck has been ported over to Modern, putting up a Niv mirror match finals in the Team Lotus Box tournament over the weekend. Both decks were using a playset of Wrenn & Six and a couple of Teferi, Time Ravelers, backed up by powerful hand attack and removal spells.
A couple of interesting inclusions in this iteration of the deck are Kaya's Guile (perhaps another MH1 card to pay attention to) and Glittering Wish. Guile has a good amount of flexibility, and Wish can go and find bullets from the sideboard as necessary. A solid core supported by some powerful one-ofs in this deck has really pushed it over the edge, beating out the popular Bant Snowblade and Uroza decks to take down the tournament.
Niv-Mizzet himself is obviously always played as a 3 to 4 of in the deck, these new versions playing 3 copies main and one side to fetch with Glittering Wish. The card has been on a downwards trend since the release of War of the Spark, but with no fresh supply of WAR on the horizon, I think that this multi-format card is ripe to turn around and head towards 15 tix.
---
Tune in next week for more MTGO picks, probably!
---
David Sharman (@accidentprune on Twitter) has been playing Magic since 2013, dabbling in almost all formats but with a main focus on Modern, EDH and Pioneer. Based in the UK and a new writer for MTGPrice in 2020, he's an active MTG finance speculator specialising in cross-border arbitrage.