Despite no paper Magic being played at the moment, the Standard metagame is still churning away at a reasonable rate, both on MTGO and Arena. With the release of Ikoria we've seen new archetypes pushed to the forefront of Standard, most notably the Yorion Lukka deck and Jeskai Cycling. Lukka has been the (perhaps unexpected) breakout mythic so far, so congrats if you were in on that ahead of the crowd.
Interestingly, one common card across a lot of these decks seems to be Agent of Treachery, and being able to power out an early one can often be the name of the game, be it via Lukka, Winota or simply ramping with Uro and Growth Spiral. This week I'll be talking about some of the other top contenders in Standard at the moment, and which cards look like they'll be solid holds with a view to rotation later in the year.
---
Shatter the Sky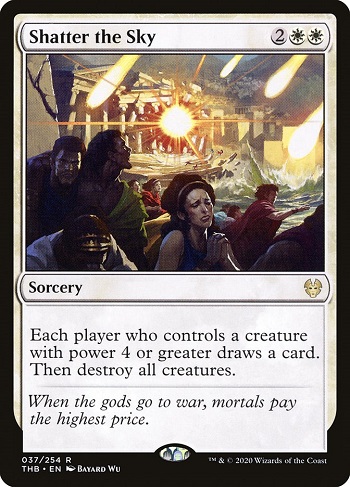 Price today: 0.1 tix
Possible Price: 1 tix
Shatter the Sky is a four mana unconditional wrath in Standard, which is always going to be inherently powerful. We saw Kaya's Wrath put work in before Shatter was printed, but the mana constraints on that card meant that it couldn't be played as much as it might have been if it were less heavy on the mana symbols. Shatter is twice as easy to cast, and although it does sometimes let your opponent draw a card, that's a reasonable price to pay for being able to wrath the board on turn 4 instead of turn 5.
If we take a look at the metagame staples in Standard at the moment, Shatter the Sky comes out as the 9th most played card overall (not just the 9th most played spell). There are a few different Yorion variants that take up a huge proportion of the metagame at the moment, and most of them are playing three to four Shatters in the maindeck.
Kaya's Wrath is a similar card that we've seen spend a decent amount of time over 1 tix on MTGO, and so as we look towards rotation in the fall I think that Shatter the Sky could be lined up to follow a similar path. Standard has been a grindy midrange-fest for a little while now, and could well continue in that direction for the foreseeable future. That means that efficient and well-timed wraths will always be necessary, and Shatter does a great job in that respect.
Elspeth Conquers Death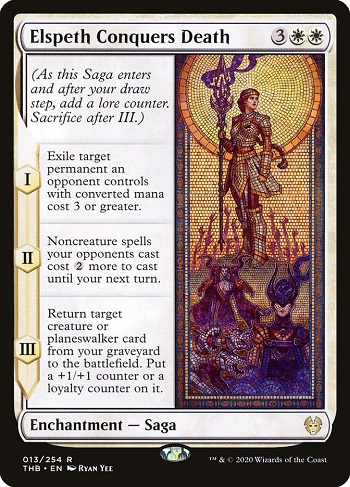 Price today: 0.2 tix
Possible price: 0.5 tix
Another Theros card we've been seeing all over Standard is Elspeth Conquers Death. It's another powerful midrange tool that can swing games around quickly, and is actually played a lot more than Shatter the Sky, coming out at the fourth most played card in Standard at the moment. Another rare from Theros Beyond Death, this is a card that will still be legal post-rotation and thus probably start to climb as supply dwindles and popularity stays high.
Elspeth Conquers Death did recently ascend to around 0.5 tix on MTGO due to its ubiquity in both Standard and Pioneer, but has since dropped back to 0.2 tix. This is another play that, bought in great enough quantity, could make a lot of money moving back up to 0.5 tix or even more.
Fabled Passage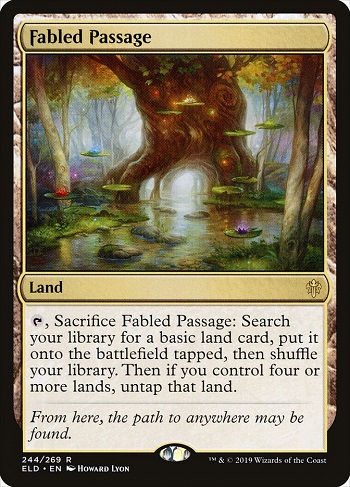 Price today: 13 tix
Possible price: 20 tix
I called Fabled Passage a few weeks ago when it bottomed out at 9 tix, saying it could hit 15, and after some steady growth we're pretty close to being there. But here I am talking about it again, and not just to say "told you so" – I think that this card has even more potential going forwards, and could even hit 20 tix at some point.
I may just be repeating myself from a few weeks ago, but Fabled Passage is played in almost every deck in Standard, and pretty much always as a four-of when it's there. Especially with all the new Yorion decks running around, colour fixing and a consistent manabase is more important than ever, and so demand for Fabled Passage isn't going anywhere.
These were obviously a lot better at 9 tix, but I think they're still pretty decent at 13. We've seen the card at 18 before so there is a precedent, and coupled with the not insignificant use the card sees in Pioneer (it's actually the most popular non-basic land in the format), 20 tix isn't too much of a stretch.
---
David Sharman (@accidentprune on Twitter) has been playing Magic since 2013, dabbling in almost all formats but with a main focus on Modern, EDH and Pioneer. Based in the UK and a new writer for MTGPrice in 2020, he's an active MTG finance speculator specialising in cross-border arbitrage.