Modern Horizons 2 is already on the…well, the horizon, with the set's release date looming ever closer just over a month away. We've already seen the enemy fetches and both their extended art versions and old-border versions previewed PLUS Counterspell finally being introduced to the Modern format and so there's a lot of hype going on around this set.
That means, of course, that I want to look elsewhere – somewhat further afield to some of the sets we're going to see coming out later this year. In July we're getting the Dungeons and Dragons crossover set, and then in September and November we're getting double Innistrad sets focusing first on Werewolves and then on Vampires. With all that in mind, today I'm having a look at some cards that might be the ideal pickups before we reach those hype cycles.
---
Tazri, Beacon of Unity (FEA)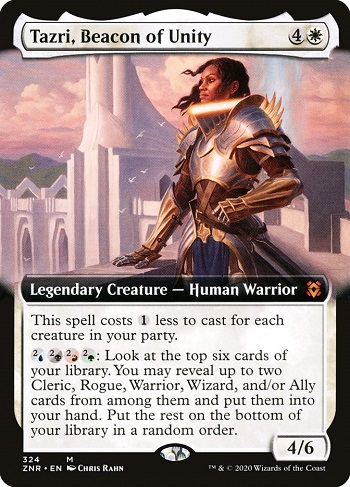 Price today: $4
Possible price: $10
The Party mechanic was one of the main themes brought to use by Zendikar Rising last year, and even back then it gave us hints that there might be something of a D&D tie-in at some point in the future. Now that it's been confirmed, I think that a return to the Party mechanic is almost a sure thing, and that means that people are going to be heading back and looking at some of the best Party cards we got in Zendikar for another go around.
Tazri, Beacon of Unity was one of the most popular commanders built from the set, and is definitely the best general if you're going to build a party-themed deck. If you're running low cost Party creatures then you can drop Tazri out as early as turn 3 without any other mana acceleration, and then start rolling through your deck finding the other creatures you need. Even if we get another decent commander in the D&D set, people are still going to come back to Tazri and want to build her again.
Foil extended art copies are currently fairly low around $4, with 60 or so listings on TCGPlayer. This is a reasonable amount of supply at a lowish price, but as a Mythic from the set, once people start to snap up their copies it's going to dry up pretty quickly. I expect to see Tazri bump up a decent amount as we approach the D&D set and could well post over $10.
Mayor of Avabruck (Foil)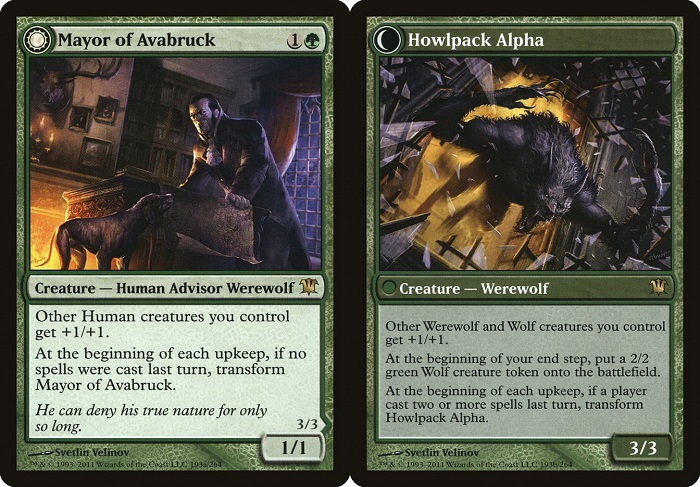 Price today: $4
Possible price: $20
Onto Innistrad next, and with it come Werewolves. Werewolves were a huge part of original Innistrad, and there's going to be a lot of nostalgia setting in as we return there later this year. We get Vampires flying around (hah) relatively often in a lot of sets, but Werewolves are few and far between comparatively. That means that the good ones we have access to end up being less available and more expensive, which is something that we need to keep an eye on if we don't want to miss the boat.
Mayor of Avabruck is in 97% of Werewolf themed decks on EDHREC, and you can see why. It's a two mana Lord for your creatures that spits out tokens every turn if you can keep it flipped, and so is something that you're definitely going to want if you're building a Werewolf deck.
There are currently a grand total of five NM set foils listed on TCGPlayer, plus some extra promo copies, and once people realise they might need a copy for their EDH deck, those are going to disappear in a hurry – and anyone with copies unlisted are going to post theirs at much higher prices. If you want a personal copy then grab it yesterday, and if you want a few to spec on then I suggest going LGS hunting or picking some up in Europe where there is a little more supply to go around. These foil will be $20 or more in a hurry when people start to buy them, and even if we see a reprint in the Werewolves set, I think you'll have a chance to out these on the hype before it's previewed.
Anowon, the Ruin Sage (Foil)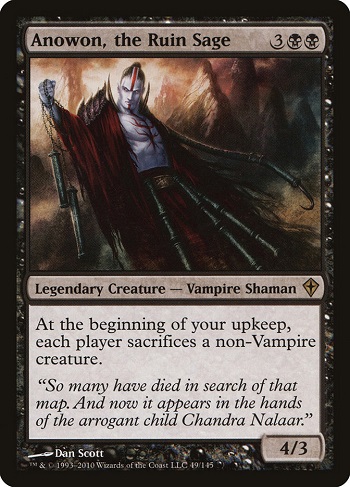 Price in Europe: €5 ($6)
Price in US: $16
Possible price: $20+
Finally onto Vampires, and as I mentioned before there may not be the same kind of nostalgia as there is with Werewolves, but that doesn't mean they're not going to make a comeback. There are a lot more decent Vampires around than Werewolves though, which means that we need to be a little more careful with what we're buying.
I like the look of Anowon, the Ruin Sage here, because it's a popular EDH choice with only two current printings and only one of those in foil (the other being a Commander set). The Original Worldwake foils seem to be close to non-existent in the US, with only one NM foil on TCGPlayer at $16 and a few LP copies as well. Major vendors in the US have very few or no copies as well, but over in Europe there are a few more to be had around the €5 mark.
That provides some good immediate arbitrage with the potential for much bigger gains down the road as we get closer to the release of the Innistrad: Vampires set. Non-foils of this aren't exactly in great supply either, so I don't mind picking up some of those at $1-2 to buylist or sell at $5-10 in a few months' time.
---
David Sharman (@accidentprune on Twitter) has been playing Magic since 2013, dabbling in almost all formats but with a main focus on Modern, EDH and Pioneer. Based in the UK and a new writer for MTGPrice in 2020, he's an active MTG finance speculator specialising in cross-border arbitrage.