ADVERTISEMENT:
Readers!
"Embrace the tank" is a phrase I see a lot on social media because I am from Michigan and the Detroit Red Wings are terrible this year. Had the season not ended, they may have ended up one of the worst teams of all time. Just truly, truly abominable. I'm of course happy because the same friends who want to "tank" the season (not even try so they get last place and have the best odds of drafting 1st overall) were bragging about a 25 year streak of making the playoffs a few years ago and I'm petty. If fans of a team that made the playoffs 25 years in a row can embrace the tank, why can't we?
You've Got Red On You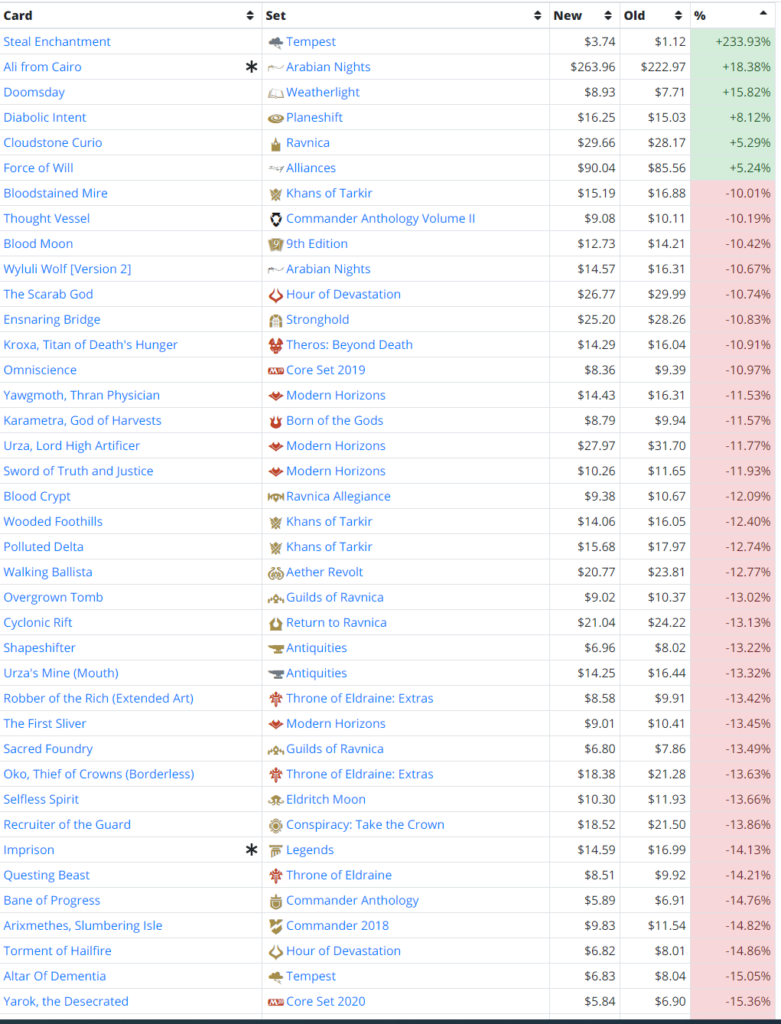 Card prices are tanking fairly hard. If we're going to be greedy when others are fearful, we still need to be smart about it. It's for this reason that I think EDH cards are the way to go. Since EDH is a casual format, people are able to play it on webcam with their friends whereas people can't really play competitive formats in paper, which insulates EDH card prices. These months of extended social distancing will help a lot of people transition out of paper into digital but with EDH on Arena still impossible, paper EDH is further insulated. Finally, non-rotating formats will benefit as cards lose months of their limited Standard-playable window to a lack of tournament play. All of this bodes well for EDH and we're seeing that borne out – EDH buylist prices recovered from the initial hit all buylist prices took better than any other format because of course they did.
The rest of this content is only visible to ProTrader members.
To learn more about being a ProTrader, click here to see all the benefits.
ADVERTISEMENT:
ProTrader: Magic doesn't have to be expensive.

MTGPrice helps keep you at the top of your game with our daily card price index, fast movers lists, weekly articles by the best MTGFinance minds in the business, the MTGFastFinance podcast co-hosted by James Chillcott & Travis Allen, as well as the Pro Trader Discord channels, where all the action goes down. Find out more.
ADVERTISEMENT:
Please follow and like us: