ADVERTISEMENT:
How about this week for bannings and unbannings! Gotta love when changes happen all over the place, in an apparently random way. The end result is important, though, and I think the Felidar ban is good for Standard. Shake it up!
This week, and next, I'm going to look at the currently-banned cards in a couple of formats and see what I'd like to have on hand in case of unbanning. Protean Hulk made some amazing gains when it was unbanned in Commander, and frankly, I'm looking forward to seeing how I can abuse the card in a couple of different decks.
I didn't see the Hulk coming, but I did have a stockpile of Kokusho, the Evening Star when it got unbanned, and that was a nice play. So let's start with Commander this week, and see what we can speculate on and what we should not get.

The rest of this content is only visible to ProTrader members.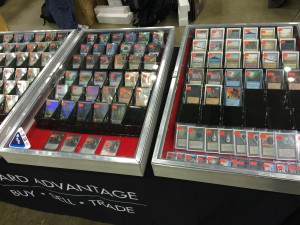 ProTrader: Magic doesn't have to be expensive.

Track your collection's value over time, see which cards moved the most, track wishlists, tradelists and more. Sign up at MTGPrice.com - it's free!
ADVERTISEMENT: