ADVERTISEMENT:
Last week we talked about Amonkhet cards pushing older commanders to the forefront of builders' minds and how cards we thought had settled might be shaken up again by the new activity. Sometimes one or two new cards are enough to get people excited about an old deck and people who didn't have a deck before or are rebuilding it can be just as powerful financially as a new deck materializing. Was Anointed Procession combined with Harsh Mentor and Canyon Slough enough of an impetus for Queen Marchesa and Alesha to jump? It seems that way. Would one new card be enough of an impetus for an older deck to go up. What if it wasn't from the latest Conspiracy set but from even farther back? Would one card be enough to get people excited about Brago? It depends. What if that card is Ancestral Recall with 0 mana buyback?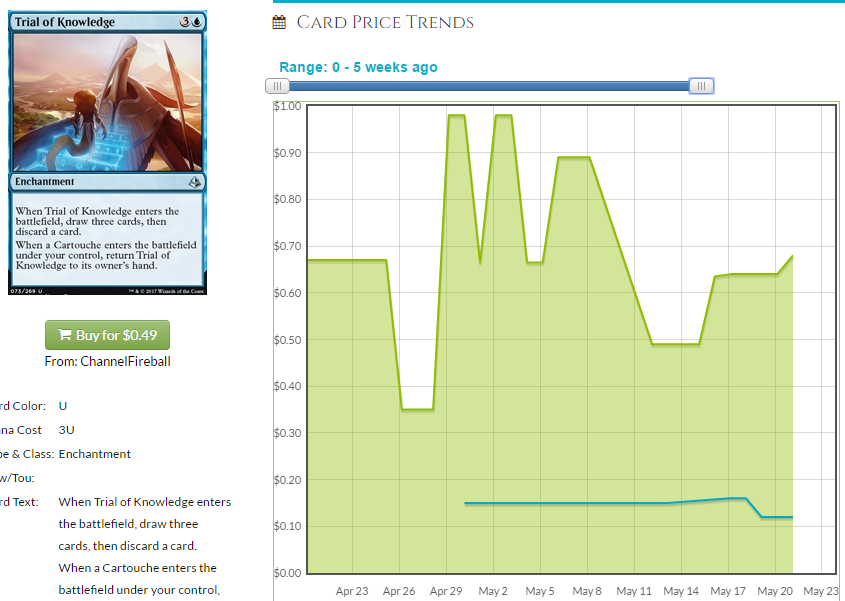 With Brago, King Eternal, we take this $0.60 uncommon from an OK card in Limited if you get enough cartouches to Power 9, letting you draw 3 cards a turn if you play your cards right. Brago was good before, was considered Tier 1 or 1.5 in French by many people (which is such a foreign concept to most EDH players that it's barely worth mentioning) and with people starting to play 1v1 online, he could get even more popular, which could translate into paper demand. Did I say could? I mean "almost has to" because anything that is sufficiently popular will translate into being more popular anywhere no matter how much compartmentalization there is between MODO and paper and 1v1 and multiplayer. People who lose to something will imitate it.
If Brago does get a second look, cards in the Brago deck, especially ones that get better with new Amonkhet cards and are therefore even more likely to make the cut in a new deck, are worth looking at. Here's what I think matters.
The rest of this content is only visible to ProTrader members.
ProTrader: Magic doesn't have to be expensive.

Track your collection's value over time, see which cards moved the most, track wishlists, tradelists and more. Sign up at MTGPrice.com - it's free!
ADVERTISEMENT: