ADVERTISEMENT:
Believe it or not, it's time for another preview season.
Masters 25 lands in about four weeks, and if that seems like not a lot of time since Rivals of Ixalan was first introduced, you'd be right! We're at a point where about every two months, there's a new group of cards for us to deal with and decide on, and I haven't yet decided if that's a good thing.
I first got into this game heavily in 1995, and the summer of that year had three major releases in a four-month span: Fourth Edition, Ice Age, and then Chronicles. Needless to say, I didn't have much spare money that summer.
I used to think we would never return to that point…but really, we aren't far off. We got Rivals on January 13, Masters 25 prereleases are March 16, Dominaria is April 21, and Core Set 2019 is July 7. That's four in six months, and the first three are in a four-month span. We are back! RIP wallet.
All of this is a roundabout way of saying that the turnover, the churn of new cards and product, is very real. We're about done drafting the Rivals/Rivals/Ixalan format, and so it's time to think about the Rivals of Ixalan cards that are at max supply, and therefore lowest price.
ADVERTISEMENT:
The rest of this content is only visible to ProTrader members.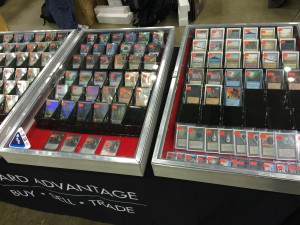 ProTrader: Magic doesn't have to be expensive.

Cliff is an avid Cuber and Commander player, and has a deep love for weird ways to play this game. His current project is a light-up sign for attracting Cubers at GPs, so get his attention @wordofcommander on Twitter if you've got ideas or designs.
Track your collection's value over time, see which cards moved the most, track wishlists, tradelists and more. Sign up at MTGPrice.com - it's free!
ADVERTISEMENT: