ADVERTISEMENT:
I think my foil spreadsheet nonsense can wait. The spreadsheet isn't going anywhere (as always, here is the link) and there is more to be gleaned from it. For today, though, I wanted to get back in the practice of trying to make predictions based on upside to older cards based on the printing of newer ones and there was a really spicy card spoiled this week. Well, two, actually. One of them is a little harder to pin down but it probably goes in a ton of decks.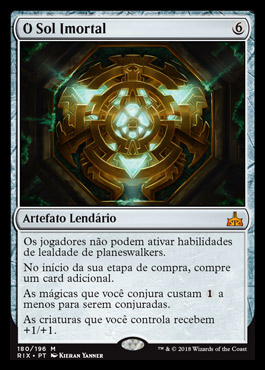 Legendary Artifact
Players can't activate Loyalty abilities of Planeswalkers.
At the beginning of your draw step, draw an additional card.
Spells you cast cost 1 less to cast.
Creatures you control get +1/+1
This is just dumb. It's a better* Caged Sun and for the decks that can afford it, it's going to get a lot of value going. Shutting down their 'walkers is just absurd value on top of everything else this card does for you. However, since this appeals so broadly, it's going to be really tough to nail down which decks it improves on its own and therefore I'm not going to discuss it this week. There's another card coming to town which can reinvigorate an older deck that is still very popular and give some upside to a lot of the cards in it. I'm talking, of course about one of the four other cards from Rivals that are spoiled so far. I'm talking about the good one.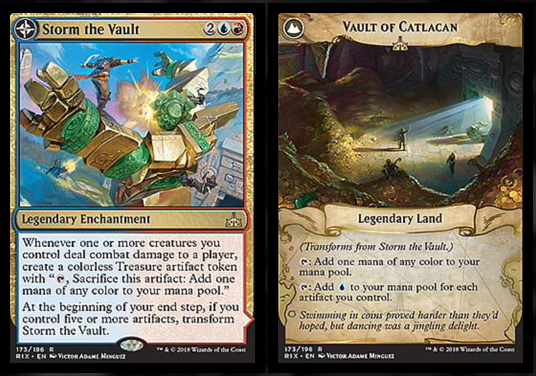 So this is a card. Let's not be hyperbolic about this card, though. People who don't play much EDH got REAL hyperbolic about Growing Rites of Itilmoc and compared it to Gaea's Cradle. That card is not Gaea's Cradle. It's much worse than Cradle. This card is much worse than Tolarian Academy but it does have one thing going for it that Academy does not – this is legal. Also, this makes treasure tokens sometimes. So two things. I'm not saying this is a better or worse cards than Academy because that's a pointless distinction to make when we should be talking about whether this card will make people dust off or build for the first time old archetypes. Will this give anything older some upside? I think it might.
ADVERTISEMENT:
First, let's take a token look at what we expect from a price perspective on this card. Since Growing Rites is much more playable in EDH than this is and didn't have the benefit of a card performing poorly in front of it the way Storm the Vault has had, I think the price graph shows points above which Storm the Vault's prices will never go.
The rest of this content is only visible to ProTrader members.
ProTrader: Magic doesn't have to be expensive.

Track your collection's value over time, see which cards moved the most, track wishlists, tradelists and more. Sign up at MTGPrice.com - it's free!
ADVERTISEMENT:
Please follow and like us: