ADVERTISEMENT:
Hey guys. It's National emoji day and if I knew how to make emojis I'd do a bunch of them right here. If I knew how to make the gray boxes that made it look like I tried to do a bunch of emojis and failed, I would do that, too. I sort of wish I knew how to do the kittycat emoki, though, because as soon as they announced the four themes for Commander 2018 decks, the internet found its kittycats for the year 2018, and that kittycat's name is "Enchantress."
What's A "Good" Spike?
I think there are two major classifications of spikes – let's call them simply "good" and "bad" so you know how you're supposed to feel about them. A "bad" spike is one that feels forced – it's a bunch of dudes on Reddit all getting together to buy Catacomb Dragon because it's on the Reserved List. The justification for it is always ex post facto as if they thought about how to make the case for it after they bought it. You'll notice them calling it an "EDH staple" and if you mention EDHREC, there's always an excuse; EDHREC doesn't get competitive EDH data, no one uses the site anymore (what does that even mean?), it's good in their deck so that means it's a staple. If the person making the case for the card seems allergic to data and has two anecdotes for every data point you come up with, stay away. "Forced" or "bad" spikes have a familiar graph shape.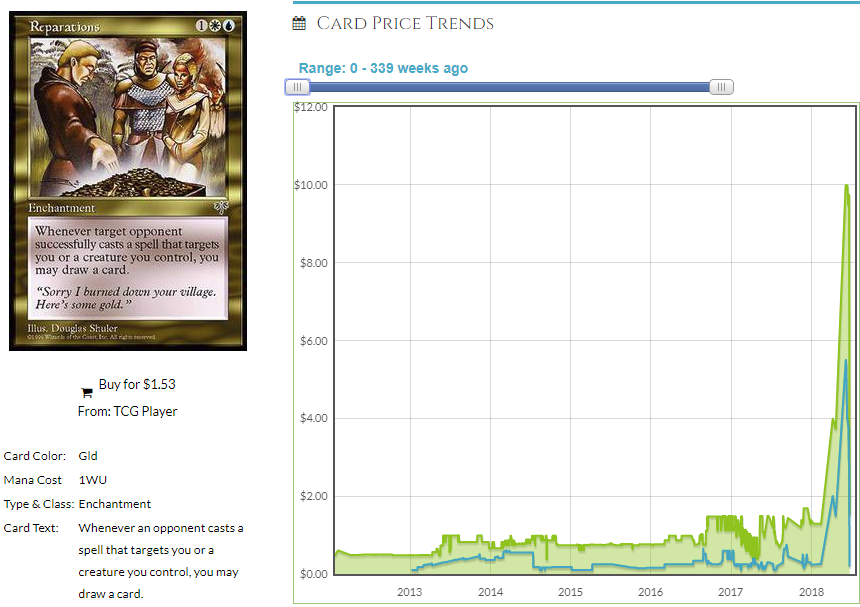 A precipitous climb followed by a meteoric descent. Usually the price ends up somewhere between where it started and where it peaked, but lately these dumb spikes haven't panned out very well and the card goes back down to where it started – usually because the people behind the buyouts are used to being able to buy out TCG Player and letting everyone else think they're geniuses for buying out Cardshark.
So what characterizes a "good" spike? I think that a good one has two major components.
The rest of this content is only visible to ProTrader members.
ProTrader: Magic doesn't have to be expensive.

Track your collection's value over time, see which cards moved the most, track wishlists, tradelists and more. Sign up at MTGPrice.com - it's free!
ADVERTISEMENT:
Please follow and like us: