ADVERTISEMENT:
So I think we need to be honest: while a lot of the attention and coverage is on the triple Grand Prix in Vegas and all the associated silliness, there's a lot still going on, especially as this is Announcements Week!
I'm not here to remind you of what's happened. If you have a Twitter account, if you even glance at the Magic subreddit, if you engage at all the you'll read this and not need me to tell you the base news, but there are some things worth taking away from all the stuff that's gone on.
I'm going to be referring to this site quite often for the next year or so: the 'Coming Soon' page. This is a list of what's coming out and when, though some specific dates aren't on there, it's at least a month/year listing.
Financially speaking, there's a whole lot of things to be aware of. It'll be up to you about what action to take.

The rest of this content is only visible to ProTrader members.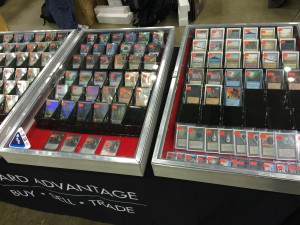 ProTrader: Magic doesn't have to be expensive.

Cliff is an avid kitchen table player who's loving the Drake Haven deck in FNM. He's been at this since late 1994 and doesn't appreciate being called iconic, though he's extremely likely to build a foil Unstable cube. Find him on Twitter @WordOfCommander.
Track your collection's value over time, see which cards moved the most, track wishlists, tradelists and more. Sign up at MTGPrice.com - it's free!
ADVERTISEMENT: