By: Cliff Daigle
With Born of the Gods spoilers on the horizon, I'd like to take a look back at some of the cards that have slowly gone down in price, and point out that I am a big advocate of patience.
For those of you who don't want to re-read something, the short version is that if you can wait on acquiring a card, the price will almost always go down, especially for cards that have very high initial prices. As a primarily casual player, I'm more than happy to be patient on picking up cards for decks or cubes at 50% (or less) of the price than the card debuts for.
As always, if you require a card immediately, it'll usually cost you more. There's a different art required for determining when a card will go up, and that's something we will discuss soon.
Let's start with the poster children for initially high prices that almost always go down over time: Planeswalkers.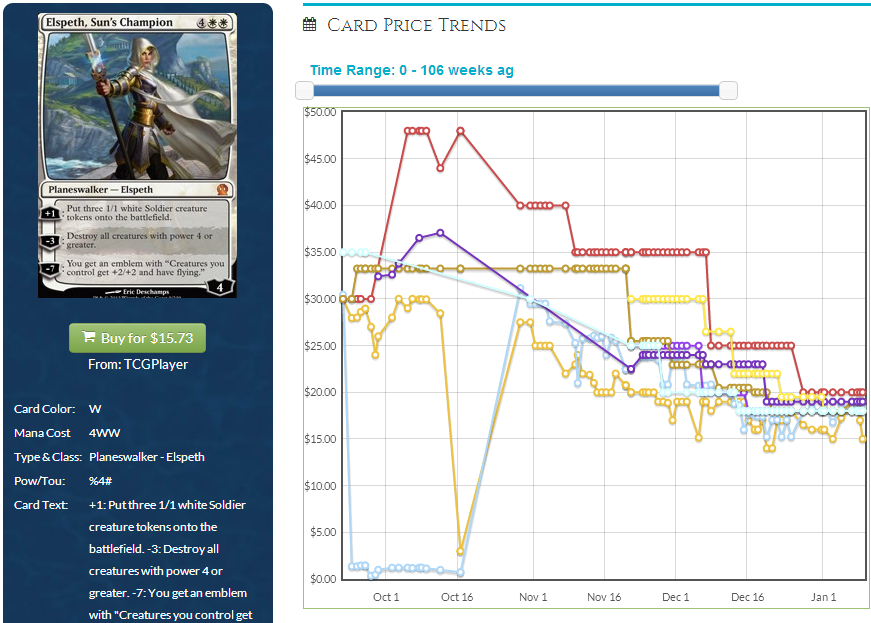 Elspeth, Sun's Champion: Look at this graph. She was over $40 at the beginning! I personally opened two early on and sold them each for $25 to buylists. She shows up occasionally as a one-or-two-of in some control lists, and while she's fantastic at that, she doesn't see enough play to keep her over $20 in the long term.
Where she does see play is all over the place in casual formats, and this being her third incarnation, I imagine there are some all-Elspeth decks running around. (Chandra and Jace have her beat at four each.) She's consistently good in token decks, board-wipe decks, etc. I like her long-term chances. I doubt she's hit bottom yet though, and I'm going to wait till she does before picking up what I need. 
Xenagos, the Reveler: Once $30, now pushing $10, he looked like he'd slide right into G/R Domri decks with an endless stream of tokens and mana acceleration. Again, though, he's seeing just a smidgeon of play and has fallen faster than Elspeth, since he's best in a creature-heavy deck. Where he's really going to shine is in casual decks that love creatures. His ability is an upgrade over Gaea's Cradle! You can abuse/re-use Cradle easier, but this level of mana ability is a rare and wonderful thing.
Xenagos is pretty affordable at this point, and I think we've found his floor. It's difficult to have a planeswalker stay cheap. Tibalt is the exception–even Chandra Ablaze has found her price climbing upwards.
Master of Waves: An interesting case. He was not very expensive, and then the blue devotion deck blew up, and now he's creeping back downward. I really like it as a pickup in the $10 range, since I believe that the devotion deck will get some fun tools with Born of the Gods and Journey into Nyx.
As an aside, I don't believe that devotion decks will be big in a year. I think there will be another mutlicolor block, since that seems to be the pattern set. Return to Alara? Nonetheless, I'm looking to pick up devotion cards now at a low point, waiting for it to blow up again.
Thoughtseize: Wow. This was a $70 card! The new printing was around $30 at release, and now is $15 or less. There is HEAVY speculation that this price will go up in Modern PTQ season, but I'm not convinced. The printing of this at rare means that there are swarms of copies out there, not to mention the Modern players who already have their playset.
I'm always going to preach the long game. There's money to be made in short-term transactions, but an approach to most cards, especially at the beginning, should be "Sell now, buy later."