By: Travis Allen
Born of the Gods is nearly upon us, and all of you should know by now not to trade for cards during their prerelease period. It has been repeated a hundred times before, with greater elucidation than you will find here today. The tl;dr is that 98% of cards will lose value over time, so even if you get lucky and connect on the 2% that rises, you'll probably lose way more money gambling on the rest of them.
In the process of X-0ing all your local release events, you're going to end up with a bunch of singles. You'll jam them in your binder ready to pawn them off on some amateur trader who thinks that Chromanticore will definitely see play (he's quite certain.) But what exactly should you be taking in return? If you've read my recent article, you'll know that I'm pretty down on a lot of Standard cards at the moment. If your trade partner doesn't have any sweet, sweet Modern staples to trade for, then what should you take? You're standing there with binder credit in hand, flipping through pages, wondering which two dollar cards you should be picking out. Let's take a look some Standard cards that have probably gotten pretty comfy in binder sleeves that owners may be willing to ship away for very reasonable rates. Our goal here is to identify cheap Standard cards that are going to be in a lot of binders, that while rather uninspiring right now, have solid middle or long-term prospects that you can trade inflated BOG product for.
Angel of Serenity
Serenity is now available for under $4 from some vendors, which is kind of amazing given what things looked like seven months ago.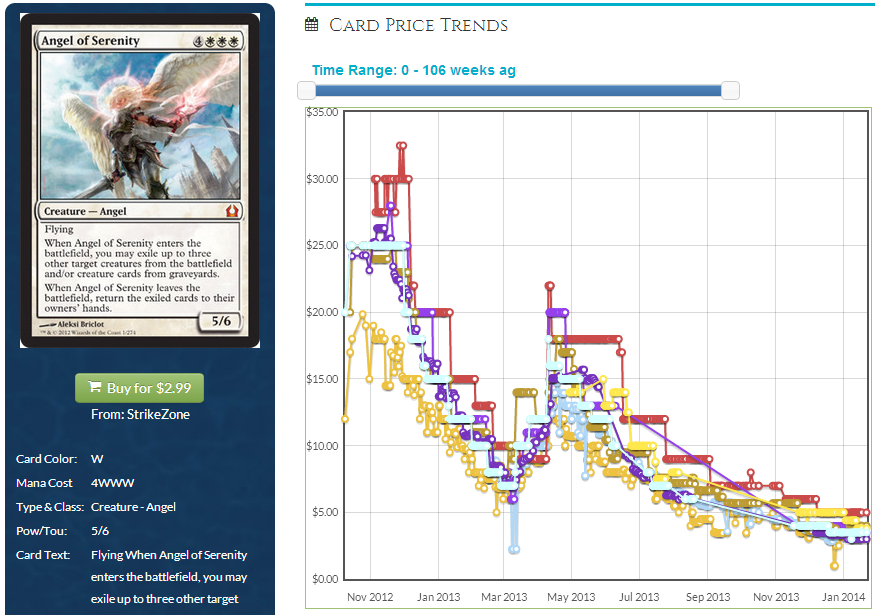 She hasn't gotten any less powerful though, and making your opponent scoop up their Master of Waves or Desecration Demons is still just as good as when she was doing it last season. She's even got a shot to see some solid play in Standard again before rotation, and if that doesn't pan out she's still an angel with an awesome effect. Angels are quite possibly the most popular casual tribe out there. A constructed-grade angel is going to be a great gainer long-term. If she shows up again in Standard you've got a winner, and if she doesn't, as an angel there's no doubt of a slow trend upwards over time.
Aurelia, the Warleader
Basically what I said above. Less likely to see play in Standard, but still an Angel with a cool ability at rock-bottom prices.
Chromatic Lantern
A $2-$3 card without any play in Standard whatsoever, Lantern is as low as it can be. You won't lose money taking them, and a year from now they could make it to $5.
Crypt Ghast
Cards that double mana are popular with the casual crowd and the EDH crowd. (Those are separate groups, by the way.) For $2, he's a safe bet. He can't get any lower, and with the extort keyword, his reprint options are considerably limited.
Darksteel Forge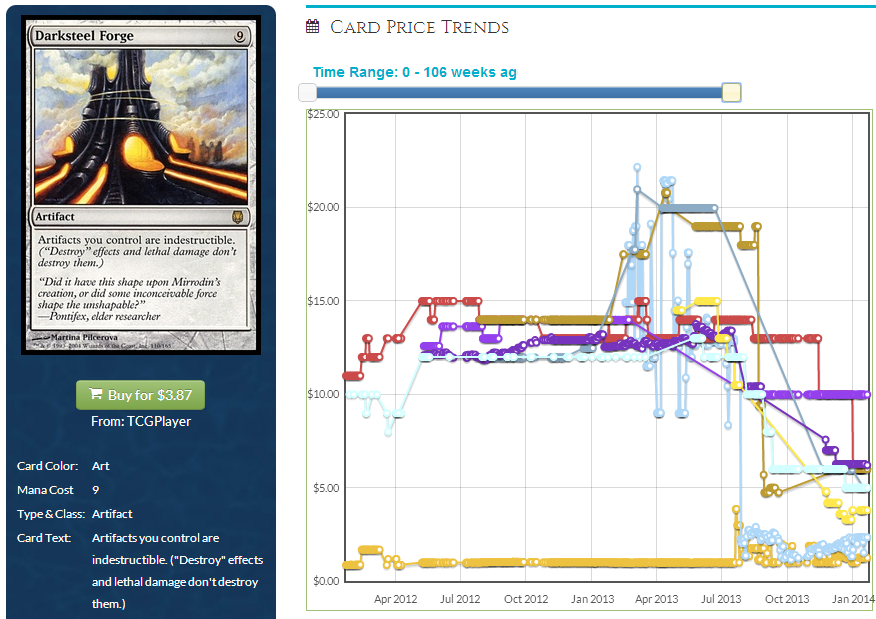 Forge used to be a bazillion bucks. It's not anymore, but it could definitely work it's way up there again. An easy choice at a dollar or two.
Deadbridge Chant
Chant hasn't changed price in about six months, but that just means it won't be going any lower. As a mythic from a relatively unpopular set, there's plenty of possible upward growth. Even if it doesn't start to climb, you probably won't have any trouble trading away copies a year or two from now for $2. There's basically no risk here, and while it may not be the best place to put your Magic money, if there's only one guy in the room taking your Pain Seers for $12 you've gotta get something.
Galerider Sliver
$1 for a strict upgrade over the previous iteration. Slivers didn't do much of anything this time through Standard, but they were never for us anyways. After how little people cared for them, I'm guessing it will be quite some time before we see them again. As a core set rare, Galerider could easily be $4 in a year or two. With how well the Modern can support a 5-color manabase for a tribal deck, Slivers have a non-zero chance of showing up there in a semi-competitive fashion. The ability to give your entire team evasion for one mana is pretty great in an aggro deck.
Master Biomancer
He will never not be several dollars, and could easily climb to double digits within two years. He's hanging right around $5 right now, and I bet you could get them for $3 or $4 in trade. Plus, Biomancer is probably the coolest creature to pair with Master of Waves. (A man can dream.)
Necropolis Regent
A mythic vampire with a big body and a tasty ability that reads well to new or casual players. She's also under a $1. There's no way this doesn't grow, even if only to $2.
Plasm Capture
I'm still a big fan long term. Mana Drain is no joke. Two for a dollar is the best rate you'll see on this for a long, long time. If you don't believe me that it's popular, did you know foils are $4? That's a good sign for long-term growth.
Prophet of Kruphix
Currently $2. Seedborn Muse is $10 and has been printed three times. Prophet has the bonus of potentially showing up in Standard too!
Savageborn Hydra
I bet you did not know this card is $3. That's ok; most won't. Hydras have historically been pretty popular, and Savageborn is in the upper half when it comes to power level. It could easily double within a year or so, and will probably be $10 in about two. You'll be glad you had 15 or 20 sitting around at that point.
Sylvan Primordial
There's no way this doesn't start rising after rotation and not stop until its reprinted. If your EDH deck makes green mana, you're probably casting this. At under $1, this is one of the safest choices on this list.
Worldspine Wurm
A humongous trampling creature that leaves behind three humongous trampling creatures when it dies. At $2, I don't see this ever being cheaper. Stash it and be happy it's $8 in a year or two.
Join me next week when I do my Born of the Gods full financial set review!