by James Chillcott (@MTGCritic)
Hey all,
While many of you are gnawing on a turkey leg, there are some pretty sweet deals going down on Magic: The Gathering cards, sealed product and accessories as part of the growing madness that is Black Friday.
Here's a quick overview of some of the deals to keep an eye out for, including sales already available and some items that go on sale Thursday at midnight. Not surprisingly all of this action is online so fire up your Paypal accounts and get your credit cards ready to go Aggressive Mining for value. (Don't be surprised if these are sold out by the time you get there….after all, the race is on!)
TrollandToad.com has added some solid deals to their Black Friday selection today:
SCG is supposedly going to be offering 15-50% off a wide array of products starting on the 29th. Here are some sample offers currently up for sale:
You might not have these guys on your radar since they don't sell singles, but this site has some great deal so sealed product worth jumping on, all of which are already live: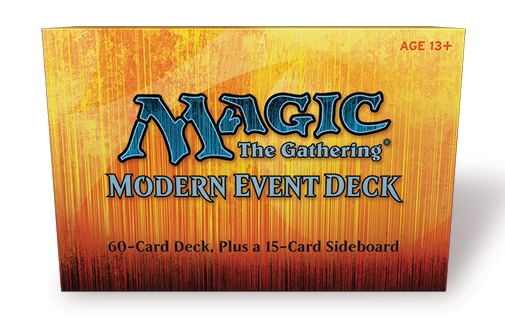 At just $1.78/pack, the Magic 2013 booster box is cheap draft fodder and the 2014 Event Deck is basically free when you consider it has a Stomping Grounds in it. The Theros Holiday Gift Box is nothing special, but it's a solid box for holding your collection for free given that it comes with 4 packs.
The Wrath of Mortals Event Deck was widely panned but with 3x Young Pyromancer, Anger of the Gods, Aetherling, Battlefield Thaumaturge, Mizzium Mortars, Steam Augury and Chandra's Pheonix, the value is there at just $8. Conspiracy was all the rage for four weeks last summer and then forgotten, but it's a pretty excellent multi-player draft format and the chance at some very pricy foils makes these boxes one of the better long term holds in booster land at $72.
The Modern Event Deck was a huge disappointment to the people hoping for some truly serious reprints like Bitterblossom or Lilianna, but in truth, the set boasts at least $80-90 in easy value and at $40 it's a snap buy IMHO. Here's a rundown of just some of the relevant cards totaling $85 in case you're still on the fence:
1 Sword of Feast and Famine: $10
1 Elspeth, Knight-Errant: $10
3 Path to Exile: $15 total
3 Kataki, War's Wage: $6 total
2 Dismember: $4 total
4 Windbrisk Heights: $8 total
2 Inquisition of Kozilek: $10 total
2 City of Brass: $6 total
4 Caves of Koilos: $10 total
4 Isolated Chapel: $6 total
As for the Magic 2015 Clash pack I've been milking those at $20 for months, selling the included Courser of Kruphix for $15 and holding Foil Alternate Art Prophet of Kruphix, Prognostic Sphinx and Temple of Mystery, and a Nykthos, Shrine to Nyx along with a bunch of solid uncommons for future value/causal deck fodder.
ABUGames has just a handful of deals going down starting Thursday at midnight, and the most tempting are these two: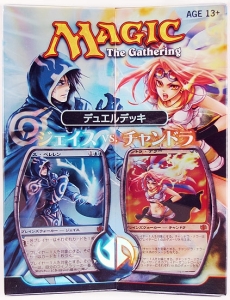 Those of us who bought up sets of C13 around $125-150 last year are looking pretty silly right about now. Plenty of places are dumping them now around $120-125, and this $89.99 deal is sure to sell out given that this puts the decks at just $18 each and gives you immediate access to copies of Toxic Deluge and True-Name Nemesis, while providing some decent long term gain potential in the Prosh and Olora decks should you choose not to bust 'em.
The Jace vs. Chandra deck is several years old and typically sought after in the $30-40 range due to the anime inspired art for the Planeswalkers, so it's likely a snap buy even if just as trade fodder.
CoolStuffInc. isn't typically known for their sweet sales, but they've got some solid deals on both singles and sealed product this year for Black Friday.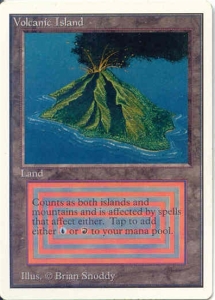 Here's a sampler of the better deals:
Singles
Sealed Product
This sale is live as the "End of the Year Sale". The sealed product doesn't boast much in the way of excitement, but there are some fairly tasty mid/long range specs at good prices in the KTK singles section, including:
Of these options, I love Villainous Wealth at a quarter, Narset at $1.25 and See the Unwritten at $1.99 as cards that could easily double or triple in price on new cards and/or metagame shifts, not to mention long term casual appeal to set the floor. Clever Impersonator and Hooded Hydra are both undervalued mythics, with Hydra having the biggest upside so far. There's also a good chance that both Wingmate Roc and Seeker of the Way can be buylisted for more than this price before they rotate out.
Though TCGPlayer claims to have a Black Friday sale going on, it's unclear what facts justify their advertising exclaiming "the year's lowest prices on Magic!". I was unable to uncover pricing that was anything but ordinary, but ping me if any of you know different.
Though there's nothing specific on their site to confirm it, CapeFearGames apparantly has a 15% off coupon usable all week. Try using "cyberweek".
Canadian stalwart MTG retailer Face2Face Games is running a 15% off sale Thurs at midnight through Sunday. With the fact that most Canadian sites price to match US pricing, this boosts your potential discount from the US to as much as 30%. With $2.50 shipping to the US, this may be one of the better options. Coupon code should be: "BLACKFRIDAY2014".
James Chillcott is the CEO of ShelfLife.net, The Future of Collecting, Senior Partner at Advoca, a designer, adventurer, toy fanatic and an avid Magic player and collector since 1994.
ADVERTISEMENT: Happy Thanksgiving! Wizardry Foundry is presenting its Reversed Black Friday Deals – a Black Friday special fully driven by their fan base. Get a Grimoire SWAG bundle, or a Mega Future Discount Pack (straight up 50% off in a future purchase), or 15% off individual Grimoire, Roughrider Box, and Cartographer Lifepad right now – www.wizardryfoundry.com