By: Douglas Johnson
Hello, readers! Sorry about the lack of an article last week: it's exam time here at Oswego State, so I had to prioritize writing about cognition, perception in digital image manipulation, and the history of past psychological theories over my beloved trading card finance. If you're interested in any of those papers, I can be sure to get you a copy.
Now that we're back, I'd like to provide a correction from the Immortals article from a couple of weeks ago. In that article, I referenced the "leaked" list from about a month ago, and assumed it was true because it came from the same source as the leak that had ended up being true for a list of Modern Masters stuff back in 2013. While several of the cards on the list ended up being correct, several cards were inaccurate (Comet Storm over the supposed mythic Splinter Twin), and  Goblin Guide ended up being completely missing from the set.
I received a bit of negative feedback for automatically assuming the list to be true, and I accept that I should have waited for confirmation from WOTC before going ahead with the example that I used. That being said, Tezzeret ended up being in the set (lucky me), and I still think he's a good example of an "immortal." If you need one for a deck or are looking for long-term stable gains through trade, I recommend picking them up about a month after the release of Modern Masters 2015.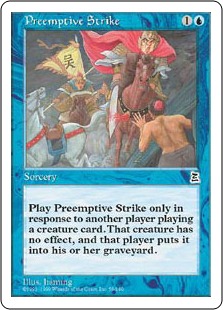 The New Craigslist
Now that those things are out of the way, let's get to the content. When I get asked, "Where are the best places to find collections?" my two instant answers have always been Craigslist and word-of-mouth. Once you become a well-known person in your local area for buying pretty much anything at buylist, you'll have friends of friends referencing you as "that guy" who is willing to drive out to their house at 11 p.m. on a Monday to buy their Standard deck because they need to pay rent by the next day. While both of these are still excellent ways to grab cards at buylist values to immediately resell at TCGplayer low prices, I'm happy to add another method to that list, and that's Facebook.
I'm not even talking about using your local Facebook groups to meet up with people in your area to buy stuff—I'd categorize those under the "word of mouth" section, and just having a sufficient network. Even then, you're still actually physically meeting up with the person and exchanging cash for the cards immediately. While my definition of a collection right here loosely translates to, "A pile of random singles at approximately buylist values shipped to your door," it's still been a great experience for me, and picking up two collections this way gave me the idea to write this article.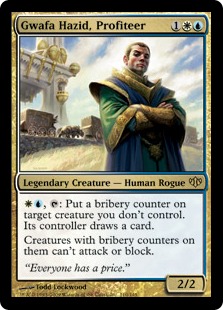 Where to Join? 
To start out, let's go over some of the various groups that I'm a part of on Facebook where you'll be most likely to find willing sellers. While I've also joined at least a dozen localized groups that serve the same function, this is a decent starter list of the ones that aren't tied to a specific location. Some of these groups will spam up your feed with unreasonable sellers more than others, but that's a sacrifice I'm willing to make in order to find the occasional great deal.
MAGIC THE GATHERING BUY/SELL/TRADE

Magic Forum Buy-Sell-Trade

MTG ONLINE TRADES

Magic: The Gathering

Puca Points / Tickets / Card Exchange

The first three groups are pretty self-explanatory: they all focus on the same thing, albeit the "MTG ONLINE TRADES" group is more focused on trading and less on cash transactions.
The fourth one on the list, "Magic: The Gathering," lacks an easily distinguishable name, and is a much more casual-based group, and will actually provide great examples of what an "invisible" player looks like, as defined by my co-writer Ross Lennon . However, you'll occasionally find a decent gem post there, and selling cards on that page for under TCGplayer low is a huge hit with the casual crowd in my experience. We'll go over the correct formatting for selling your cards via Facebook later on.
The last group is a newer one created for exchanging the different types of currency that we use: PucaPoints for the PucaTrade website, Magic Online tickets, cards themselves, or actual cash.
Pretty much all of these groups are technically "closed" by Facebook's definition, but just ask for permission to join and they'll let you in. If you're someone who is constantly checking in on your Facebook every few minutes while bored and sitting at the computer, this is a great way to find buying opportunities without having to put in any noticeable extra effort. Be warned, though: you will inevitably see a large number of people who have no idea what they are doing, expecting full retail for their list of random rares.
My Haul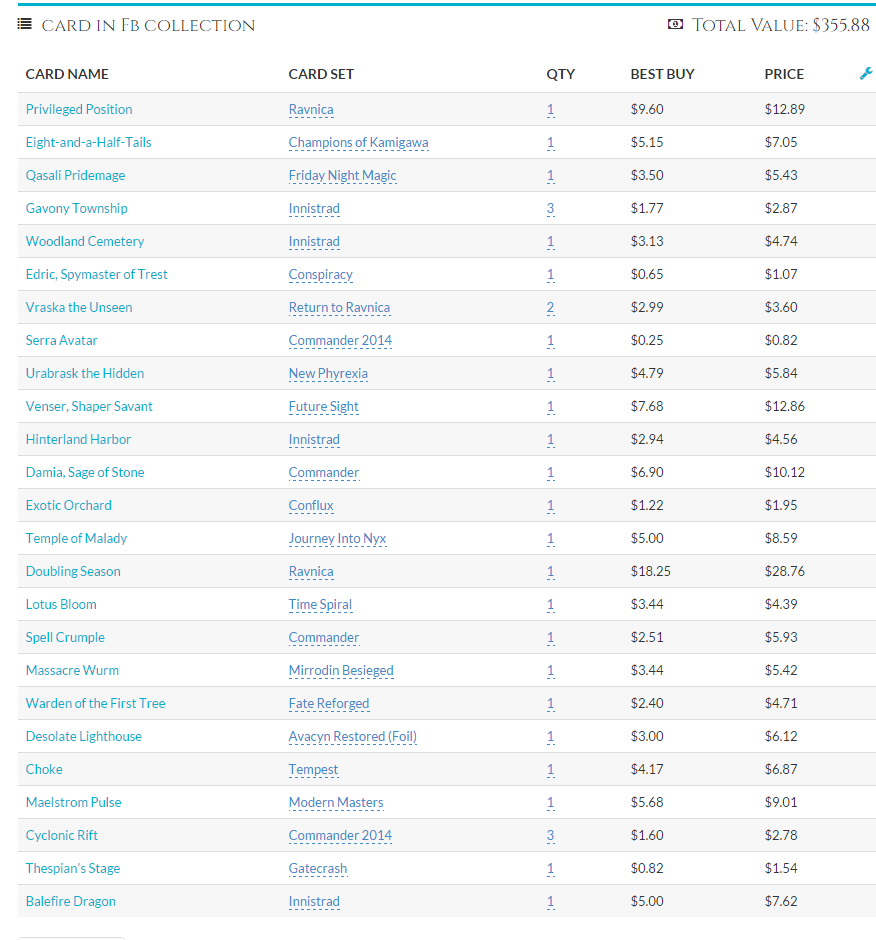 A couple of weeks ago, I was scrolling through my Facebook feed to procrastinate on my term paper on perception. I happened to notice a post on one of the above groups that was selling the above list of cards,  and was asking damn near close to buylist prices on each card. He only wanted $10 for the (albeit German) Privileged Position, $1 each on the Townships, etc. I sent him a private message (and commented on the thread telling him that I had done so), asking what his price was to move the entire list today. His number was $180, which I snap-agreed to, especially since he was willing to ship the cards to me with tracking included (something you'll always want to do when making these types of buys).
He supplied me with a list of his references, so that I could contact the admins and other traders of the various Facebook groups to confirm that he wasn't going to take my money and block me. Thankfully, this was someone that I had purchased cards from in the past through the very same group ($5 copies of Liliana Vess? Don't mind if I do.), so I had already confirmed his legitimacy. Even so, I still always wait for the seller to give me a tracking number before I send the money,  and I pay the extra 3% fee to cover the "goods and services" portion that PayPal takes, just in case I need to resolve a dispute.
Seconds?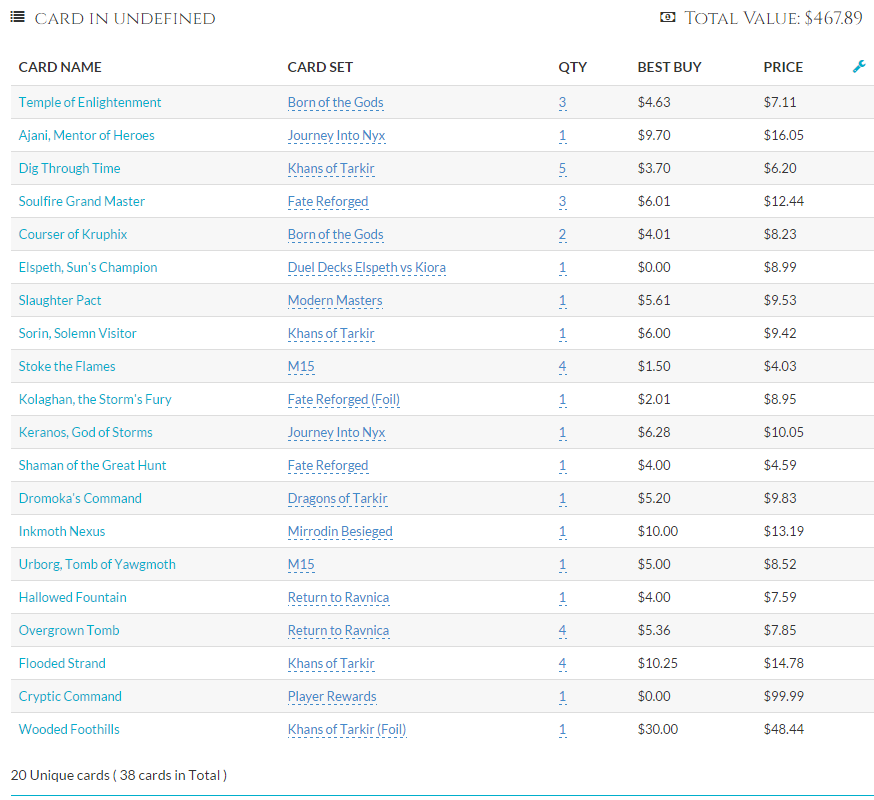 This list of cards was another lot on Facebook that I found within a couple days of the last one. After a bit of negotiating and letting the seller know that he could be paid the same day once providing me with the tracking number and confirming his references, we settled on a $220 price tag. While a large chunk of it is Standard stuff that will  be rotating within the next four to five months, I've already managed to move a decent chunk of it through local customers and selling on TCGplayer.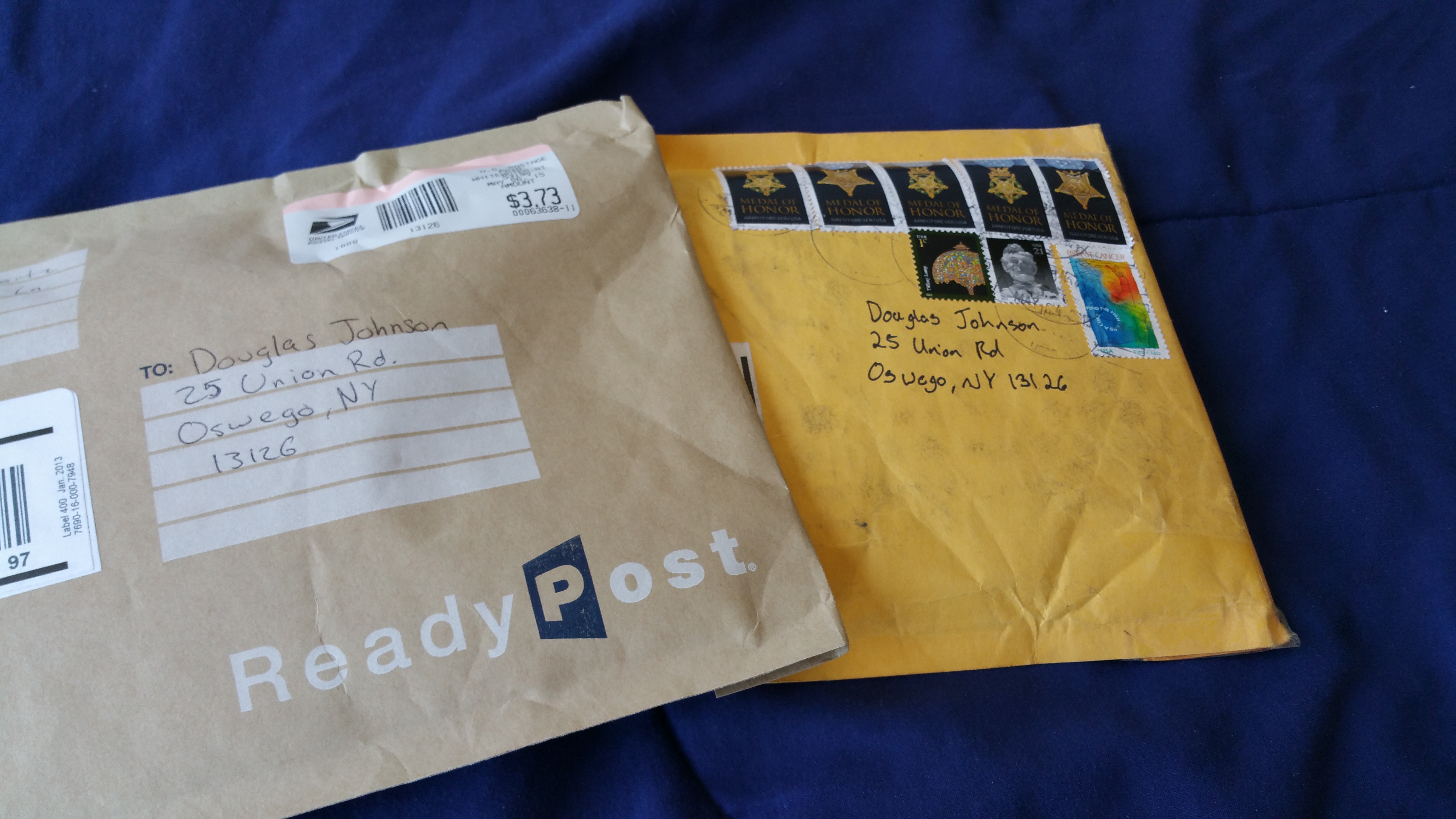 After about a week of waiting and a couple of days of the USPS lying to me about when my package was scheduled to be delivered, we got our prizes in the mail.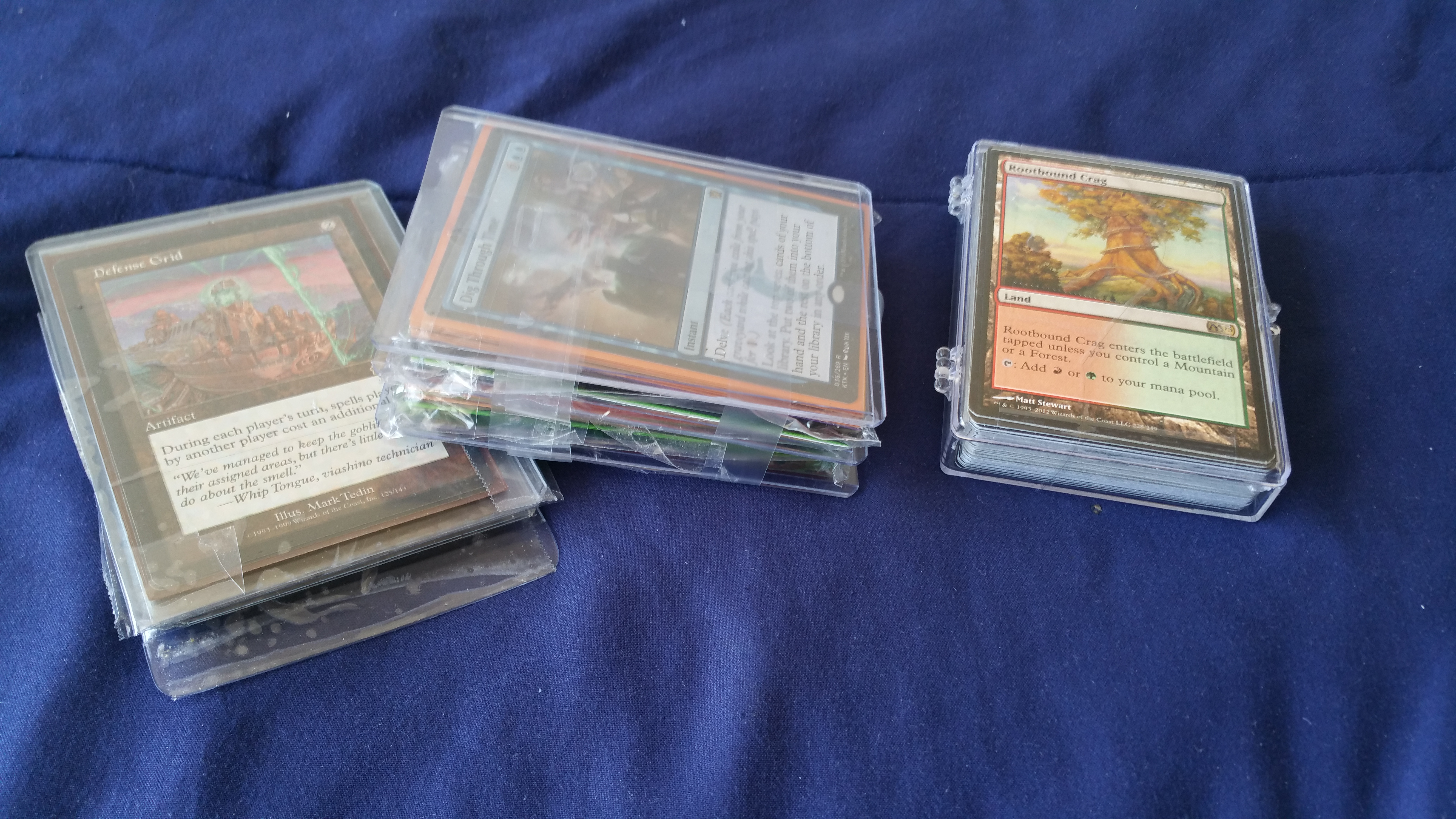 There's… uhh… a little too much tape involved here, but it was his first time selling online, and he said he didn't want anything to get damaged. Better safe than sorry, I suppose.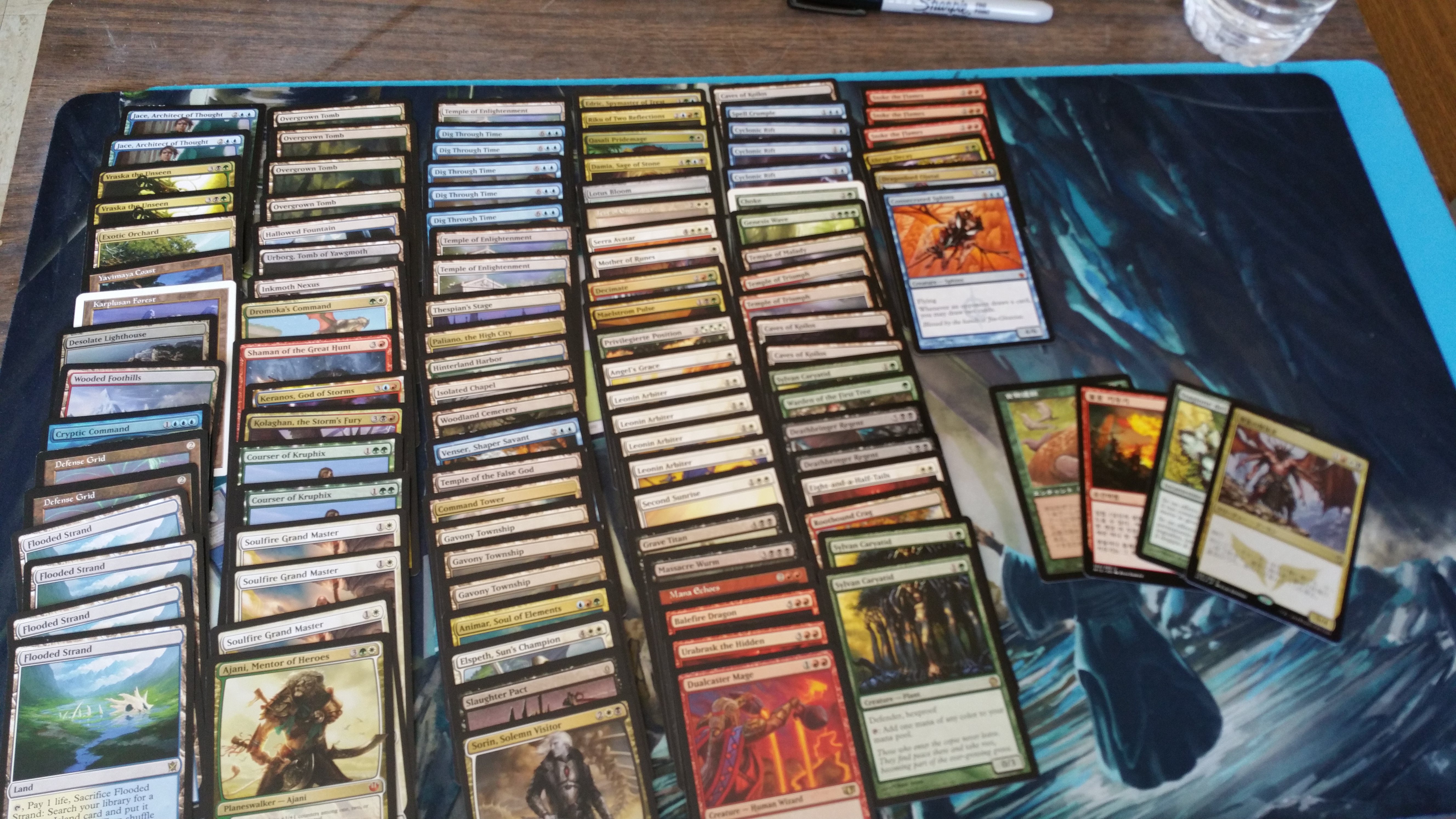 And here's everything unwrapped and laid out, ready to be added to my own inventory. The seller actually didn't mention that the Butcher of the Horde was actually Japanese and foil, so that'll be nice if I can actually find a buyer. Even if I don't, I only paid the buylist price of a non-foil English one: $.25.
All in all, I paid a litle over $400 to have $900 of (retail) value of cards shipped right to my mailbox . While this is obviously one of the rarer and more lucrative examples that you'll come across, they do exist.
A more common situation with the reasonable sellers is the first time I bought from the seller who provided the first list: I bought two copies of Liliana Vess for $10 total, shipped in a plain white envelope. You definitely have to be fast with messaging the sellers when you see potential buys, but it's worth it. There are multiple people like me who have nothing better to do than scroll through their Facebook feed for the off-chance that someone needing to pay for rent/car repairs/schoolbooks shows up in one of the groups, and actually knows how to list things at buylist prices in order to move them immediately.
I mentioned earlier that I would go over how to properly list cards on Facebook so that they actually move and allow you to make a profit, but I think that can be saved for next week, as it's a pretty detailed subject. There are also a couple of things that I want to go over in the End Step before I close out for the week.
End Step
Modern Masters 2015 boxes are available for MSRP pretty much everywhere, and I've gotten several questions as to whether or not one should buy in expecting the same growth rate of the set's predecessor.  I don't think I want to buy these at $250, for singles or for storage. They're an even bigger lottery ticket than Modern Masters, with a whole bunch of money packed into the mythics and very little distributed at rare. I'm a pretty risk-averse person, so I'd rather be the one buying other people's cards at buylist so that they can be the ones to roll the dice on $10 booster packs. Unless you can get in below $210 or don't plan on making money off of it, stay away for now.
Serum Visions is the FNM promo for August, following Path to Exile for July. I guess that explains why it wasn't in MM15, so gold stars to everyone who called that. The lack of Gitaxian Probe is less easily explained, though, and my money (not literally) is suggesting that it's teetering on the edge of a potential banning. While I don't think the card is powerful enough to deserve an excommunication from the format, I also thought the same of Birthing Pod. I'm personally selling my copies at $3 when I have the chance, but that's partially just because I found a bunch in a collection last week.
That's it for this week. See you next time!