We're back with more of a Finance 101-style topic this week, so don't expect anything too revolutionary or mind-blowing. Just a lone 20-year old rambling about certain Magic: The Gathering cards that I believe will go up, down, or remain stagnant as bulk rares for the rest of their miserable existences. Well, I guess that's not entirely true. I do kind of have a theme here. I want to wedge in a little bit of discussion about the best ways to out your prerelease bananas.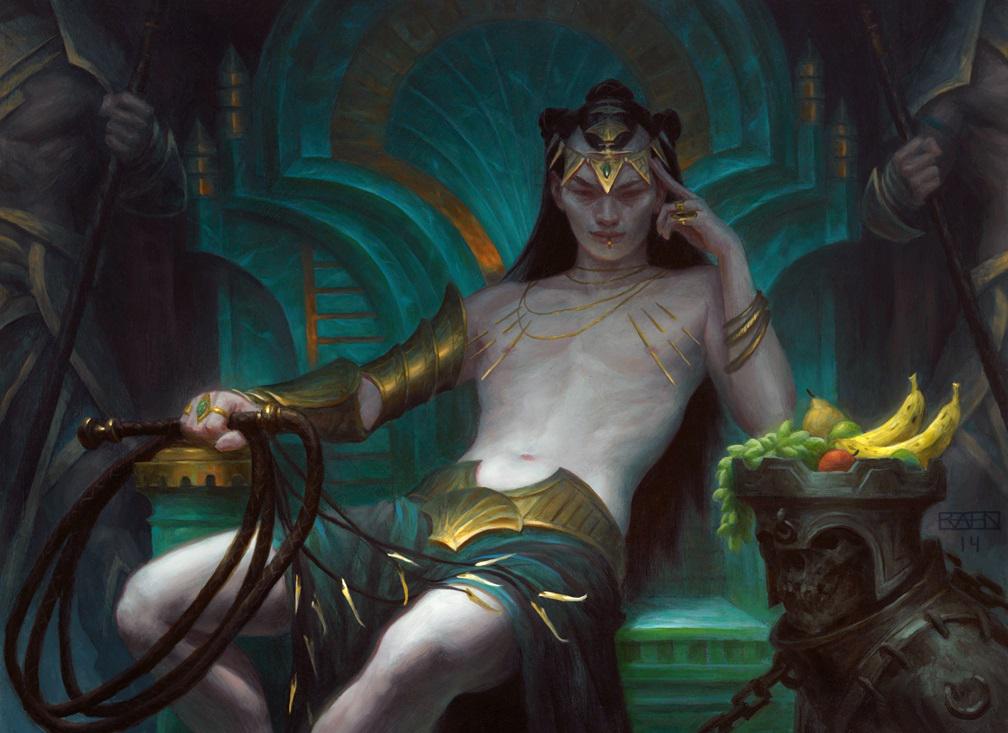 Bananas?
You know how bananas only last like three hours at a maximum before they turn black and gross and banana-bread material? That's pretty much what 95 percent of the rares and mythics in Battle for Zendikar  are going to end up doing, too. You might look them up on your phone or tablet when you open them at your local prerelease and exclaim with pure joy: "Oh, golly me! My Undergrowth Champion is selling for a whole $10 American dollars on eBay! I 'made' money by adding up the value of all of the mythics, rares, and uncommons in my pool!"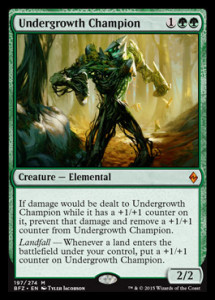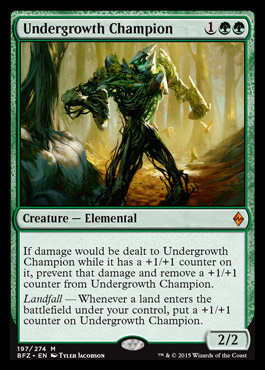 We all know what happens next. I'm very guilty of it myself. We go home, let that Champion sit in our binder for the next two FNMs, but nobody points it out as a trade target. Suddenly the card is only worth $3, and we buylist it for $1 because we're sick of looking at it, and you know it will never see Constructed play. You only got like one slice of that delicious banana bread out of that deal, when you could have been fast enough to trade off that ripe banana for some apples or carrots. Those don't go bad quickly, right? I don't know. I'm not Gordon Ramsay over here.
That Zada, Hedron Grinder (which is one of the more stupid names that I've heard for a card in a while) is pre-selling for $2 now, but you and I both know that it'll be a bulk rares in about two weeks. If you didn't know that the legendary hedron grinder (ugh) will be a bulk rare, then consider it something you've learned from this article.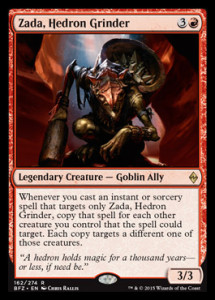 So how do you get rid of stuff like that? Ob Nixilis Reignited is preselling for $15 on eBay (which is one of the lowest prices we've seen for a planeswalker preorder in a long time), but you won't be able to set him free on TCGplayer until the set's official release date. Selling on eBay yourself is an option, but the fees are too high for my personal tastes, and the customer service is weighted heavily against you as a seller. There will also be a large number of people at your FNM who read articles like mine, telling them to stay away from  your precious Ob Nixilis like it's the plague, until it's a paltry $7. If you really want to move that demon buddy now, then I've got a couple of suggestions that you may want to pocket.
Like Dis If U Sell Evertim

Facebook is one of the best way to move new cards. Actually, I'm coming to a realization that I mention this in pretty much every damn article I write. And you know what? I haven't been convinced that I'm wrong yet, so I'll keep saying it. I wrote in detail here about selling a picked-through collection via Facebook, but I want to emphasize this here: most non-competitive players don't go to your LGS. They're not sitting across from you at FNM, or scanning through the spoilers every single day like we are. They don't have eighteen different sources of price-tracking info coming into their brains, but most of them will have a Facebook page.
Most of those non-competitive-but-on-social-media players most will have liked a Magic: The Gathering page at some point in time of their social-media lives. If that page allows the buying, selling, and trading of cards, this is where you want to be. You want to ride just under the prices they're seeing on eBay and TCGplayer, because these are the impulse buyers of Magic. They want their sweet new cards, and they want them as soon as possible. Timmy Incarnate behind his computer screen has been waiting to add that Desolation Twin to his Eldrazi deck for weeks now, and you're going to help make it happen. How much is it going to cost Timmy? $2? That's it? Bam. Easy. And it saved you from sullenly sliding that Twin into your bulk rare box a month from now. Everyone's happy. Sell those $12 copies of Ob Nixilis, $13 Kioras, and ride that prerelease hype wave as far as you can surf, until those 8/8 octopuses turn all of your hard-pulled cards into gross little bulk rares.
Alternatively, you can test how fast your fingers can click and try your hand at PucaTrading those new treasures away. Trader be wary though: everyone is going to be looking at the same target here. If you thought Standard cards were difficult to move on PucaTrade as just an average Joe user, you'll be disappointed to learn that cards straight out of the new set are on another level. Everyone wants to get that sweet, uncut value.
Traps in Battle for Zendikar
I mean, there aren't any actual trap cards, like Archive Trap and whatnot, but I do believe there are a couple of other trap cards from Origins that I believe I'm in minority of rallying against. Everyone is up in arms about these two tricks of Nissa's being near-guaranteed landfall spec targets, but I'm not seeing it.
Both of these cards are hovering around the $3 point right now, and they've each crept up to that point relatively recently. I don't think you want to pay four total mana to play and equip Sword of the Animist just to get a landfall trigger every turn, especially when your guy could just get bolted in response. If we're equipping a creature and attacking with it, I want to win the game very soon after. I just don't feel like Sword of the Animist has the power level to do that. Even if it does see play in a Standard list, how many do you play? Probably two at most—I can't see you wanting three copies. You'll draw too many at that point. So do you expect this to go to $6 or $7 in a set where there's already a $20 non-mythic holding up a substantial portion of the set's value? I'm just not buying it. Literally. I'm not buying this card, unless I get it at buylist prices.
As for Animist's Awakening, I feel like it's way too much of a gamble to be investing that much mana into crossing your fingers and hoping for more ramp. If you're trying to abuse this with Omnath, you should be able to end the game off of two or three more landfall triggers, fueled by fetch lands and maybe a single ramp spell, not casting this for seven or eight mana and hoping that you have 50 power on board. While I play it (and absolutely love it) in my Child of Alara EDH deck, that's a completely different environment, and I can't see this being run as a four-of in any particular landfall deck. It sees $3 off of two things: hype for the new set and mechanic, and people like me who jam it in EDH. If you're holding onto either of these cards at $3 and hoping they jump, my recommendation is to sell off now into that hype.
End Step
Did you know Hardened Scales is a $2 Magic card? I mean, I knew it was pretty good in EDH, but I didn't think it would be more expensive than a Prophet of Kruphix. I'm pretty sure I have several copies of Scales in my bulk-rare boxes right now; or at least, I'm pretty sure I used to. Some smart reader out there probably realized that the card was worth more than I was selling it for, and pulled it out to make money off of me. Good for you, if you did that.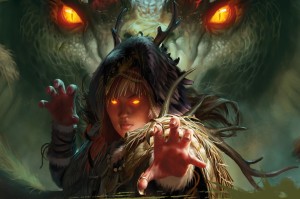 Dragon Whisperer is the same price as Hardened Scales. Now, that can't be right. I know my friend Travis has written about this card extensively, and put his money where his mouth is. I can't say I blame him, and I'm tempted to dump a reasonable chunk of change to follow suit. There are a lot of abilities on this card, and it fits perfectly into the curve of the mono-red deck that we all know will exist post-rotation. Writing this paragraph and looking at this price graph is slowly convincing me, so you'll probably see me in What We're Buying and Selling This Week on Saturday with my pile of Whisperers that I bought for two freaking dollars each.
Anyway, that's all I've got for this week. I got a little bit side-tracked, but that's alright. I didn't have too solid of a topic anyway. Let's talk about Magic cards in the comments below. You're probably more likely to get a quick response if you use Twitter or Facebook, though. Fair warning. Have a great weekend, everyone!