By: Cliff Daigle
My second opponent at the prerelease last weekend (we both lost in the first round) said to me, "It doesn't matter if I win a few packs, because I already won!" and then he showed me the Steam Vents he'd opened.
After the match, he asked me if I wanted to buy the Expeditions land off of him. I declined, and I said to him, "I think the price is going to come down in a few weeks."
He said, "Maybe, but I don't know what to do with it."
Perhaps this is you. You opened an Expeditions land and now you're asking, "Now what?"
Well, I'm here to walk you through your choices. I am not a professional seller, I am not affiliated with any store, and my views reflect only my experiences.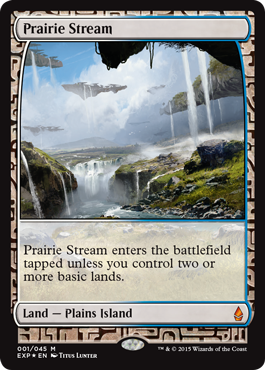 Option #1: Keep it!
This is the most straightforward of your choices. Pick a deck, or choose a binder, and leave it there. Maybe you keep it in the back page of your binder just to show off, maybe you add it to a Commander deck, but whatever your preference is, the card is in your possession.
This is also the choice that will probably give you the best return on the value. If you leave it in there for a year, it's going to be worth more than it is now.
Would I do it: Maybe. I have one all-foil Commander deck, and it doesn't have a Scalding Tarn or Polluted Delta…but those are among the most expensive cards from Expeditions. If I opened one of those…yeah, I'd keep it.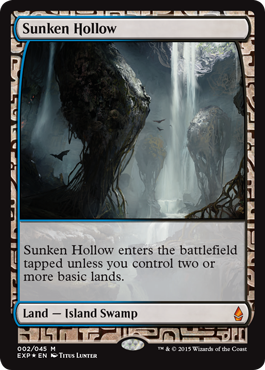 Option #2: Trade it!
This sounds like an appealing idea to a lot of people, to give up this one single card and get so much in return! I could easily see someone emptying out their binder in order to get their hands on the Expeditions land they want so very badly, not least because you don't often find people with high-end cards for trade.
It's worth saying that if you're going to trade this, be aggressive in what you're asking for, especially if you're trading a fetch land or shock land. While it seems these aren't as super-rare as originally anticipated, they are still pretty hard to find and you shouldn't be shy if you're going to part with yours. Grab everything of theirs you want, negotiate a little, and if they don't want to trade the things you want, start to walk away. Most of the time, they will come around.
If there's no trading partner available at your store, there's always online trading. Deckbox is my preferred method, but if you are just starting you'll be asked to send your cards first and I know that can be intimidating at the beginning, especially if you're trying to start with a card worth more than $100.
Trading the card on PucaTrade is a strong option. This is the way to get all the points you'll need for a while, or jump you up to the big cards you desire. Think of it as getting 100% of the card's value in store credit.
Would I do it: Yes. I have never been a heavy PucaTrade user, mainly because I don't have a lot of time to watch and jump in when someone wants a card I have. I would be content to gain a stack of PucaPoints or spend a couple of days haggling on Deckbox until I got exactly what I wanted.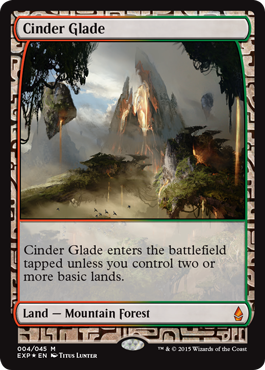 Option #3: Sell it!
There's a simplicity in selling your Expeditions land to whichever online card shop you like, because you'll get the cash or credit right away. No haggling, no discussion, just click, pack, send. If you want cash this may or may not be the best option, since right now lots of stores have lots of prices set up. I would expect that the prices will stabilize this week as stores begin opening their product.
As ever, though, doing the simple thing is going to cost you some. Typically, stores will give you about half the retail price of a card in cash. Most big stores will then add a percentage to it and give you more in store credit, to avoid paying cash.
If you're not used to dealing with expensive cards or selling things yourself, there's an ease and a comfort in dealing with the store of your choice. Just understand that there's a real cost.
Selling the card via Facebook, Twitter, or other social media is an option, but carries its own set of risks.
eBay might be the best option if you want to convert your card to cash. There will be fees from eBay and from PayPal, and so you should expect to pay 10-20% of the final sale value. If you've sold things on eBay before, you don't need me to tell you about it. If you haven't, understand that eBay almost always sides with the buyer in disputes, so there's always the chance you could get burned as the seller if you're unfamiliar with the process. Other buyers will shy away from someone with low feedback.
It's my understanding that TCGPlayer isn't that much better than eBay when it comes to small amounts of cards, but I've never sold there and I'll let people share their experiences in the comments.
Would I do it: Probably not. Turning a card into cash usually means that I'll spend it on other things that my family needs. Plus, I don't like losing the percentages of a sale, so I'd stick with trading.
Let's use an example: Arid Mesa.
Here at MTGPrice, it's listed at $150, because that's about what it's going for on eBay. Card shops aren't allowed to sell them until today and so there's a lot of volatility.
Looking at the sold items, that seems like a good average. There's been some lower offers accepted, some bids aren't too much above or below that number. Remember, though, that you'd be looking at about $20-$25 in fees.
TCGPlayer has these in that same range, about $165. Notable that their data shows these as pre-selling for more than $200 earlier this week! As of this writing, though, the lowest price on a NM copy is $145, and with the downward trend, you could probably undersell that too.
Selling to stores appears to be an even worse play, with buylists not even breaking $100, and most between $80-$90. Even with store credit, you'd be hard-pressed to break $120 at a store.
PucaTrade is by far the most profitable option. You'd get 17150 points, the equivalent of $171.50 worth of cards. Puca is a surprisingly good place to get high-end cards, and you'd be well on your way.
I'm putting this up for people that aren't sure what to do with their one Expeditions card, especially if you have no interest in trying to get a full playset. I welcome discussion about the best way to move one of these, along with your experiences.
---