By: Derek Madlem
There seems to be some confusion about vendors. For those of you that have been watching from home, I've spent much of this year working with and around various vendors as both a buyer and a seller. One thing I've noticed from the other side of the booth is that there are a lot of people that just don't really get what's going on. As always, I'm here to help.
I'll apologize in advance to all the seasoned #mtgfinance veterans out there, this article may be a little basic for you. If you're looking for something a little more meaty check out this fine read from the archives: So You Want to Sell a Wingmate Roc
The Hot List
This is one of the most common misconceptions new(er) players have when it comes to selling cards. I don't know how many times I've had someone sheepishly ask me, "are those the only cards you guys are buying?"The hot lists that vendors post are not the only cards vendors are buying, they're simply a "hello". Think of hot lists as conversation starters. Vendors pick cards that they know they can sell quickly and offer high prices on them just to get you to sit down so that they can make offers on the rest of your cards.
So you should just sell cards to vendors that are on their hot lists right? Sure, if you like wasting time. One vendors "hot" price is another's every day price. But if you feel that standing in line to sell cards at seven vendors vs going to one or two is a good use of your time, then go for it.
The Buy Mat
Most vendors are going to have a playmat that's organized in a grid with prices printed on it. These prices will generally range from small change up to $35+ and as you and the buyer agree to prices they'll place it on the mat in the corresponding square and then total it up at the end.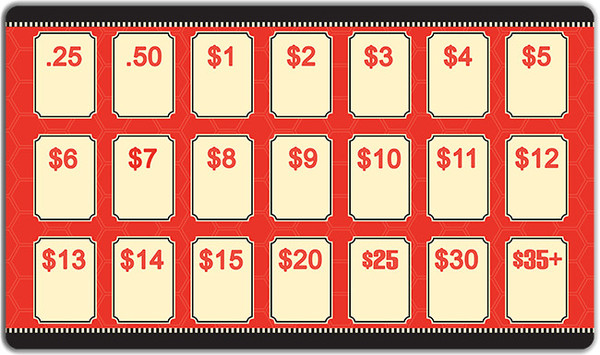 This process is usually going to involve the buyer pointing at a card and telling you a number with you responding in some audible way. Most buyers don't just yank cards out without asking first, but if they do just stop them and ask them to check first. Some people prefer to just tell the vendor to pull out everything and put it into piles and they'll take back what they want to keep; as a buyer I always hated doing it this way but because it felt so impersonal, but some prefer it.
At the end they'll shoot you a total, at this point if you're looking at getting cards out of the case ask about any trade bonus they might have, it's usually going to be around 20%, though some vendors do ridiculous bumps as high as 35% at times.
Trust
A number of people don't know who to trust when it comes to selling cards to vendors. There's a lingering misconception that selling cards to a vendor is like that famous line from Rounders:
Listen, here's the thing. If you can't spot the sucker in your first half hour at the table, then you are the sucker.
The first thing that everyone needs to understand is that the era of vendors trying to shark you is pretty much over. There's simply too much at stake. In an era when reputation and bad encounters can be amplified via social media and everyone has access to online pricing, there's too much at stake to try to get one over on somebody for $3.
There was an era when basically any schmuck could show up at your local PTQ and offer garbage prices for your cards because they were your "only out" at the event if you wanted to turn cardboard into currency. That era ended with the death of the old PTQ system. Vendors are now in a situation where they have to feed the beast. They can't just casually drop a couple hundred dollars on a booth and buy a thousand dollars in cards and call it a successful weekend.
We're now in a world where the cost to set up a table at an event has become monolithic. Vendors can either shell out the bucks and run a $5K or similar event themselves, or they can buy into Star City Opens or Grand Prix events. A table at an SCG event is going to set them back at least a couple grand, while a table at a Grand Prix can scale all the way up to $10,000…and that's before you pay for travel, employees, food, etc.
To put it simply, they can't afford to waste their time trying to gut a couple of fish, they've got a business that depends on you selling them cards. For the average person selling binder chaff, you're probably not going to see a huge difference between many of the vendors at a Grand Prix; it's going to be a few dollars here and there but you're not going to see that much of a difference until you start dropping piles of cards onto the buy mats.
Your Local Game Store
So why not just sell to your local game store? Chances are you don't live in a major metropolitan area and  if you do, half your local game stores are poorly run to begin with…and there's a good chance they're not even set up to sell on TCGPlayer. Most local game stores just need some cards to sell, not all of them. They're often the only game in town so they don't HAVE TO pay as much as you're going to see from your average GP vendor simply because they have no real competition.
The Lowball
The idea that vendors are going to try to shoot you lowball numbers on cards to try to screw you isn't much of a reality these days, but there are still a couple reasons that you'll get a lowball offer:
They don't know that the price of a card has changed drastically.
They really don't want it.
In the first scenario, it simply comes down to honest mistakes or lack of knowledge. When I was at my busiest working as a buyer, I would work shows many weekends in a row with only a few days in between so I was watching price moves daily and had the buy prices memorized for a number of cards. But when we'd be on an extended break, the last thing I wanted to do was look at charts of card price changes every day, so I would fall behind. If I had to work as a buyer this weekend, I would be way off my game for the first couple hours as I haven't been following prices that closely for the past few weeks.
In the second scenario, different vendors want different things. Some vendors sell cards on Amazon.com and they want infinite copies of Colossus of Akros, while others do most of their selling at competitive events and only want competitive staples. Some stores just don't want to carry an SP copy of an obscure EDH foil from event to event but others love having it in stock because they know their regular customers will snatch it up. Other times a vendor has just bought too many of a card and would prefer to spend that money on something else: Tasigur, the Golden Fang is a great card, but you can't set up a booth that only buys and sells Tasigurs and be successful.
Typically if you get a number that seems low on a card, it's because the vendor wants you to say no so that they don't have to deal with the card.
The Negotiation
There's a myth that you should haggle over the price of any card you're selling because a vendor is always going to offer low on a card to start with, and that might have been true in the past, but it's just doesn't seem to be that way anymore. None of the vendors I've worked with wanted me playing games as a buyer. If we didn't buy $X in cards an hour, we weren't going to have a good weekend. For the same reasons discussed above, it's just better for a vendor to lead with a strong offer and get the card than to have it walk away.
This isn't to say that you shouldn't haggle if a price seems way off, the buyer might just be unaware of a price fluctuation or might have a little room to give, but fighting over every single card is not in your best interest. Multiple vendors that I've worked with have instructed me that if someone wants to haggle over every single card, just close the binder and say "thanks" to open up the chair for someone that's not going to be difficult.
The Elephant in the Room
The biggest mistake I see players making at events time and time again is lining up at the big name stores to sell cards while other vendors have no lines at all. This phenomena is especially true at SCG events. Star City Games has one of the most extensive buylists in the industry, but their buy prices are often among the lowest in the room for everything but the hottest of hot cards.
Much of this is likely a trust issue for newer players or just an unfamiliarity with the smaller vendors. Some players are only familiar with SCG because that's where they get all of their content. As a consumer, you have to look at it from a different perspective – the stakes.
If you're a vendor paying SCG $2,500 to set up a booth at their show, you have to compete to even have a chance at getting a return on your investment. Even if a vendor would normally pay less for cards and sell them for more (not sure how that's possible), they have to change because they're going to set up shop twenty feet away from the biggest name in Magic outside of Wizards of the Coast.
Big names ≠ big bucks. 
The SCGs, Troll and Toads, and Channel Fireballs of the world know that you'll come to them because you know their name and you'll do business because you're already there. It's in your best interest to start with the smaller guys because it's often THEIR business and THEIR livelihood on the line, so they're generally a bit more competitive.
Grand Prix Indy
If you're going to be at Grand Prix Indianapolis this weekend and want to say hello, trade, ask questions, or even play some EDH, you can hit me up on Twitter @GoingMadlem. It's my home turf so I'm going to try my hand at competing for a change.
---