You either play EDH or you don't.
"Wow, Jason, that's profound. Way to identify the only two types of people on the planet with respect to EDH" –You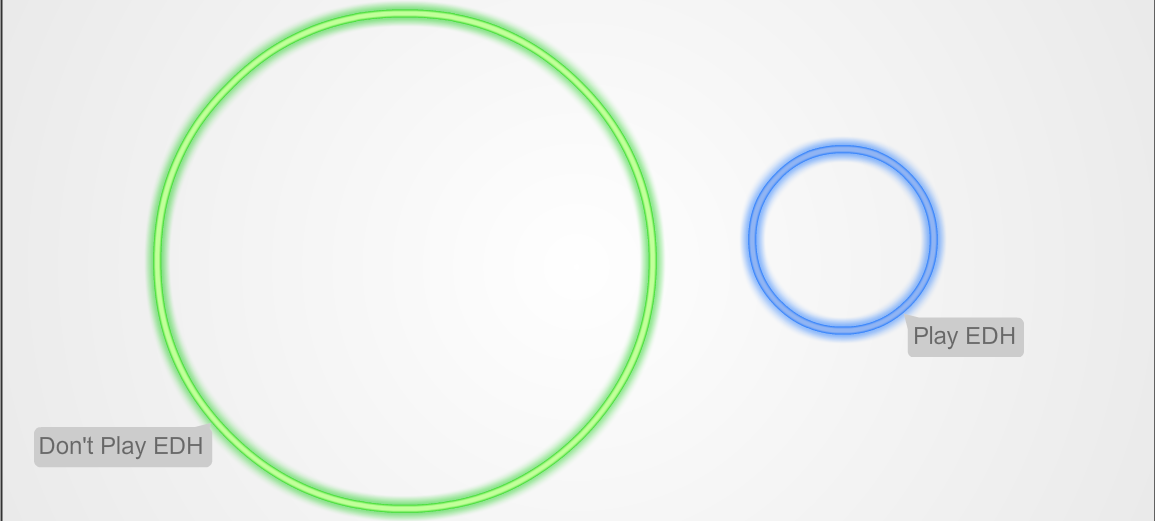 Look, I was making a point before I was so rudely interrupted. Yes, I realize most of the people on the planet don't play EDH and some of you do. But I meant that with respect to just my readers. Some of you play EDH, some of you don't.
For those of you who don't but are still interested in the financial opportunities, thanks for reading. I realize it's literally torture to read a finance article that concerns cards from a format you don't play, and you're sticking with it because of my animal magnetism (and because I occasionally make jokes at Corbin Hosler's and Douglas Johnson's expense. Trust me, Doug deserves it).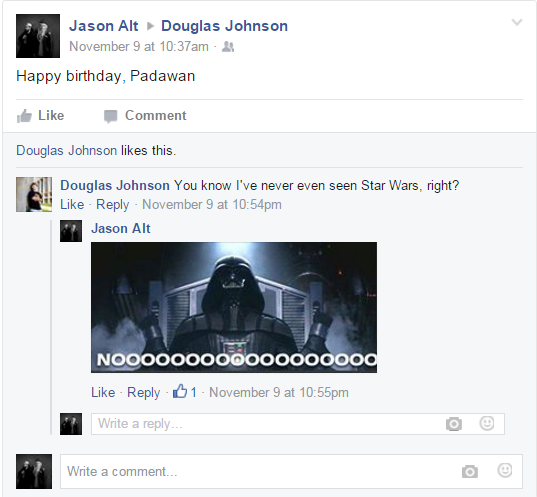 Whether or not you actually play EDH, you can get a sense of which cards are poised to do something and which cards are in higher demand than others. High demand cards can be moved for closer to retail and fringier cards are better to buylist, so sorting your cards on this basis can help you figure out which cards to ship on PucaTrade or TCGplayer and which to just ship to buylists. And although  trading tends to suck, I still make a ton of money trading for Standard cards that EDH players don't care about and for EDH cards that Standard players don't care about.
You know how we keep saying "value is subjective?" That's not just a way we rationalize ripping someone off in a trade (not something I advocate, and karma has a way of catching up with people who do this)—it is also a reminder that when you are trading a pile of cards someone considers very useful for a pile they consider useless, they are more likely to be generous and skew the trade in your favor a bit yet end up way happier with the trade than you are. Trading straight across isn't a losing proposition when your $3 Standard rare will be a dime in a year and the $3 EDH staple will be $5 in a year. Hell, even if the $3 EDH card is $3 in a year, you made $2.90 on the trade.
Have you ever built an EDH deck? Some of you have, some of you haven't. I don't mean just physically sleeving up a deck, but making a decklist that ends up as a working 100-card pile? I want to advocate going through some of the motions of building a deck as a mental exercise to familiarize yourself with some EDH staples and EDH deckbuilding resources. It forces you to stay on top of prices, see cards you may have "glossed over" in a new light and make you remember to watch their price changes, and in general, interface more with EDH people who give you all the information you need to make good finance calls without even knowing it. You don't need to be EDH Jesus to make good financial calls. I'm going to go through my deckbuilding process and tell you every step I take and every discovery I make. Let's build a deck and see what we figure out.
Make Like Bob Vila and Build a Deck
I have talked about some of these cards and resources in the past, but I don't care because I'm actually going to build the list we come up with at the end of this process, because I bought the Daxos the Returned precon and found a Serra's Sanctum in a collection I bought.
(There was also a Tolarian Academy in that collection. Guess which card is worth more money. Surprised? This is what EDH does to card prices sometimes. If Tolarian Academy were legal in EDH, you'd really see the effect. In fact, that would be a great lesson: Sanctum, Academy, Cradle.  You could see how EDH relevance stacks up against EDH-plus-Legacy or EDH-plus-Vintage. As it is, Sanctum is a $50 card waiting to happen and I'm glad I pulled one in a collection. I tend to try to avoid buying cards I advocate, and I strongly advocate Sanctum.)
Let's build a Daxos deck that makes the most of Sanctum. But if we're not sure where to start, what do we do?
Tapped Out
Tapped Out is a website where decks are listed, debated, analyzed, and scrutinized. I keep meaning to post my decks there to see what people think, but I'm scared of their criticism busy restoring old cars and chopping down trees and a third man thing.
I like the site a lot because it gives you a lot of data at your fingertips. The graphical representation of color balance, mana ratios, and other at-a-glance info is good, but there are other, hidden metrics that not many financiers are aware of, because why would you go that deep on an EDH website when MTGPrice tells you so much info on its home page? Well, there's a good reason. I have covered this before, but I want to be sure people know this and that is the "demand" page as I call it. Clicking on a card in a deck list will take you to a screen with info for that card. Further down the page is a box with some tabs.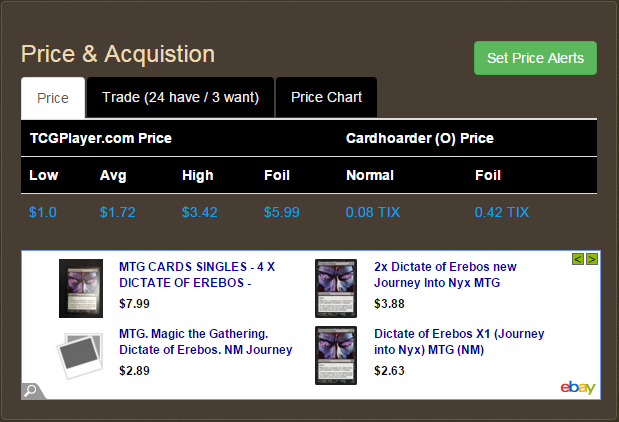 If you look at the "trade" tab or click on it, you can see who is offering the card for trade and who needs it and you can contact those users privately. This is a good place to find trades and you can potentially finagle them to be in your favor value-wise. Remember, these are players looking to play, not value hounds, so you can potentially get rid of downward-trending cards and pick up upward-trending ones. It's worth playing with.
It's also worth noting that despite its high appeal, eight times as many people have spare copies of this card than want them. It's readily abundant. Despite Dictate of Erebos seeming like a slam-dunk of a card considering it can be found for under a dollar and it does the same thing as a $10 Grave Pact, it is going to take a while because copies are everywhere and lots of players have lots of extras.  If you poke around long enough, you can find cards that have pent-up demand: more people who want them than people who have them.
It took me literally five seconds to try a few links in the exact same decklist and find that Greater Auramancy has pent-up demand. Do you think its current price will hold if it's an auto-include in Daxos, people are building Daxos, it hasn't been reprinted, and more people on Tapped Out want it than are willing to part with it? Maybe you can contact the people who have it and see what they want, thereby picking up a powerful, popular card for cardboard rather than cash. I'm not trying to tell you how to live your life, just how to make some value or pay $13 for a card that's $20 or more next week that you want for your deck. I'm negotiating to trade for my copy since I want one in my deck.
Tapped Out can also give you a big list of other decks with the same Commander in the bottom right of the page. I like Tapped Out a lot, and whenever I'm brewing a new Commander deck, I like to see what people building the deck already came up with.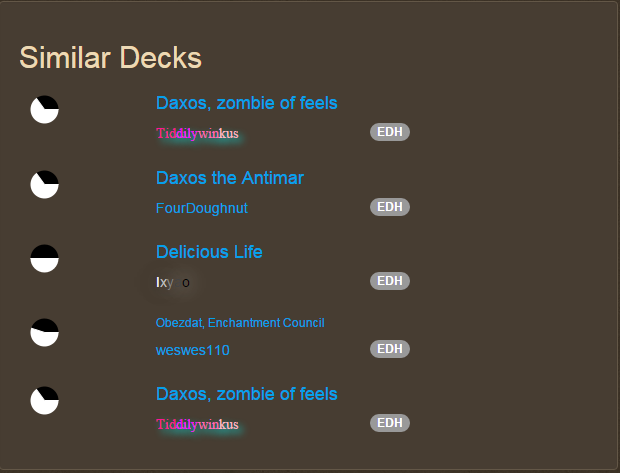 The suggestions people make are also very good, and a lot of the time, you can click on the link to the suggested card's page and learn a lot about the card. Did you know about Koskun Falls? Not a lot of people do. It's worth researching.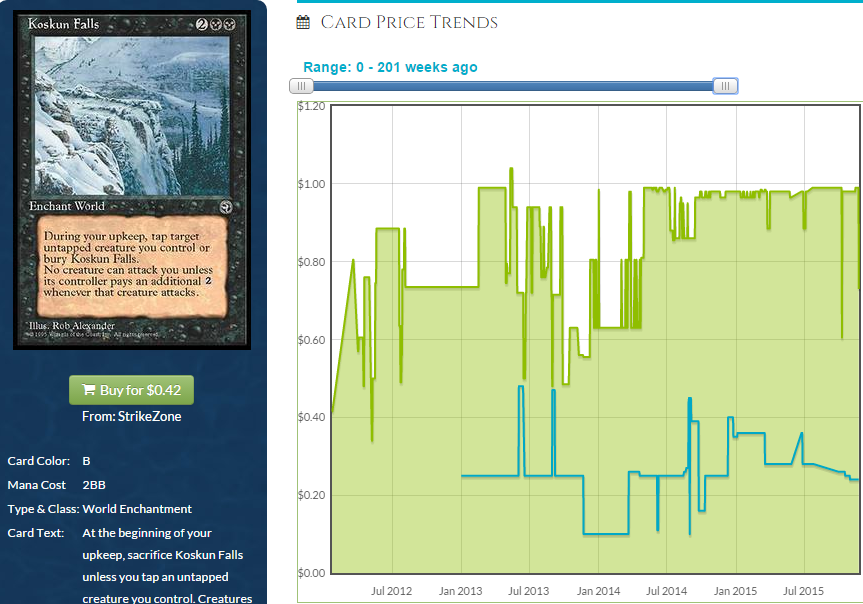 Ultimately, Daxos decks haven't made it jump and neither did the printing of King Macar, the Gold-Cursed, but it is still an interesting card and worth knowing about. Homelands has exactly one worthwhile card in it, so there are loose falls everywhere, but you won't suffer from having one in your binder to swap for a bulk rare from a recent set you think has potential. The card could have easily been something worth watching like another card from the list.
This card is way more interesting. Click around on some of the cards you may not be familiar with in the lists built by people who already built the deck you're looking to "build" (theoretical or otherwise) and you may find some interesting cards. Contamination does a lot of work in Daxos and other annoying decks. It's a nonbo with Sanctum and getting white mana in general, so I'm not sold on it for this list, but if other Daxos players are toying with it, it's worth knowing about.
Tapped Out is great for seeing complete decklists and seeing the cards in context of a deck, but it is really time-consuming to try and see which cards are used in common in a lot of the decks. Tapped Out doesn't do that analysis for us. Fortunately, there is a site that does.
EDHREC FTW
Check out the EDHREC page for Daxos. It's the data miner mother lode. There are a lot of obvious inclusions in the deck because the cards came bundled with Daxos, so for the time being, almost all Daxos lists online will contain Karmic Justice, Black Market. and Grasp of Fate. That's not to say we can't learn a lot from EDHREC even this early in the game. Really navigate the page just with your scroll bar for now.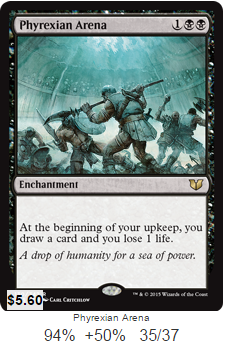 Hover over the numbers under the card and it will tell you what they are. I'll also explain. The first number is straightforward: 94 percent of the decks in the database with Daxos the Returned as their commander run this card. Simple. The third number tells you the same information, but also how many decks there are total, which is useful to know. The middle number may be confusing—finance websites have trained us to see that as a trend number—maybe 50 percent more decks run Phyrexian Arena than last week because they all just busted one in a precon?
That number is actually called the "synergy rating." Per the website: "How often this card is played in Daxos the Returned decks, vs. other black+white decks. A positive percentage means the card is played more often in comparison to other decks, negative percentage means it's played less frequently than usual. A number near zero means it's mostly likely a staple for those colors."
This is great info, as it tells us whether a staple and shoo-in for a deck like Daxos the Returned is just good for the deck or is good for the colors. Cards with high percentages might not be the best investments, because they may be somewhat fringe-playable in the format as a whole. However, a high percentage means the popularity of the commander can be what drives the price, meaning the commander gaining popularity will be a factor in the price, especially when there is low supply, like on older cards. Daxos can't drive Dictate of Erebos by itself, but maybe it can shove up a card like Heliod which has a 53-percent synergy rating and is a mythic that just rotated out of Standard. Heliod also spits out enchantments, which is perfect for a deck with Serra's Sanctum.
EDHREC has a lot of useful features. You can see the cards used in the decks where Daxos is in the 99 rather than the Commander. You can see the decks where combinations of cards are used by clicking the advanced filter at the top next to recent decks.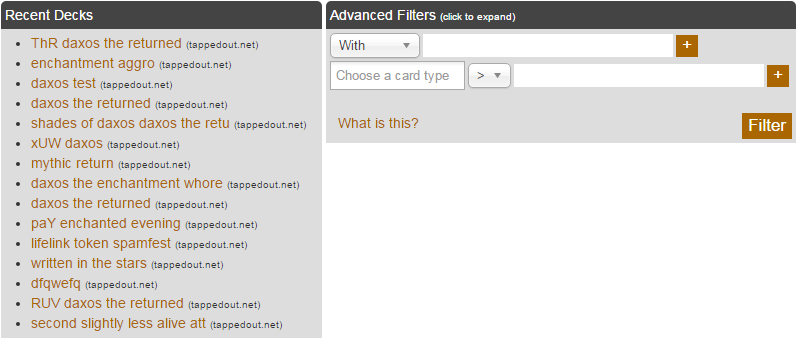 You can also get some help if you're not too familiar with EDH by using the manabase crafter, which is a lot of help in identifying cards you might not know and which may be EDH staples you weren't aware were cards you should pick, stock, or maybe speculate on. Not every card you see for the first time is a hidden gem, but you're going to get a greater understanding of a format that can move prices profoundly and is not to be overlooked if you want to make money slinging cardboard.
Really peruse the site carefully. It's chock full of features, and even if you don't plan to ever sleeve the deck you "brew," you are still going to want to know the most common cards in the deck. That's what other people are using, which means they need them, which means they will need to buy them. The release of the five precons this month is a significant event for prices and that's putting it mildly. Don't miss being ahead of the curve.
Eating Pumpkins
I am going to cheat a little, because I already brewed my decklist so we can basically skip to the end if we want. That's not to say I didn't check both of the sites I mentioned when I brewed this deck, because I absolutely did that. I plan to build the deck, I plan to use some of the alternative methods for card acquisition I talked about in this piece, and ultimately, I have my eye on a few cards that I think could move based on what we learned on Tapped Out and EDHREC.
Are you going to build your own deck? Ezuri, Claw of Progress? Animar, Soul of Elements? Gisela, Blade of Goldnight? Whatever you decide to think about how to build, going through the motions of researching the deck is going to show you a lot of cards you should be paying attention to just as a matter of course. As far as theoretical exercises go, one that shows you a lot of data and leaves you with a decklist you could build if you wanted is pretty useful if you ask me. Until next time!