By: Travis Allen
Vendor Review: Strikezone Online
It is well known amongst industry veterans that Strikezone Online is run by a fairly scummy guy. While making the mistake of visiting its website, I realized that SZO was selling Erebos's Titan for $.69, while at the same time that exact card was on its buylist for $1. You could buy Titans from SZO, and when the package came, sharpie over the address, put a fresh stamp on it, and put it back in the mailbox for a profit of $.31 per Titan. I emailed them to point this out, and the following exchange ensued.
Please don't give SZO business.
Article
World leaders are meeting in Paris this week in an attempt to come to a consensus on an international climate change treaty, and it's being hailed by the Huffington Post at least as the "last chance to save the world." The task set before these leaders is tremendous, and the opposition they face is just about as fierce as humanly possible. Attempting to stop and even reverse climate change would be a herculean task to begin with, but that it stands nearly in direct opposition to capitalism means that many find the necessary changes to be economically unpalatable. Given that the strain on bank accounts and ledgers would be immediate, but the benefits of environmental repair would not be visible within our lifetimes, you can see how this isn't going to be an easy fight. Innate human decision-making processes are inhibited by our lifespans, and sacrificing immediate, personal gain in your own life in order to improve things in a less quantitative fashion for people that will only be born long after you're dead requires us to step outside ourselves in a way that remains exceptionally challenging for all but the most visionary.
Reversing climate change is, essentially, acting as non-human as possible in order to fix some problems that are a direct result of people being as human as humans can be.
There are parallels between the talks in Paris and our own hobby here, and in this case it's how our heretofore axioms may in fact be wrong. For millenia it was an unconscious assumption that the earth is way too big for us little humans to have any lasting impact. Whoops.
Up until now, we've taken as gospel that Legacy cards are strong investments and Reserved List cards are bulletproof. Writers and armchair investors the market over have extolled their virtues as blue-chip stocks, incapable of losing value. Articles of old encouraged you to always be trading into these assets, and encouraged paying a premium in order to move whimsical Standard and EDH product into ironclad eternal staples.
The rest of this content is only visible to ProTrader members.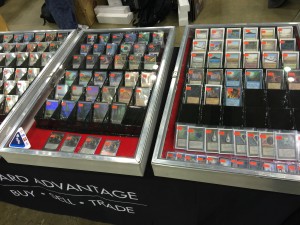 ProTrader: Magic doesn't have to be expensive.