By: Cliff Daigle
This is my Bloodstained Mire.
Looks pretty good, right? It's Onslaught, pretty good edges, no real…wait.
Look closer.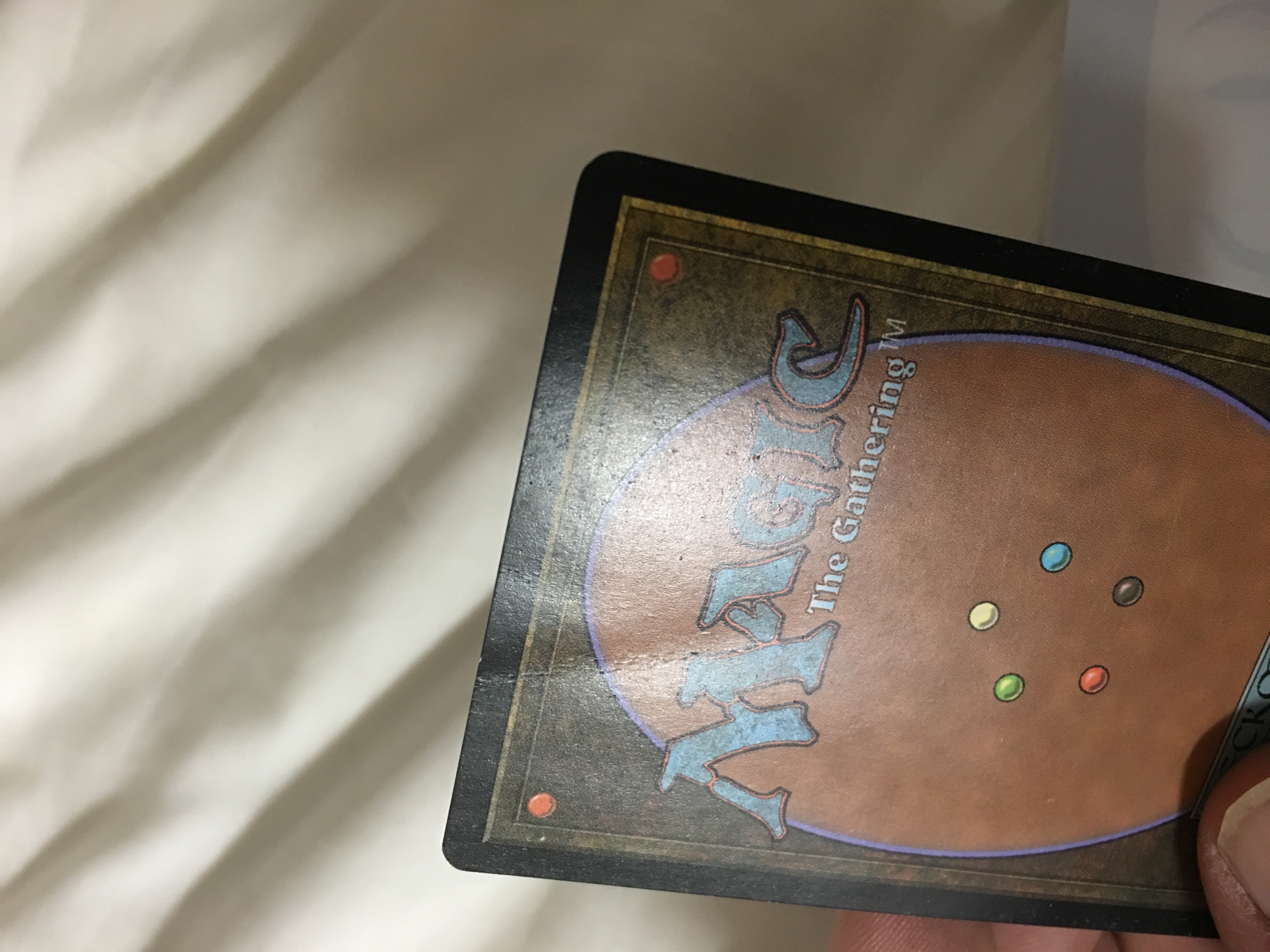 Yup. That's a bend. It's not even an inch long but it's enough for Star City Games to have marked it as 'Damaged' and sell it to me for about 50% of retail value. At the time, about three years ago, the Mire was $40 or so and I bought this for $20 for a Commander deck.
I remain quite pleased with this decision, and I'm going to encourage you to do the same.
Cards that have seen a lot of play occupy a weird place in our minds. They are functionally the same card, but they might have been washed, or played a lot without sleeves, or someone picked it up off a table and put fingernail marks on the edges. (I've done all of these things!)
The more that a card is marked, the less it is worth, since it's no longer perfect, or close to that. Mint is a rarely found card condition, so Near Mint is what we mostly aspire to. Cards don't always exit the pack as Mint condition, due to being off-center or slightly discolored.
While it's true that those cards which are Moderately Played or Heavily Played are worth less in a retail setting, they remain the actual card and you cannot lose sight of that. Dual lands are still dual lands, on the reserved list, and there will not be any more of them printed. Even if they are messed up, they remain a rare card and something that you should want to acquire for the right price.
That price can be difficult to ascertain. Star City used to have displays with their damaged cards, cards which they didn't list on their website because scans of each and every card is just not worth the time, aside from the most expensive ones like pieces of Power. I haven't been to an SCG Open in years, mainly because I live on the West Coast and they don't bother, unfortunately.
Other dealers will sometimes have the box or binder of damaged goods, and I'm telling you to always check such things when they show up, for two very good reasons:
Value or Budget – Look, we aren't all big spenders. MTGPrice is not here to only for those who wish to spend several thousand dollars on speculative buys. We are also here for those who wish to stretch their budget on cards, and damaged cards may be the best way for you to do that.
For instance, if you have a large selection of Commander decks, you may get tired of paying full price on things over and over again because they are just so awesome in so many decks. How many Mikaeus, the Unhallowed do I need to trade for, after all? The lands needing to get moved around is especially egregious, and that's why I got the Mire, to be in a second deck.
Trade Bait – This is about honesty. You're going to buy a card that grades as damaged and yet is still very useable…just not for you. So when you keep this flawed card in your trade binder, you can have something that people want to trade for, but be honest with them about the condition. There are a lot of people that are going to want this card and will trade you at a surprising amount of value.
People build a lot of cubes and decks and don't necessarily want to break the bank in order to get the cards they want. Using played/damaged cards is perfectly acceptable in a lot of groups, especially for rarer cards that are now twenty years old and exceedingly difficult to find in near mint condition.
When you acquire a damaged card, I implore you to not try to get every cent you can out of someone when you're trading it away. Be realistic and be friendly, because that person will likely take more than one of your damaged cards. Having an out for such things will be very useful.
Finally, don't be afraid of picking up a half-price old card because those older cards are surprisingly in demand, no matter condition. The "old-school" format of 93/94 and the collectors of Alpha and Beta are seriously warping the environment. Beta Chaoslace is $40!
Condition really matters when you want to max out on a card's value, just think of Moxes and Library of Alexandria and such. There are a lot of times, though, where acquiring a beat up version of something is preferable. Keep an open mind!
---