I am really excited about Shadows over Innistrad. The cards are all extremely evocative in terms of flavor, Madness is one of my favorite abilities, and moreover I love playing my games out of the graveyard. I'm also the kind of person who gets really excited by big swings in Standard, and I think that the new rotation schedule is going to be a huge benefit to the game in the long-term. Today is not going to be my end-all preview (because we are still missing way too many cards), and from what I've heard, we ARE going to be divvying up the eventual set reviews (I called dibs on Green a few weeks back, hopefully that pans out). I want to talk about a couple of the new cards that we have seen so far, as well as some older ones that may benefit from the change in scenery.
Before we get going, I want to make a clarification that some of these cards will not themselves be cards worth buying low on, but rather they may be indicative of larger trends. Cards shape Standard regardless of rarity- things like Lightning Bolt can have a huge ripple effect regardless of the fact that the card itself may never go up significantly in price. These elements are tough to predict (unless they are super obvious like with Lightning Bolt), and often don't present themselves until the entire set is revealed and played with for a little bit (typically around PT time). Assume that any commons or uncommons that we discuss today fit somewhere into this discussion.

The rest of this content is only visible to ProTrader members.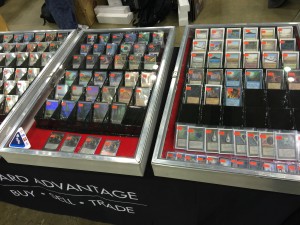 ProTrader: Magic doesn't have to be expensive.