Hey, happy Pro Tour Weekend! There is a lot to be really excited about going into this event- a new Standard format, a promising draft environment, and, because it's in Spain, players will get an hour nap break in between formats!
In reality, this weekend is actually a bigger deal than you might even think. This is our first Standard Pro Tour in the new Standard system that touches on 3 separate blocks (although the Fall 2016 set1 will be the first one to cleanly incorporate the new structure, as DTK and Khans will be gone).Even though we have already had two Standard weekends courtesy of SCG, this format feels largely undefined. Standard right now is a lot like the American presidential election- people are over-valuing the recent performance of aggressive white humans.
There is lots of price information to suggest that there are other decks likely to see play at the event, but it's important to explain WHY white is unlikely to perform as it has in the past. First, the Pro Tour and any Star City event (including the Invitational) have a starkly diverse player base- the range in individual player quality is higher at a Pro Tour, but that's largely because the Invitational is comprised mostly of players in the middle of the quality spectrum. The Pro Tour attendees, particularly after being weighted by Day Two participation, tend to skew towards much stronger, more experienced players. Strong players, especially ones with long resumes, are often more likely to slot into the control role, because that is the best way to leverage play skill against weaker opponents. At a Pro Tour, you are more likely to see control decks, even if they are a smaller percentage of the format as a whole, because this event is not comprised of Magic players as a wholly random sample.
For this reason, it's difficult to discern what is actionable information for the future of the standard format, and what is just good for this weekend. On a granular level, some things that don't really impact Magic finance are likely to fit into this category- I'd be much more comfortable having maindeck Duress at a Pro Tour than at an Open or an FNM, although Duress is unlikely to have a serious price change if it turns out to be a highly played card this weekend.
Let's talk about some cards that ARE getting hyped going into this weekend:
The rest of this content is only visible to ProTrader members.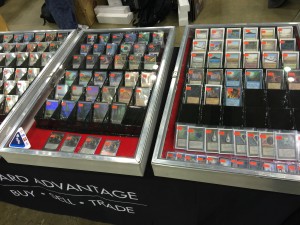 ProTrader: Magic doesn't have to be expensive.