Editor's Note: Relevant financial details in blue, folks.
Coming into Day 2 of this smaller than usual Pro Tour stop, several interesting decks have made waves, and a handful of cards have already popped. After being featured on camera winning games over and over on Day 1, Emrakul, the Promised End popped from $15 to well over $40, only to fall back toward $25 as vendors and speculators sought to sell into the hype. Liliana, the Last Hope, which came into the weekend holding a $40 price tag, was reported to be selling for ridiculous amounts on the tourney floor and has gained $5 to $45 domestically as we wait to see how many copies make Top 8. Voldaren Pariah, the grindy flip creature making waves in the U/B Zombie lists has popped to $3 from $1. Kozilek's Return has jumped to $10 from $6. Traverse the Ulvenwald looks set for a double up, moving from $2 to $4.
Ishkanah, Grafwidow and Prized Amalgam have also shown modest gains based on frequent camera time, though their ultimate fate this weekend has yet to be written in stone.
Follow along with us as we follow along with the final 5 rounds of constructed play before the cut to Top 8 and the establishment of the new Standard metagame.
Round 13 (7th Standard Round): LSV (Bant Company) vs. Reid Duke (RG Ramp)
Reid  (11-1) is on track to make Top 8 with one more win today, and LSV (10-2) needs just two wins to make Day 3 for the third time in a row, the first time this has happened in a generation!
In Game 1 LSV misses a couple of land drops while Reid sets up shop on his ramp plan. Despite the fast takeoff, Reid draws hollow for a few turns, giving Luis too much time to get back in the game. A few value creatures, a Jace, and a Collected Company later, LSV is able to take Game 1.
In Game 2, Reid mulligans twice, but an early Jace, Vryn's Prodigy from LSV is still answered by Kozilek's Return, and the players trade threats and answers for a few turns as Reid achieves delirium. In the mid-game LSV adds a Tamiyo, Field Researcher to a crowded board to really start churning the value engine. At just four life Reid finally stabilizes with an Emrakul that wrecks most of the board for LSV. LSV manages a Selfless Spirit on his next turn, but the combination of Emrakul and Ishkanah (with her spiderling buddies) holds his attacks at bay. Soon after Luis is forced to Reflector Mage the Emrakul, allowing Reid to cast it again and take another bonus turn against his best interests. Facing certain doom, LSV top decks another copy of Tamiyo, tapped Emrakul and Ishkanah, attacks with his Sylvan Advocate, eats Reid's remaining spider and finds himself just a bad top deck away from a win. Sure enough, Duke is unable to find a blocker and falls in two games to put both players one win away from the Top 8.
Round 13 (7th Standard Round): Lucas Blohan (WB Control) vs. Zen Takahashi (Naya Legends)
The innovative Naya Legends deck in the hands of Takahashi features Oath of Nissa, Hangarback Walker, Thalia's Lancers, Nissa, Vastwood Seer, Evolutionary Leap, Linvala, the Preserver and a toolbox of interesting legendary creatures. Oddly, Takahashi just barely qualified for this Pro Tour via the GP in Australia last week, and here is in Top 8 contention. Off camera, Blohan takes Game 1.
Deck Tech: Esper Control (6-1 in Standard, out of contention on draft record)
4 Jace, 2 Gideon, 2 Sorin, Grim Nemesis, 1 Ob Nixilis
2 Descend Upon the Sinful, 3 Declaration in Stone, 2 Languish, 1 Anguished Unmaking
3 Transgress the Mind, 3 Clash of Wills, 1 Silumgar's Command, 2 Ojutai's Command
3 Fortune's Favor, 3 Secure the Wastes, 2 Painful Truths
3 Westvale Abbey
Secure the Wastes and Fortune's Favor singled out as crucial to the deck. At just $.05 picking up 20-40 copies of Fortune's Favor could be an easy penny spec if enough players start testing Esper Control builds in the coming weeks. 
Here are the top table standings after Round 13, with just three rounds left before the cut to Top 8.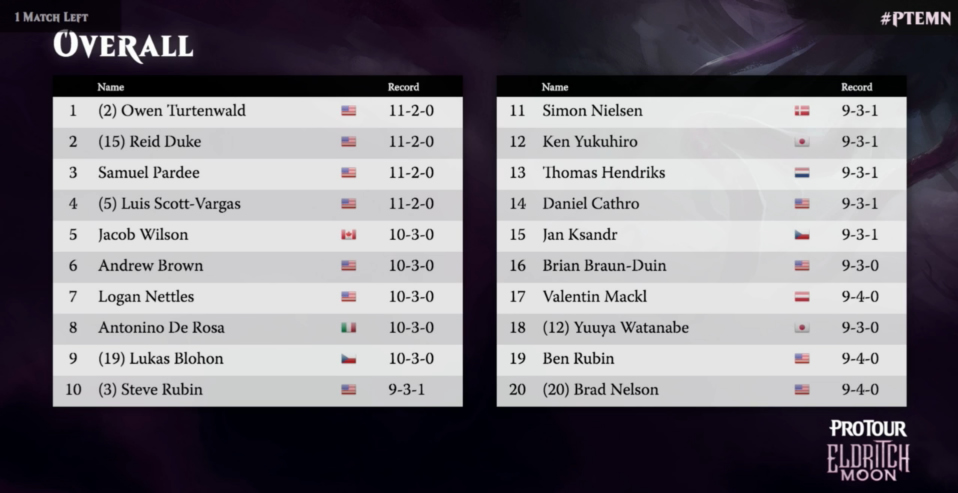 With Owen, Reid, LSV, Sam Pardee, Jacob Wilson and the rest in contention, this Top 8 is looking likely to be epic. This crowd includes BG Delirium x2, Temur Emerge x2, BW Control, Bant Company.
Round 14: LSV (Bant Company) vs. Owen Turtenwald (Temur Emerge)
This match is a win and in for Top 8, and will result in a fantastic narrative regardless of who wins. Both guys come in 11-2. Owen is now within reach of Player of the Year, while LSV is looking to Top 8 for the third time in a row this year!
Game 1 is over quick as strong early pressure from LSV bumps up against an Elder Deep-Fiend, only to have Archangel Avacyn flash in on the end step to clinch the victory the following turn for Luis.
In Game 2, Owen is available to chain Gnarlwood Dryad into Deep Fiend, triggering a flashed back Kozilek's Return and then on into an Emrakul. LSV is forced to spend his Tamiyo to keep Emrakul tapped down for a couple of turns. Chandra Flamecaller shows up alongside Emrakul, and the threat level is just too high for LSV to recover from. Tied at 1-1.
In Game 3, LSV leverages a Duskwatch Recruiter to overcome some land flood, and again makes excellent use of Tamiyo, Field Researcher to lock down key blockers and get in for the win. This almost certainly puts LSV into the Top 8 and breathes fresh life into Bant Company moving forward.
Round 14: Sam Pardee (BG Delirium) vs. Andrew Brown (Temur Emerge)
In Game 1 we arrive from off camera to find a Liliana emblem in play. Kozilek's Return from Brown clears the zombie army, and allows him to take down Liliana. Pardee responds with Languish to clear all but a Deep Fiend from Brown. We miss the next several turns, but Pardee ends up winning with the ultimate emblem proving too much for Brown. Pardee also takes the match, butting BG Delirium into the Top 8.
Off camera, Reid Duke puts away Jacob Wilson to clinch Top 8 as well, meaning RG Ramp has a shot at the title as well.
Deck Tech: Jund Delirium (Simon Nielsen)
Running 3x Kozilek's Return, 3x Traverse the Ulvenwald, just a single Emrakul. 2x Distended Mindbender. 3x Mindwrack Demon and 3x Lianna, the Last Hope. 3x Languish.
Round 15: Reid Duke (RG Ramp) vs. Takahashi (Bant Company)
Reid loses Game 1 quick to an explosive start from the CoCo mage. Reid loses Game 2 as well, butting Takahashi and the 2nd Bant Company deck into the Top 8.
Round 15: Owen Turtenwald (Temur Emerge) vs. Lukas Blohon (WB Control)

Owen needs to win this match or the next to make Top 8 and Player of the Year. Big money on the line here for the new Hall of Famer. Blohan takes Game 1 on the back of yet another Liliana emblem and puts Owen on the back foot. In Game 2 a pair of Transgress the Mind removes the relevant threats from Owen's hand, and Blohon takes the match quickly to make Top 8 with BW Control. Owen must now win his final match to make Top 8 and win Player of the Year. Biggest pressure point of the season coming up next round.
On a back table Daniel Cathro has the UB Zombies dream still alive at 10-3-1, and is up a game against Temur Emerge/Thomas Hendriks. A Liliana emblem is in play and generating massive advantadge, and Cathro takes the match to gift himself with a win and in next round.
Jan Ksandr on Bant Spirits is also battling fellow 10-3-1 player Ken Yukihiro on GR Ramp, but the match goes to time, with both players due to miss Top 8 if they pick up the draw. Weaver of Lightning ends up winning the match on the back of a Tormenting Voice, removing a key blocker to allow the Japanese player to get it done and put a second G/R ramp deck into the Top 8. Kozilek's Return, also featured in the Temur Emerge deck seems likely to hold near $10.
Round 16: Owen Turtenwald (Temur Emerge) vs. Daniel Cathro (UB Zombies)

Owen has it all on the line this round. Sadly for him, Game 1 sees first time Pro Tour participant Cathro return a Haunted Dead via a double Prized Amalgam discard to put four creatures into play, a move quickly followed up by a Liliana, the Last Hope. A couple of turns later Owen manages to go Pilgrim's Eye into Wretched Griff to bring back Kozilek's Return and clear the board at two life. A couple of turns later a similar pattern is demonstrated, and the players jockey for board position with Owen trying to hold down the looming zombie threats. Owen manages to stabalize on an Emrakul, but more Haunted Dead shenanigans into a Voldaren Pariah, clears much of the board on both sides. A Murderous Cut lurking in Cathro's hand signals danger to Emrakul but Owen gets a full value Ishkanah into play. Cathro at 4 life, Owen still at 2 but Daniel can't easily bypass the spider force. Owen alpha strikes with Emrakul and all his spiders, but Cathro pulls the trigger on the Murderous Cut on Emrakul, and sets up to get more zombies back with the players now tied at two life a piece. Owen manages an Elder Deep Fiend to pop another enhanced Kozilek's Return, but Daniel works through two copies of Voldaren Pariah in response to end up with a big bad flyer on the table ready to strike by end of turn. Owen looks for a solution, comes up dry, and we move to Game 2 with Owen facing the loss of both Top 8 and Player of the Year.
Cathro mulligans into two lands and can't find his third land. Owen gets Chandra Flamecaller into play and the pressure is real. Despite still being on two lands Haunted Dead comes back with a spirit and a Prized Amalgam and the team takes down Chandra. At ten lands to his opponent's three, Owen chains Spiders into Eldrazi and earns his last chance at the best possible weekend.
Both players keep a full grip and the game pivots early when Owen casts Negate on the first copy of Liliana, the Last Hope. He then keeps the board stable for a few more turns, drops Emrakul, controls the next turn, and manages to snag victory out of the jaws of defeat one turn later. Huge congratulations to Owen Turtenwald for making the Hall of Fame, a fresh Pro Tour Top 8 AND Player of the Year all in one weekend. Temur Emerge earns another slot on Sunday, and puts Kozilek's Return and Emrakul squarely in the spotlight. Side note: the UB Zombie build looks very hot indeed, and this won't be the end of things for that archetype despite the loss.
Ken Yukihiro defeats Reid Duke in final turns for the second match in a row to make Top 8. Some of the best Pro Tour match play ever today, wow.
Top 8 Announcement
Sam Pardee (BG Delirium)
LSV (Bant Company)
Yuta Takahashi (Bant Company)
Lukas Blohon (BW Control)
Ken Yukihiro (GR Ramp)
Owen Turtenwald (Temur Emerge)
Reid Duke (GR Delirium Ramp)
Andrew Brown (Temur Emerge)
What a star studded Top 8, topping off an epic year of great Top 8s. Two Hall of Fame players. Sam Pardee and Reid Duke. Great players fill the rest of the bracket.
Relatively few Liliana, the Last Hope in the Top 8 in the end, with just BW Control and BG Delirium running the card. Kozilek's Return and Emrakul however feature prominently in roughly half the decks. Elder Deep Fiend could show gains if it wins the whole thing. Bant Company still has a shot to take it all in the hands of red hot LSV.
The brackets look well balanced with no real blowouts set up to play out. Anyone could take this, but odds on favorites have to be the dominating Channel Fireball squad, with Reid Duke, LSV, and Owen looking set to have a west coast wizard take the tournament.
Tune in tomorrow for the final result of a great weekend of Magic!