ADVERTISEMENT:
This is the second in my three part series on making money on Modern cards in 2017. You can find the first part, covering the cards most likely to rebound from Modern Masters 2017, over here.
First off, let's check in on the prices of the rares and mythics from Modern Masters 2017 to see how those potential specs are progressing.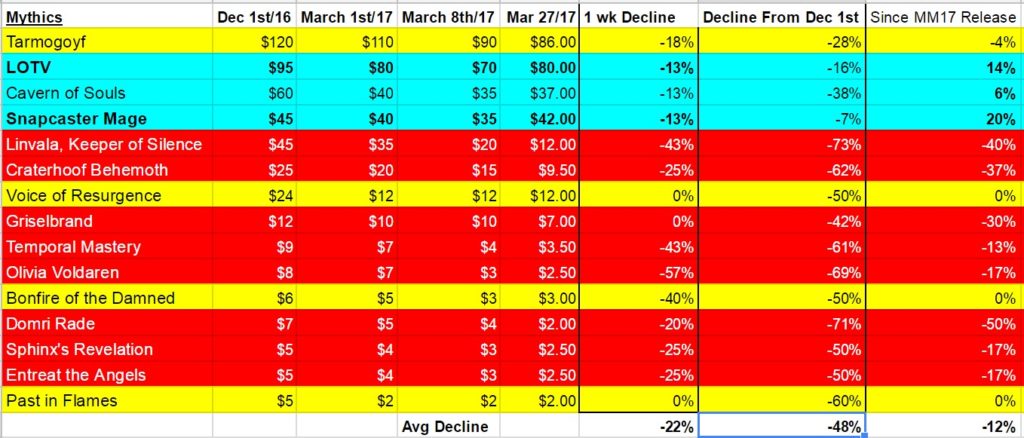 There was some chatter online last week that the set was rebounding, but as the charts above show, this is clearly not the case overall. MM17 mythics are down nearly 50% on average from Dec 1st, 2016 and
Nearly all of the MM17 mythics are either holding steady or have continued to fall, down an average of 12% from their release day pricing. Some very good deals were found during opening weekend, and momentum from those couple of days likely accounts for the few rebounds. The exceptions along those lines so far are Liliana of the Veil, Cavern of Souls and Snapcaster Mage, all of which are of course very popular staples in both Modern and Legacy. LOTV currently holds one of the shallowest listings on TCGPlayer.com, which could indicate it could regain $90-100 within the next few months, pending information on further set inventory.
Tarmogoyf has also been relatively consistent in the $85-90 range. As frequent 3 or 4-ofs in multiple decks, many players have had their eye on these cards looking for a solid entry point, and were likely impressed enough by the large discounts vs. prices from last fall to move in. It's possible that some dealers and speculators have also taken up some of the inventory slack in hopes of future profits. From here on out, I would expect the cards that have been holding stead or rebounding to continue along similar lines, but whether this stays the case will depend heavily on how much more inventory shows up. Now that we've moved on to Amonkhet spoilers, the shift in focus back to Standard may redirect player funds and chill the rebounds as well. That being said, there really aren't that many listings for the mythics at present, so if inventory is choked off faster than expected, further gains on the popular cards are likely.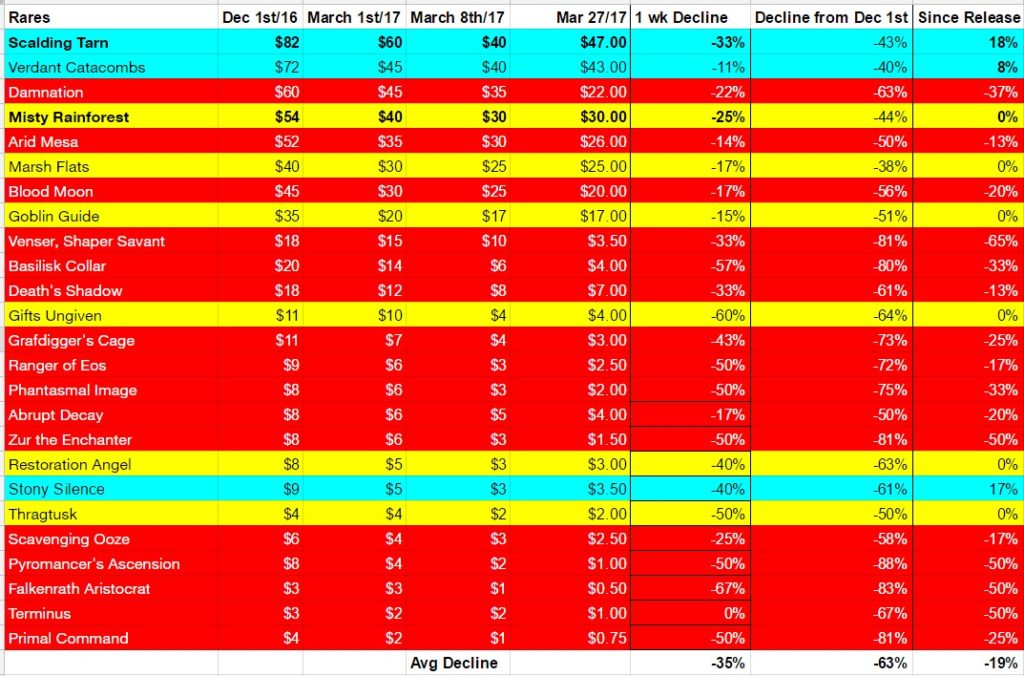 MM17 rares have been following similar patterns, with the average rare down a whopping 63% since Dec 1st/16, and nearly 19% since release day. If we ignore the most popular handful of rares, many of the other rares are down over 80% (!) since December. Some of these cards are now so cheap that waiting for further discounts is largely unnecessary. If you need play sets of Terminus, Pyromancer's Ascension, Thragtusk, Scavenging Ooze, Phantasmal Image, or Abrupt Decay a further 10-20% decline won't make much difference either way.
The most resiliant rares have so far proven to be Scalding Tarn, Verdant Catacombs and Stony Silence.  Most of the other fetchlands are so far holding steady, with shallow gains or losses, but I don't think you need to be shy on getting in on them at this point, at least for your first playset. I'd like to spec on some of these, but for those purposes I'm willing to hold off until I understand inventory flow a bit better. Death's Shadow got as low as $4 at one point during release weekend, but as one of the most important creatures in Modern right now, it didn't take much for people to scoop them up and push the price back towards $8. If the card stays popular, and doesn't get banned out of the format this year, these could end up close to $15 and may still be a solid speculative pick.
Cards like Damnation and Basilisk Collar, whose prices were largely supply side driven, have taken a serious pounding, with $20 Damnations now available, representing a 67% discount vs. last fall.
A Look at The Cards Not Printed
Now let us turn our attention to the important Modern cards that didn't make it into Modern Masters 2017, investigate their recent price trends and try to identify our best targets for further gains.
The rest of this content is only visible to ProTrader members.
ProTrader: Magic doesn't have to be expensive.

CEO of ShelfLife.net, The Future of Collecting, Senior Partner at Advoca, a designer, adventurer, toy fanatic and an avid Magic player and collector since 1994.
Track your collection's value over time, see which cards moved the most, track wishlists, tradelists and more. Sign up at MTGPrice.com - it's free!
ADVERTISEMENT:
Please follow and like us: