By: Travis Allen
@wizardbumpin
---
Don't miss this week's installment of the MTG Fast Finance podcast, an on-topic, no-nonsense tour through the week's most important changes in the Magic economy. And watch this YouTube channel to keep up to date with Cartel Aristocrats, a fun and informative webcast with several other finance personalities!
---
I don't know about you, but this was a rather frustrating Pro Tour for me. I felt like I had a good bead on it heading in, and the results bore that out. Last week I said that there was no way the PT would be all aggro. Turns out only about a quarter of the day one meta was. Then on the MTG Fast Finance episode we released Friday evening, just as round four was starting, I made several predictions. I said Metalwork Colossus was my pick for the breakout card of the event; it jumped something like 250%. I said that Torrential Gearhulk was a card to watch and potentially profitable at $8 or $9; it's $24 shipped for a copy on TCG right now. I made sure to mention Aetherworks Marvel just as we were pulling away from a segment because I felt it was positioned to have a meaningful presence; it was the prevalent deck of both the day one and two metagames.
The rest of this content is only visible to ProTrader members.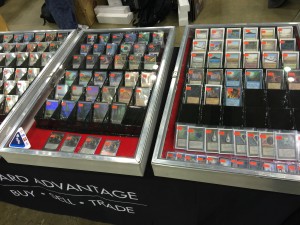 ProTrader: Magic doesn't have to be expensive.