The spoiler for Modern Masters 2017 is here, and while it's full of juicy speculative goodness, I'll get to some safe picks in a moment.
I want you to understand that next weekend, when we can draft with this set, is going to suck the air out of Kaladesh block drafting, and Amonkhet is only six weeks away from prerelease events, so preview season for that starts in about three weeks.
Stay disciplined. Get your Whir of Inventions for pennies. Stock up on foil Metallurgic Summonings. Trade for all the Panharmonicons you can at $4 or less. If you don't have them already, get your Fatal Push playset now, instead of waiting and watching the price go up. Don't let the new shiny things distract you from what you should be doing: Getting all the last Kaladesh block cards you want now.
When a new set comes out, I have a two-step process. I figure out what cards I want to have, and the price I want to pay for them, cash or trade. That's how I try to make sure I'm growing my collection's value, by not overpaying when I get in on cards.
The sheer number of once-pricey rares in this set has me a little spooked about going too deep on a card. Going forward, I don't want to be in on too many copies of a card, it'll be better served to diversify what I'm holding.
For this set, I want to look not at the cards being played in Modern, but the casual stars that have been reprinted. For the most part, these are cards that can own the table in Commander or Cube, and since they are being printed right now, I think they are likely safe from being in Commander 2017 or some other supplementary product.
Probably.
These are the cards that I want to pick up, in anticipation of solid, steady growth.
Cavern of Souls – I need this to get cheaper. It's not played in a lot of decks but it tends to be an all-star in a playset. This is the land that Sliver decks and Ally decks and tribal decks love most. I sold every one out of my Commander decks when it broke $40, and I'm really hoping this drops to the $25 range. At that point, I would get one for each of my tribal decks and I would absolutely sell them again when the prices go back up again.
Craterhoof Behemoth – Right now you can get these for $10 or less on preorder, and that's a price I already like. If it drops lower, to $8 or god forbid $5, I'll be all over this and sorely tempting my new 'don't go deep' philosophy. This is a game-ender card, a stellar casual creature, and something that goes in lots of decks.
Temporal Mastery – Extra-turn cards are always going to have legs. This is a card I want to make sure I pick up a couple of sets of, and it can be had for $3 in preorders. I don't think it will fall much farther, and this is why I love the card:
A couple of times there was an extra-turns deck that would pop up, but this graph is what I want to see. It's in consistent demand, so I want plenty at a low buy-in.
Cyclonic Rift – I had expected this to be in another Commander printing before long, but being here means I want some at $4 or less just to hold. I hate the existence of this card, and I wouldn't be shocked if it got banned in Commander.
Phantasmal Image – I'm hoping this makes it down to $1 or so, and I would pick up quite a few. I've seen it be recurred too often and do too much work to stay that low for long.
Venser, Shaper Savant – My target for him is $5. The FTV version didn't dent him too hard, but this is too good in too many ways to stay $5 forever. He almost never shows up in constructed formats, but he's very powerful in casual settings and I do think his price will go back up over time.
Stay away from:
Griselbrand – Being banned in Commander is the big strike against him. He's one of the premier cards to cheat into play, making him a four-of in combos, but the supply is too high for me to get in.
Sphinx's Revelation – No price movement for years and years. Observe.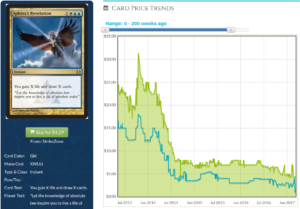 That's a card that isn't going to recover from this printing.
Past in Flames – Nope, nope, never.
Thragtusk – Solid, dependable, reprinted into oblivion.
Zur the Enchanter – Before the judge promo, before this, I could have been talked into him, but now I think he's going to drop to near-bulk status. I don't even want to get in on foils.