There's something I just love about the fact that the official EDH rules announcements are made on this 90s-era-design forum. People can say what they want about how WotC is "taking over" EDH but all you need to do is check out the official EDH site that looks like it was made on Angelfire or Geocities to get a reminder that this is very much a by-fans for-fans format. While some people bristle at there being a banned list at all considering house rules can take care of it, it's obviously best to have some sort of universal rules system in place to standardize the experience, especially when you play people from outside of your playgroup or even in a tournament setting.
As a brief aside, Sheldon knows you don't always agree with 100% of the decisions the committee makes and that he is the whipping boy for the RC on reddit and wherever else neckbeards congregate. He doesn't care. If anyone who made rules for games listened to people on reddit, the game company would be bankrupt in a month because the people with the loudest voices are usually the dumbest. People aren't going to stop playing EDH because you ignore their post in /r/magictcg about how "Profit of Kruphix is fine its not a banded card in my playgroup we banded Cultivate because my friend Zeke always played Cultivate on turn two always and we were like are you cheating Zeke seriously that card is not fair because he has more lands then me with my Marrow-Gnawer deck profit of Crufix is ok with me but Zeke is a cheater" but they might stop if you do take their dumb suggestions and ruin EDH.
People were saying before Aether Revolt was even legal that Paradox Engine was going to need to be banned. The Rules Committee knows that people are wrong a lot, especially random anonymous people. If Paradox Engine ends up getting banned 3-9 months down the line, those people are going to say "I told those idiots Paradox Engine was too good but they don't listen! We need to get rid of the Rules Committee, kill Sheldon and scatter his ashes to the four winds. THEY HURT MY FEELINGS" and the problem (the biggest, there are lots of problems) with that is that people forget those same "prophets" saying Paradox Engine needed "pre-banned" (that's not a thing) were also saying that Shaman of Forgotten Ways needed to be banned in EDH before the ink was even dry on the cardstock. Do you know what Shaman of Forgotten Ways even does? I'll save you having to look it up.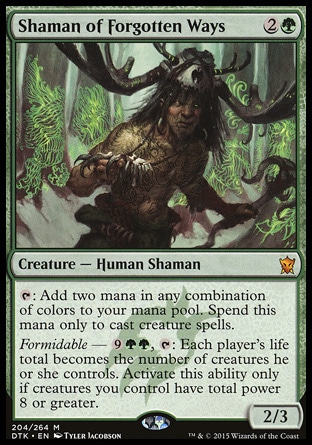 It's in more EDH decks on EDHREC than most people think (around 2,500) but it's also not so game-breaking that anyone who hasn't put it in a deck knows what it does without having to look it up. Most of the people who play it do so because it's a Somberwald Sage that sometimes gains you some life or kills the Oloro player. Is Shaman pretty good? Yeah, of course. Is it bannable? Newp, and that's why the Rules Committee doesn't listen to people on reddit.
I'm sure they're taking a look at Paradox Engine and I'm sure they'll eventually either ban it or write a cryptic post in their forum that signals they're not going to ban it, which will make people who don't even play EDH buy a ton of them. That's a legit strategy, and you're probably going to wish you'd bought enough for your decks if that happens. What do we risk by buying 10 copies now?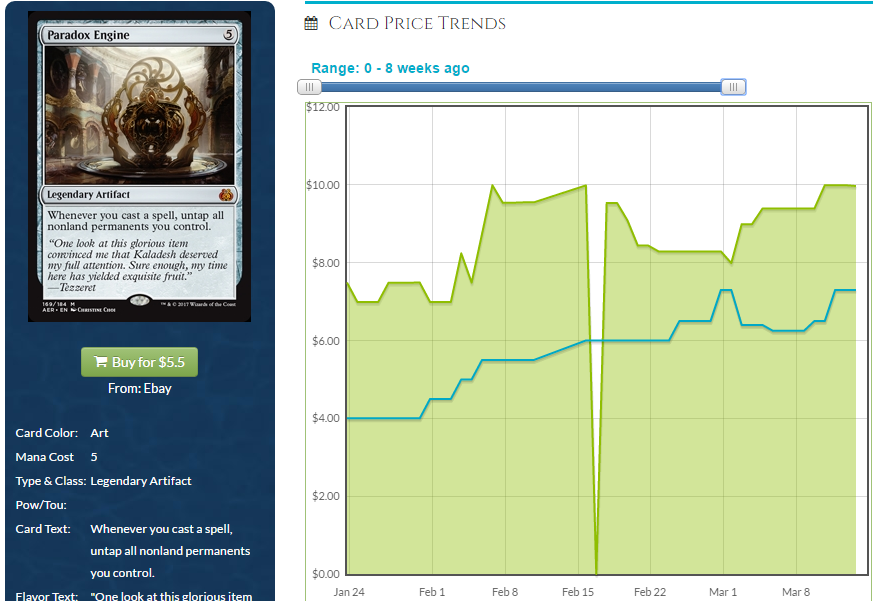 Not a ton, in fact. The price might go down a little at rotation, but it would go right back up, provided it still had a home in EDH. The spread is low so dealers seem pretty confident in paying nearly retail on these because they know they can turn them over. There's real demand for this card and the price is growing very slightly despite more and more packs of Aether Revolt being opened. It's possible people were waiting for the first banned list announcement (I was) to buy in and now they could push the price some more.
In a world where this doesn't get banned, the price probably goes up. It's really good in EDH and a good comparison to how good it is/how much it flirts with banworthiness is probably Consecrated Sphinx.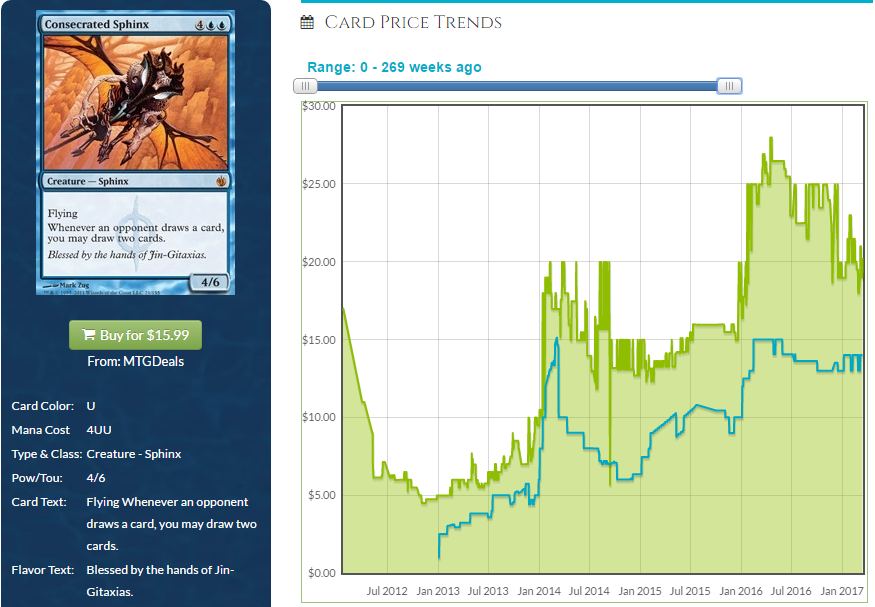 Hey, interesting that I should mention Consecrated Sphinx, because in the process of pasting this graph, I noticed something curious. Do you see it? Here's a hint.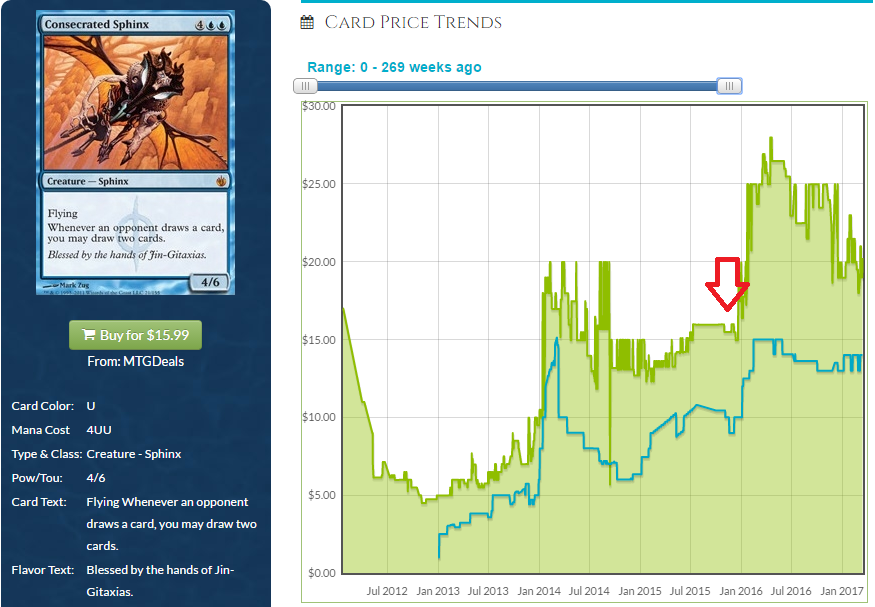 What happened here? Well, this is January 2016. What happened in January 2016? Well, among other things, Oath of the Gatewatch was fully spoiled and they did their Banned and Restriced List announcement. EDH, in talking about why they banned Prophet of Kruphix, said the following.
This was challenging. Prophet is not a traditionally obvious problem card for Commander, so we chose to take a conservative approach and see if casual groups could adapt. In the past, we've seen unpopular cards generate a lot of outcry, but be handled reasonably well. Powerful cards existing is OK and exploring them responsibly is an essential part of Commander.

This didn't happen with Prophet. Casual groups haven't been able to work around it and problematic play has not dropped off in hoped-for ways. Instead, the primary approach has been to steal it, clone it, run it yourself, or get run over. Ultimately, it seems the card is too perfect – it does everything U/G Commander players want to be doing and it does it in a way that makes counterplay difficult. With traditional boogeymen such as Consecrated Sphinx, you're forced to expend a lot of your mana to cast it and will have a challenge protecting it as the turn goes around the table. With Prophet, it has virtual protection built in, negating that disadvantage almost immediately.
They mentioned Sphinx directly in contrast of a card they were banning. They basically gave their rationale for never banning Sphinx. If that wasn't a signal to run right out and buy, what would be? Any anxiety about a banning of a highly-touted "Ban this" card from the "Ban this!" crowd evaporated – the card was safe and therefore a safe investment. I'm sure the RC didn't mean to signal a run on Sphinx but it happened. The price is going back down to an equilibrium that is somewhere between its pre-spike price and its peak price, which is what always happens.
This means there's an opportunity for a scenario where they accidentally say something like "We think (stupid card that got through R&D the way a Standard-Legal Splinter Twin combo did) is abusable in EDH in a way that's not fun for anyone and is abusable with minimal set-up, unlike with a card like Paradox Engine that requires creature or artifact mana and a supply of spells to power the engine" and without meaning to, spike the price of Paradox Engine. I'd put the odds of that happening at about 1 in 20.
They didn't exactly say "We're not banning Paradox Engine" and it's probably a bit premature for that, anyway. People were expecting Engine to be banned, but Prophet wasn't banned the first chance they got. Prophet of Kruphix is from Theros, a set that came out in September 2013. It took them a little over 2 years to decide Prophet needed a ban. Sure, people whined less before Prophet was released than they whined about Paradox Engine (Or Shaman of Forgotten Ways) but they sure whined plenty once people like me started jamming it in decks and taking every player's upkeeps.
Does the obvious, naked abusability of Paradox Engine coupled with its being colorless and therefore jammable in any deck (the same decks can jam artifact mana and Isochron Scepter and basically do anything infinitely) mean it can jump the line and get a ban before Prophet did? Not, before but, you know, earlier. It took 27 months to ban Prophet will it take 27 months to ban Paradox Engine? I feel like if it does get a ban, it will be in a shorter timeframe than that. This does give us some time for Engine to grow and, more importantly, it will continue to push up the cards that work best with it. I'd put the odds of Paradox Engine getting a ban in the next year at about 1 in 2. I just don't know. I don't think the card's that bad, but they sometimes listen to whining and there's some whining going on about this card already.
Since Paradox Engine is more apparent early, it's likely that if it gets banned, it will be before the card rotates out of Standard in 2018. I think if it gets banned, it's much more likely that it would be sooner rather than later. The RC will meet several times before 2018 which gives them chances to talk about how it's on their watch list (It's on their watch list) and how it has been performing and what the online scuttlebutt (whining) is trending. It would be a quicker turnaround than normal, but this card is more obvious than normal. If it is banned while it's still legal in Standard, dealers won't want to slash its price. It's unclear how much of its price is predicated on Standard legality and how much on EDH demand but the price will be impacted less if it's banned while there's still a chance it could be broken in Standard and while it's still legal there. The price will fall a bit but if you paid retail (or better yet, buylist) today, you're not getting your pants pulled down completely. You can probably buylist your copies the day of the ban and get the full amount. You're not taking a bath if it's banned in the next year, which I think is more likely than it taking 2 years to ban it.
So we have a few scenarios that I'll summarize
Engine quietly gets ignored by the RC who watches it but never comments. The card steadily goes up over time. Odds – 1:1
Engine is banned by the RC in the next year. The price is OK. Odds – 1:1
The RC accidentally signals that they won't ban Paradox Engine. The price goes up but probably comes down a bit. Odds – 20:1
Paradox Engine is banned in more than a year, after it rotates out of Standard. The price gets cut in half or more. Odds – 20:1
Since there is only one scenario where you get blown out, scenario 4 and 3 scenarios where you either make some money or don't lose a ton, I feel pretty good about buying Paradox Engine right now. Even typing that feels wrong to me. It still feels like a dangerous play, but unless there's a flaw in my logic, I think we're pretty insulated from a blowout. I don't know how much I expect these to go down at rotation and the fact that this has ban risk somewhat counter-intuitively makes me want to stray from my normal buying behavior of trying to wait until rotation.
I still have some wordspace so I'll use my last little bit to suggest a few cards with upside in a world where Engine doesn't get banned and has some more certainty.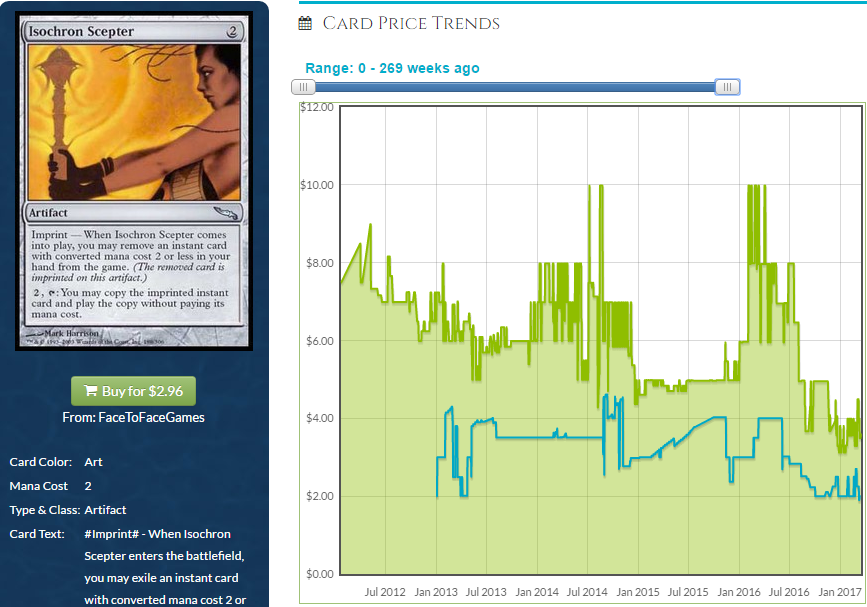 They didn't like this being $10 but now that it's a little closer to $4, they will likely hold off on reprinting it for a minute. This is a great card to combo with Engine and it can go in any color deck. Sol Ring, this and Lightning Bolt plus Engine kills the table. Is that a 4 card combo? Yeah. Will you always have artifact mana? Also yeah. There are enough tutors in EDH that a 4 card combo where one of the cards is "Any amount of artifacts that tap for 2 mana" and another is "Anything you can imprint on Iscochron Scepter" suddenly isn't that daunting.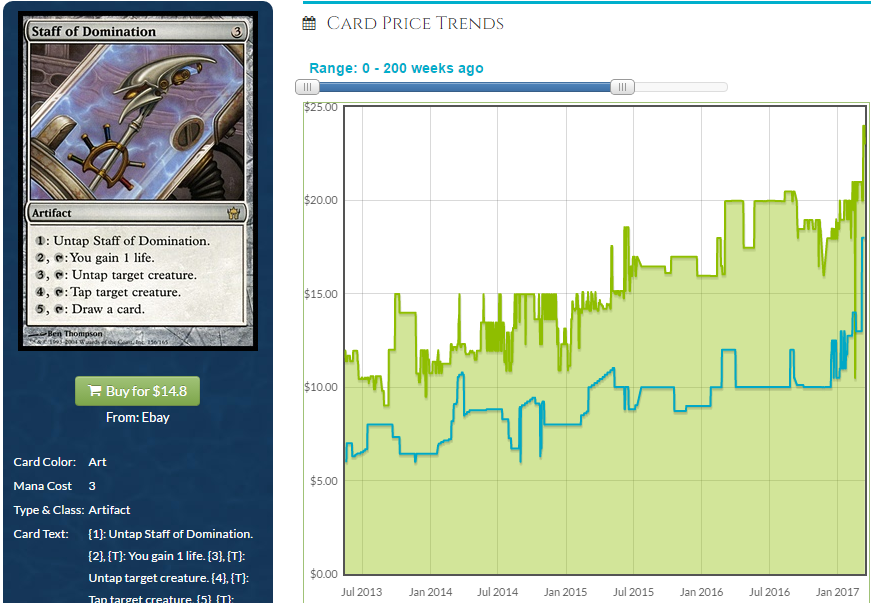 Cards like this are a great example of why EDHREC has been so useful to me as a financier. There is no obvious synergy between these cards – it's more of a parasitic relationship than a symbiotic one. Engine untaps this, this is wholly unhelpful when it comes to enabling Paradox Engine to do anything (unless it draws you a spell to play to trigger Engine, which is not guaranteed.) This doesn't immediately pop out at you as a good pairing, but when you see how often both of these cards are in the same deck, you start to realize that a deck with Engine in it being built means someone probably needs a staff, also. I play both cards in my Paradox Engine deck, so clearly there's something to it. A high correlation between cards that don't interact can establish a causal relationship between demand for one card and demand for another even if the two cards aren't part of the same combo.
Did I miss something obvious? Are my odds wrong? Do you agree that Paradox Engine is a good buy? Are you staying away? Buying at rotation? Do you wish you could short it? Is it getting banned never? In the next year? I want to hear from you – leave it in the comments section. Until next week!