Since Standard is on a once-a-year rotation, I like to think about what's on deck. Yes, we are about to lose two blocks in September, but there's two that have another 18 months or so, and that's what I want to focus on. Kaladesh and Aether Revolt are at their low points, so this is when I want to look for value.
I'm looking at cards that are being played, and are not as expensive as their amount of play might indicate. I'm not expecting huge gains, but I do want to think about increases in value, especially in trade or Pucapoints (if you're still doing that).
Verdurous Gearhulk ($7.89): Considering what a beating this is, I'm surprised that this mythic is as low as it is, especially because B/G Snake decks are a thing. Sometime in the next 18 months, a Gearhulk deck will have a great tournament and this will easily break $10, likely hit $15, and possibly $20 again.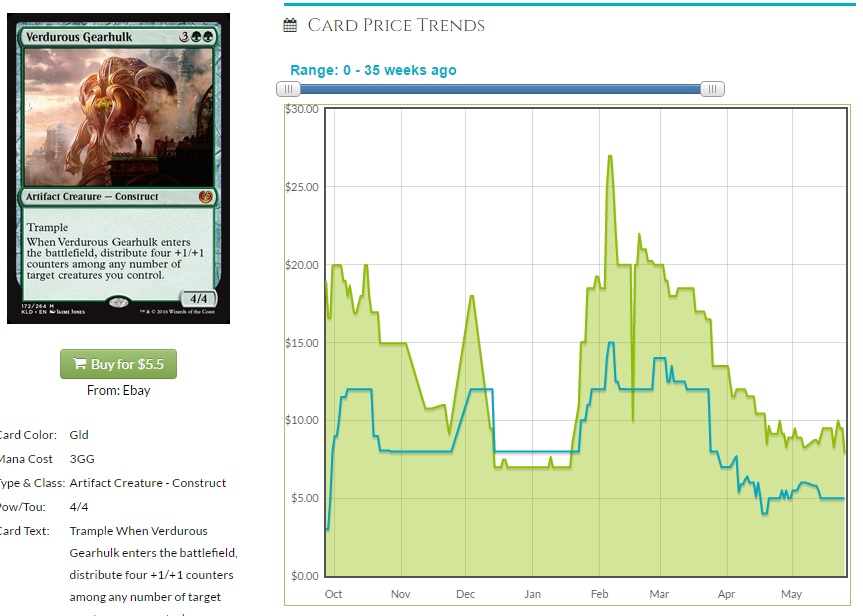 The graph for the green Gearhulk is exactly where I want to be: getting in at the lowest point.
Dovin Baan ($3.16): I don't see how this can get any cheaper, even if it doesn't budge until rotation this is silly cheap for a planeswalker. I really like picking up specs that have good potential short term and long term. The fact that he's the only planeswalker with the Dovin type is good for Commander too, since he's a good fit in superfriends builds without being the seventh Jace.
Panharmonicon ($2.66): Shhh. Hush! Don't say anything. Just slowly walk over to your store, grab all you can of these, and try to not look like you're getting fantastic value. We've already seen this spike up to the $8-$10 range and it's not gonna take much for that to happen again.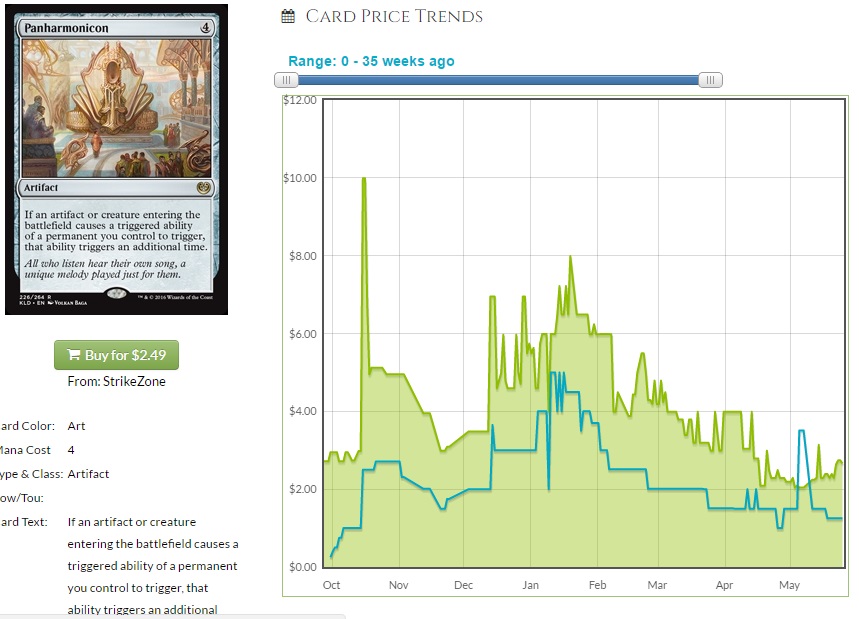 The foil is still just 3x the value, which is very surprising to me. Buy for these. Trade for these. Don't trade them till they spike, and if you're into the long-term holds, the foils are going to be rock-solid.
Scrapheap Scrounger ($2.44): This is played in a huge number of decks and is always a four-of. Mardu has a target on its back, and that's fine, but this is a card that requires the Magma Spray immediately or it's going to just keep coming back. I'm shocked at how cheap this is, frankly, and if Mardu adds a card or adapts to the hate somehow, I'd expect this to climb to at least $5.
Skysovereign, Consul Flagship ($2.44): It's an in-print mythic that just dominates the board and isn't easy to answer. Heart of Kiraan is stealing a lot of the thunder, but this has become so cheap that I want to have a few copies just in case it pops up again.
Metallurgic Summonings ($1.25/$4.50): I want to try a couple copies of this card in the assorted control decks. I'm in love with Drake Haven right now but the potential of this card is astronomical. If you land it and live through the following turn, then your Glimmers come with a 4/4. You get a 2/2 when casting Grasp of Darkness. Your end-of-turn Pull from Tomorrow is as big as you want to make it. This is also a super-cheap mythic that is looking for the right deck, and should it hit, it'll hit big.
Rashmi, Eternities Crafter ($1.37/$7.22): This is more of a very-long-term pick, as it is amazing in casual formats and why her foil price is six times higher. These are the best colors in Commander, and she's going to get you some extra cards, no matter what. I love the foils a lot more but dollar mythics are always super intriguing.
Foil Paradoxical Outcome ($3): It's a niche card, but that niche is Vintage. I appreciate when people try to make this work in Standard, with endless Bone Saw castings, but no, this is an Eternal card and I want to have some foils in long-term storage.
Cliff is an avid player of any and all casual formats, the weirder the better, going all the way back to his first tournament wins: Iron Mage, keeping a life total from round to round, and a grand melee where he cast a Hurricane for 43 and lived.