By: Travis Allen
@wizardbumpin
---
Don't miss this week's installment of the MTG Fast Finance podcast, an on-topic, no-nonsense tour through the week's most important changes in the Magic economy. And if you enjoy playing Magic, make sure to visit https://scry.land to find PPTQs, SCG Opens, and more events on an interactive map with worldwide coverage. Find Magic near you today.
---
About twenty minutes after I post this article, Rosewater is posting his, titled "Metamorphosis 2.0." It promises to be quite a shake-up, given that the last "Metamorphosis" article was the one that announced two set blocks and an eighteen month Standard rotation. I'd love to post my guess as to what we'll see, but given that the truth will be revealed almost immediately, I'll just end up insanely owned for no reason, so I'll keep my thoughts to myself.
Whatever changes we see, I suspect none will have an immediate impact on card prices. The types of change that Rosewater is likely to discuss will have large, sweeping, structural changes on the markets for cards, rather than an immediate "oh shi-" as may occur with the change to split card rules, for instance. Whatever it is, I'm sure you'll be able to hear plenty of discussion on MTG Fast Finance this week and/or next about what it means for us.
There's a ban list update tomorrow, which may or may not include Aetherworks Marvel. I'm inclined to think they'd just leave it, but they did move the date up a little, and generally they'd only move B&R dates if there's a good reason. While I'd love for them to axe Marvel hours before a Standard GP, don't expect any changes to be in place this weekend, even if there is a ban/unban. If there is a ban, expect a flurry of sales both on site and nationwide as a result.

The rest of this content is only visible to ProTrader members.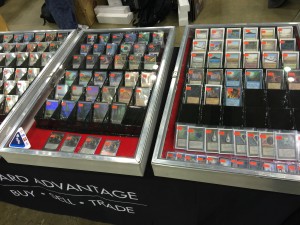 ProTrader: Magic doesn't have to be expensive.