The first Pro Tour of 2017 is already rolling along in Bilbao, Spain. In the wake of major upheaval in the Standard format with another round of recent bannings, we find ourselves instead faced with the only Modern Pro Tour of the year, and the first in quite some time.
As per usual the world's best players have been holed up in Spanish hotels and rented homes for the last week or two, all seeking to answer the only query that matters: is there a fresh deck or reconfiguration of existing archetypes out there that will allow them to catch the field off balance while offering consistent play against the known quantities in the field?
With $250,000 USD on the line, and  $40,000 for the champ, players looking to Top 8 need to marshall both luck and skill to lock down the trophy.
Taking a look at the results from the last major StarCityGames Tour Standard tournament, the Top 8 field features elements both familiar and relatively recent. Here was the Top 8 from SCG Open Cincinnati.
For much of 2017, the analysis of Modern as a format has been that the format supports many different archetypes, to the point where some pros have complained that it is difficult to metagame for with only fifteen sideboard slots. Of course the pros also claim that they can solve most formats when they bring their full team resources to bear, so this tournament will be an interesting stress test for the Modern format as a whole.
Entering into this weekend, the online meta would suggest that the top decks in the format are:
BG Tron (7.66%)
Jeskai Control (7.46%)
Grixis Death Shadow (7%)
Affinity (7%)
Burn (6%)
5C Humans (5.44%)
Eldrazi Tron (4.23%)
U/R Gifts Storm (3.23%)
It is worth noting that the Pro Tour currently requires that players succeed in a mixed schedule of booster draft (RIX/RIX/IXL) and constructed play with 3 rounds of draft overnight , followed by 5 rounds of Modern starting around 7am EST/4am PST, Friday.
For we finance types, this is not a super exciting scenario. With a wide open field, play skill and nuanced sideboard choices + luck may carry the day, and that's without accounting for the six rounds of draft that tug against constructed success ratios. My gut says that you are most likely to do well with emerging tech that makes a deep run at the tournament. I would also be looking at 5C Humans staples that are in waning supply if that deck holds up with a solid conversion % for Day 2 and/or a strong run in the Top 8.
Will any of the teams find a way to unlock a hot new deck with solid game against the entire field? Will a fringe deck from the early weeks of the format suddenly end up perfectly positioned to take off? Will there be a chance to get in on a must-have card that shows early promise or will the hype train leave the bandwagon speculators out in the cold without enough buyers come Monday morning? Follow along as we explore Pro Tour Rivals of Ixalan all weekend!
Day 1 Notes
During an interview on the floor, fellow Canadian Jon Stern outlines that he expected Affinity, Burn, and Tron to be the best/most popular decks but notes that he may have underestimated 5C Humans.
Deck Tech #2: U/W Control w/ Pierre Dagen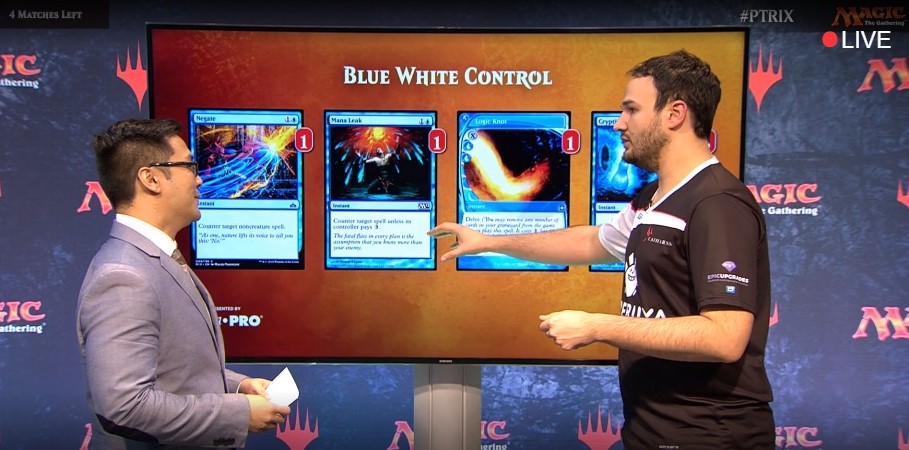 Dagen calls out Field of Ruin as potentially the best card in Modern.
Foil Bedlam Reveler has been drying up for a while and an appearance on camera seems to have pushed it over the edge. Could settle closer to $20+ this weekend.
Aether Vial is a key card in 5C Humans, Death & Taxes and Merfolk, and though the supply is pretty deep from multiple printings, $100 copies of the Masterpiece version look like a good deal right now. Could see those hitting $150+ in 2018.
Thalia's Lieutenant foils are drying up under $10, and could end up closer to $20 if Humans reinforces it's Tier 1 status this weekend. Champion of the Parish has only ever had a single foil printing, and these are scare under $15 now, with upside to $25+ easily possible. Mantis Rider foils, once utterly ignored, are also now in very low supply under $10. Phantasmal Image foils, most recently reprinted in Modern Masters 2017 are also dried up under $15. The other card from 5C Humans that looks tempting is Ancient Ziggurat. I got in on this one at $3.50 or so in quantity when the humans deck first showed up, but even closer to $8 there could be upside to $20 this year if the deck keeps doing well and the card dodges a reprint. Foils cresting $35 from $20 could also happen. Cavern of Souls, printed in MM17, is looking poised to regain $80 with multiple tribal decks in Modern pushing it forward.
Deck Tech #3: 5 Color Company Humans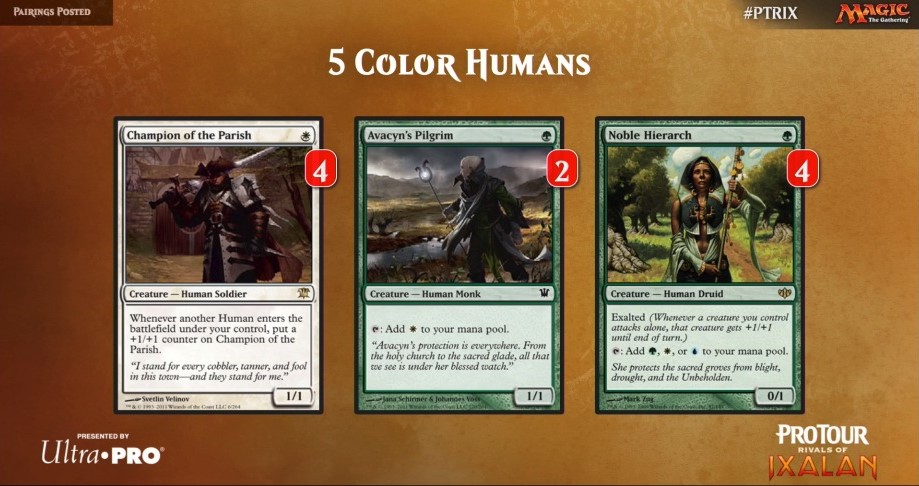 Willy Edel breaks down his decision to replace Aether Vial with Collected Company in his take on 5C Humans:
Editor's Note: We will not be providing round by round coverage this weekend, due to  scheduling but we will provide relevant notes as the weekend progresses. 
James Chillcott is the CEO of ShelfLife.net, The Future of Collecting, Senior Partner at Advoca, a designer, adventurer, toy fanatic and an avid Magic player and collector since 1994.