The 2018 holiday season is posting up to put a dent in our collective wallets, and alongside the inappropriately early Christmas music and the over hyped ginger spice lattes it's time to take Black Friday head on. Go ahead and cuddle up by the fire with your holiday sweater on, half conscious from turkey coma chemicals, while you chuckle at the fools who don't know how to use the Internet to buy things on sale.
For Magic: The Gathering speculators and players in need of some savings, the holiday season from mid-November to the new year is often a pretty great hunting ground, with plenty of sales going on and plenty of folks looking to turn cards into cash fast so they can finance presents and travel plans. For the most part you'll likely want to save your speculation budget to focus on the couple of weeks at the end of December when some pretty significant sales can be had during late night Ebay hunts, but for now let's see whether the online Magic vendors have any goodies worth considering this year.
Here's a round up of the Black Friday sales going on at various online vendors that you might be interested in, with some highlights of the sweetest deals as of Thursday afternoon. We'll update over the weekend if relevant sales appear so check back in: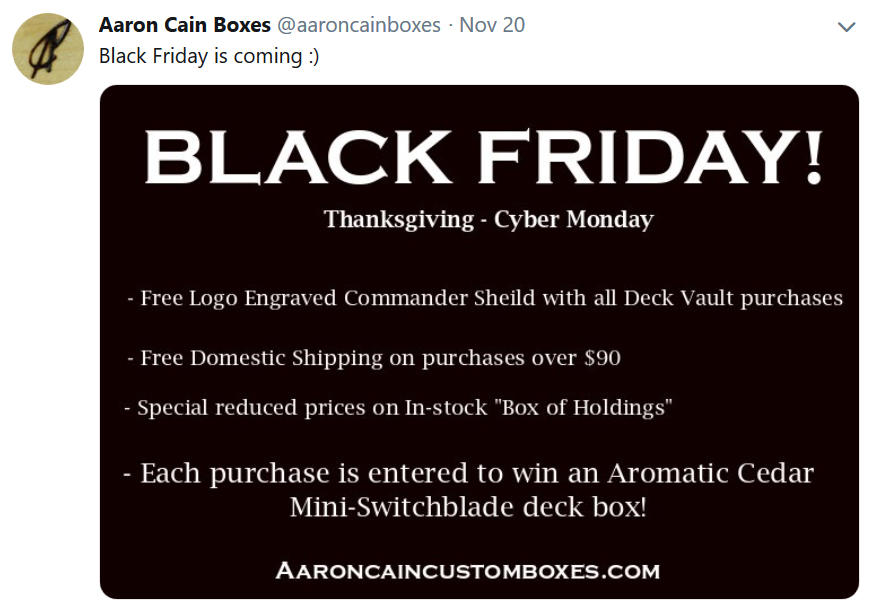 25% off all MTG single cards paid for with credit card, debit, paypal or crypto
$10% in store credit back on all purchases made Nov 23rd to 26th (excludes purchases made with existing store credit)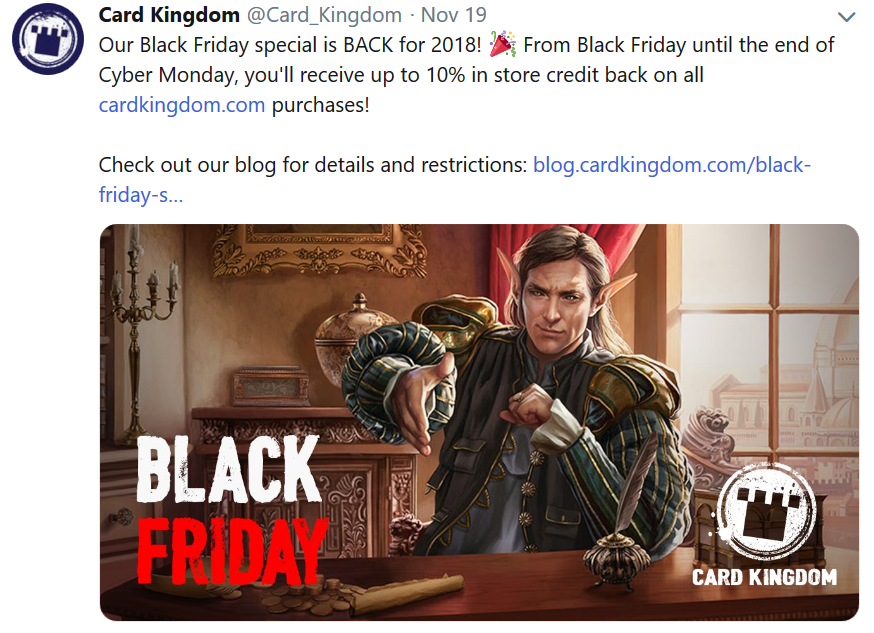 Here's the best of what CFB has to offer this year so far, with more deals coming Friday:
Save 11% today only on

http://

ChannelFireball.com

 

when you use code BLACKFRIDAY at checkout.
This insanity right here
Black Friday Crate (US only)

10x recent Standard boosters
3x Masters boosters
Core Set 2019 Fat Pack
CFB dice, score pad, sleeves, deck box
Black Friday Sale Pt 2 (Thursday deals):
Commander 2018 products at various discounts
D&D Waterdeep Dragon Heist Booster brick (8 boosters): $79.99
Unstable Booster Box: $119.99
FacetoFaceGames (Toronto, Canada Location)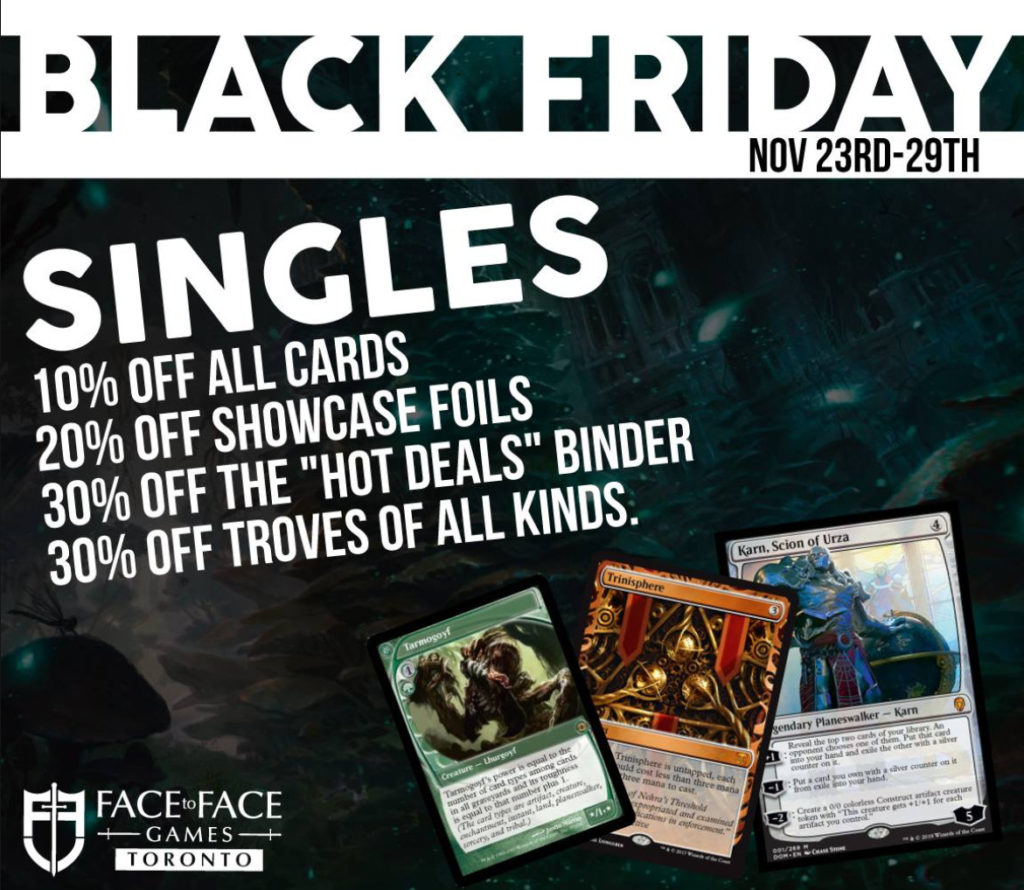 Friday Door Crasher:$1 Battlebond booster packs (1 per customer)
D&D/Pathfinder minis: Buy 2 get 1 Free
10% off all cards
20% off showcase foils, board games, FFG products
30% off the "hot deals" binder
30% off troves of all kinds
80% off select games
Note: prices are in Canadian dollars (roughly 30% off USD equivalent)
Alpha Llanowar Elves (PL): $206.24 (25% off)
Japanese Conspiracy Vedalken Orrery: $10.35 (50% off)
Recurring Nightmare (PL): $10.78 (50% off)
Stoneforge Mystic GP Promo: $18.74 (30% off)
Masters 25 Booster Box: $149.99
Guilds of Ravnica Fat Pack: $24.99
Mox Diamond (PL): $134.99
Gaea's Cradle (PL): $262.49 (25% off)
Ultimate Guard Twin Flip'n'Tray 200+: $22.49 (25% off)
15% kickback on all MTG singles (best deal I've seen on this site ever)
Flooded Strand National Foil Promo: $64.99
Liliana of the Veil (INN): $59.99
Lion's Eye Diamond: $159.99
Magic Game Night Box Set: $22.95
Thoughtseize (THS): $7.99
Wasteland (TMP): $24.99
Min 20% off everything in the store
Prices in Canadian dollars (roughly 30% less than USD equivalent)
So that's that. If you'd like to share a really sweet deal you found online, or you're a store we haven't added to the list yet, hit us up in the comments below!